Faked and copied camouflage uniforms, t-shirts, officers insignia made from silver, other ranks insignia, berets, flap caps, bush hats, medals, shoulder flashes, unit patches, paratrooper wings, brevets, and air force wings are just some of the 'Rhodesian militaria' that is offered to buyers.
While some of the sellers of these items list them as original through their ignorance, there are some regular sellers of these items that knowingly list them as originals and know that they are not. These sellers are nothing but dishonest. One of the faked items that has been appearing on a regular basis lately is the made-up uniform. This is normally a genuine uniform or part of a uniform (eg. jacket) that has items added to it to make it more attractive to unsuspecting buyers. For example, one uniform recently had a S.C.R. (Silver Cross of Rhodesia) ribbon added to the ribbon bar. The amazing thing is that the seller didn't show a close-up detailed photo of the ribbon bar, which I would have done to promote the fact that the original owner of the uniform had been awarded the second highest award for gallantry. He was kind enough though to send me a close-up photo but when I asked him for the name of the original owner of the uniform, I never received an answer. This auction was listed as a Private Auction where the User ID is kept private.
An Army dress uniform was sold as an SAS Officers uniform with the correct paratrooper Wing, shoulder flash, and Army shoulder flash. However there were no close-up detailed photos of the collar badges or the ribbon bar. This I would have thought was very unusual, considering that
the first three ribbons were the S.C.R. (Silver Cross of Rhodesia), the B.C.R. (Bronze Cross of Rhodesia) and the RGSM (Rhodesia General Service Medal) with the Military Forces Commendation.
The last two ribbons were hard to identify because of the poor quality of the photo but the last ribbon looked very much like the British General Service Medal 1962. There are problems with this combination of awards but let's look at the first three awards.
There was no single person that was awarded these two gallantry awards and the Military Forces Commendation.
Due to the poor quality of the photo I can't see whether the Military Forces Commendation is for 'Operational' or 'Non-Operational' duties. In other words this ribbon bar has been made-up to make the uniform more attractive to buyers.
When I asked the seller for a close-up photo of the ribbon bar, he stated that the uniform was not with him as he was selling it on behalf of someone else. I asked him for the name of the original owner and he told me the name and said it was written inside the jacket. Upon checking the name on the nominal roll I discovered that
this person had served as a trooper not as an officer.
He also stated on the listing that this person had been killed in action. The thing that is wrong with this is that the only similarities between the officer that was killed in action and the person whose name was written inside the uniform - was their surname. They both had completely different Christian names. Why? Simple, they were different people. Although the seller did change the fact that the medal ribbons probably didn't belong to this uniform, he ignored the other evidence that I supplied and didn't change anything else. He also didn't change that no other evidence that I supplied and didn't change anything else. He also didn't change that no single person was awarded the S.C.R., B.C.R. and the Military Forces Commendation, either Operational or Non-Operational.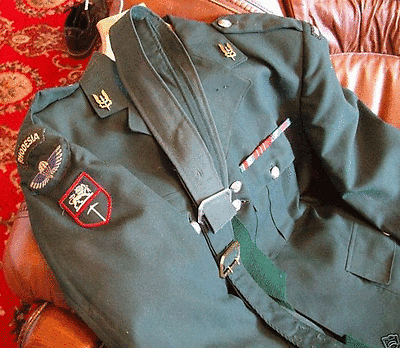 This uniform as described above went on to sell for GBP £400 (USD $810) which goes to show that some made-up uniforms can command a ridiculous amount of money from unsuspecting buyers.
Some pointers that a prospective buyer should be aware of:
The name or service number of a person written inside a uniform, on an item of clothing or on a piece of equipment does not automatically guarantee authenticity.
I am always concerned when a seller uses 'Private Auctions' where a bidders ID is kept private. The only benefit that I can see for a seller to use this method of listing is to stop people from contacting buyers who have bid on a fake item.
A seller that has a feedback rating of 100% or is a Power Seller does not guarantee that they don't sell fakes or copies. I know of several sellers who have a 100% feedback rating that knowingly sell fakes and copies.
The seller claims that the item came from a relative who served or lived in Rhodesia. Well that could be true but it doesn't make the item genuine. Do your research before bidding.
A letter of authenticity from the seller really doesn't mean anything, because anyone can write what they want.
As a prospective buyer you are entitled to see clear, detailed, close-up photos of the item that is for sale. This includes photos of the reverse of badges, patches, insignia and wings, as most fakes and copies can be discovered this way. Any seller that refuses or makes excuses for not supplying these photos I would be wary of.
On a number of occasions I have seen medals that are listed as belonging to a Trooper and the seller states that the recipient obviously served in the SAS, Selous Scouts or the RLI. What the seller has failed to tell you is that there were also Troopers in the Greys Scouts and the Armoured Car Regiment.
I hope this guide has been of some help to you. My best advice is do your research and know your subject. If you don't know the answers then ask someone who does - and make sure they are genuine and honest.
Good Luck,
Rhodesian Militaria