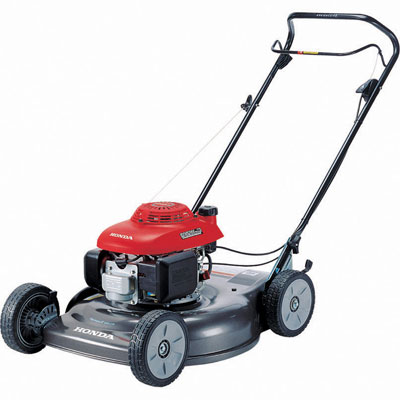 For people who own their own homes, or live in a place where they must maintain their own yard, a lawn mower is a must. With that being said, choosing the right lawn mower for the job can make a world of difference in how well the job gets done, as well as how efficiently it is done. People do not want to spend all day outside mowing the grass, nor do they want to have to go over what they believed to be a finished job. Also, the more a mower is used, the more money it takes to keep it running, and requires more frequent maintenance. So purchasing the right lawn mower for the job, whether ride-on or push-style, is imperative for both using time wisely, as well as saving money.
A Brief History of the Lawn Mower
The first instances of people keeping a short, clean-cut looking lawn dates back to the 1700s in France. This practice of keeping a clean, short lawn soon spread to England, and the rest of the world followed soon after that. Because of this widespread adoption, the first machine designed and patented solely for mowing a lawn came in 1830 by a British engineer named Edwin Beard Budding. The first mechanical lawn mowers created by Budding were made out of cast iron, making them extremely heavy. Developments of the lawn mower later led to lighter iterations, followed by petrol and steam-powered engines. There are many varieties of lawn mowers, with two obvious options: small, lightweight, petrol-powered push mowers and small, tractor-like riding lawn mowers.
Differences Between Ride-On and Push Mowers
The differences are obvious between ride-on lawn mowers and their push mower counterparts. There are many different factors that give each machine a distinct advantage, or disadvantage, when compared to the other. Some of these details include the labour involved in cutting grass, maneuverability, maintenance, price, cost to operate, and versatility.
Labour
When comparing ride-on lawn mowers with push mowers in terms of labour, the difference is clear: a ride-on mower requires very little manual labour, while push mowers are the complete opposite. For those with health issues, such as severe back and joint pains, ride-on mowers are best. For many others without such limiting factors, however, a push mower can provide a great alternative to working out, or at least offers a bit more exercise in their daily lives, while also serving the purpose of keeping a clean, short lawn.
Maneuverability
It should come as no surprise that when it comes to maneuverability, a push mower is going to come out on top. Ride-on lawn mowers have a much wider turn range than push mowers, and are, therefore, susceptible to missing tight corners and other such areas. Of course, ride-on mowers are continuously improving in this area, but they do not come close to being able to completely turn around on a dime, as is the case with a push mower.
Maintenance
In terms of maintenance, push mowers are generally cheaper to maintain than ride-on mowers. This is because they are smaller, have fewer parts, and those parts are often less expensive. For example, replacing a ride-on mower motor is much more expensive than replacing a push mower motor because the ride-on mower is much larger and serves the purpose of not only powering the mowing blade, but also the tractor, itself.
Price
The price of both ride-on and push mowers varies greatly, depending on which brand is chosen, as well as the quality and place of purchase. However, push mowers are almost always cheaper than riding mowers, as push mowers can run upwards of a few hundred dollars new, whereas the latter option may run upwards of a few thousand dollars. Of course, buying either used often proves to save a great deal of money, but even with used options, it is still rare to find a ride-on mower that is cheaper than a push mower.
Cost to Operate
As is the case with the initial purchase price, push mowers are generally cheaper to operate than ride-on mowers. This is the case for a few different reasons, such as that push mowers are available in both gas and electric-powered motors, whereas ride-on mowers are generally gas powered. Additionally, push mowers generally get the job done faster than ride-on mowers, meaning less time is spent powering the machine.
Versatility
In terms of versatility, that is, in terms of both storage and different types of terrain each can handle, the clear-cut winner is the push mower. Because they are much smaller than a ride-on mower, they are much more easily stored, and can be stored anywhere from a garage to a tool shed, whereas a ride-on mower often requires a great deal of room in a garage or a larger shed. Additionally, transporting a push mower is much easier because they are so much lighter than a ride-on mower, which may need to be pushed up a ramp into a truck or into a garage if it is not operable.
Also, because of the size difference, push mowers can more easily handle a steeper terrain than ride-on mowers. Of course, it is usually not advised to mow steep hills and other such similar terrain types with either type of mower, but sometimes, it is necessary. In fact, despite the potential dangers of such practices, mowing a steep area of a yard is much safer with a push mower, as attempting to mow such an area on a ride-on mower can result in the tractor flipping over on the operator and can lead to a potentially life-threatening situation.
Choosing by Brands
Choosing the right lawn mower, be it ride-on or push mower, can sometimes come down to which brand it is. Some people have traditionally used one specific type of mower for most, or all, of their lives, while others may use and trust different yard maintenance or other such tools made by a manufacturer. Whatever the case is, here are a few of some of the best lawn mower brands on the market:
Brand

Brief Description

One of the leading manufacturers of electric lawn mowers

Corded and cordless rechargeable styles

One of the most popular brands amongst handymen

Offers many different types of mowers

Among the most expensive mowers on the market

Offers some of the highest quality and most innovative mowers on the market

Another popular brand in outdoor maintenance tools

Creates durable mowers, as well as one of the most durable lawn mower motors on the market

Perhaps the most popular name in lawn care

Has been around for a long time and is often attributed as among the most trusted brand in lawn mowers
While this is not an exhaustive list of brands, it is a list of common brands intended to help buyers get started on their quest for the ideal mower. Not all buyers prefer a particular brand, but those listed are some of the most well-known.
Buying Lawn Mowers on eBay
Finding the right lawn mower for the right price, be it a ride-on or push mower, can sometimes be difficult. One such place to find great deals on most items is eBay. By simply entering the keywords "push lawn mower" or "ride-on lawn mower" into the search bar, results that are pertinent to the keywords appear. Further refinement of the search can be achieved by additionally entering the desired brand to the keyword search, or by browsing through the categories and choosing by types of mowers, as well as desired condition. Many buyers find great discounts by searching through eBay Deals as well.
Keeping in mind that buying a lawn mower is a major purchase, it is important to read the full product description before deciding to buy, as well as paying attention to shipping details. Additionally, it is wise to ensure that the seller has a high feedback score.
Conclusion
Choosing the right lawn mower comes down to personal preference and how much a person desires to spend. For those with larger yards, difficulty pushing a lawn mower, or who have a higher budget, a ride-on mower is a good choice. For those on a lower budget who are looking for more ways to incorporate exercise into their daily lives and prefer precision, a push mower is likely the best option. For those who are unsure, but have an expendable budget, it is wise to think about both the present and future. Push mowers are smaller, lighter, cheaper in both initial cost and future operation cost, and offer a greater versatility than most ride-on mowers. However, ride-on mowers offer the benefits of greater cutting range, as well as the convenience of little to no labour. Ultimately, the decision rests upon what is important to the buyer.
Lawn Mower|Ride-On Mower|Push Mower|Lawn Care|Riding Mower