RING SIZING:
Not sure about ring sizes? Use our handy information below to find out your ring size.
Option 1:
Measure an existing ring.

Option 2:
Convert size.
Already know your ring size in the form of a letter (such as N, M, P)?
Use the chart below to convert it to number sizing.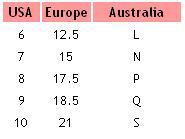 Option 3:
Printable Ring Sizer.
Print the image below (make sure your printer is set to 100%).
Cut it out, leaving minimal excess around the edges.
Wrap it around your finger with the star side facing outwards.
The number the star lands on is your ring size.

Please note:
Rings with a thick band usually fit tighter than an average ring. For comforatable wear, consider choosing one size larger than your normal ring size.
Thank you for reading our guide.