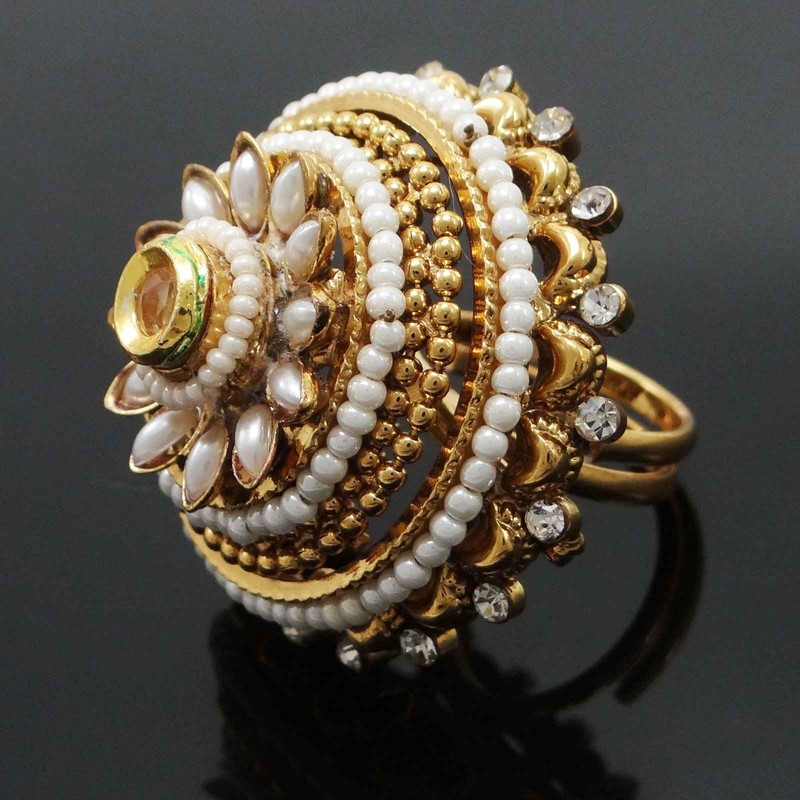 A woman's accessory and jewelry can define her personality and psyche. This also relates to rings and to which finger it is being worn. There are a few basic rules of wearing a ring which you need to know before wearing a ring.
Long and oval shaped rings like Indian Ethnic Traditiona​l Gold Plated Adjustable Ring will make fingers appear longer and more attractive.
Ladies who have a short stature with short fingers should avoid wearing big rings.
If you have long and slender fingers, go for smaller rings like Ethnic Traditiona​l Indian Goldplated Ring .
Lastly, make sure that you are wearing your big rings after dark so that you don't look over decked up for a luncheon or a casual get together.
A neatly manicured finger will draw if accessorized with the perfect ring will draw a lot of attention. Wedding rings involve ample of love and sentiments but the origin of the tradition is still unknown to the society. The circle is said to denote eternity in many cultures and the whole is supposedly considered to be the space leading to enter and exit of things. Giving a ring to a woman signifies undying love for her.
The sumptuous Indian weddings are known worldwide for their detailed ceremonies that have cultural relevance in the society ever since the Vedic age. The consensus of two families is marked by an engagement ceremony where the to-be groom and bride exchange rings in lieu of vows.
Our store flaunts a collection of amazingly crafted gold plated rings that would leave you awestruck. If you wish to become the centre of attraction on a traditional event, try complementing your outfit with a gold tone bracelet cum ring like
Indian Ethnic Bollywood Ring Bracelet Gold Plated.
A matching pair of earring will make you dazzle out bright.