Road Haulage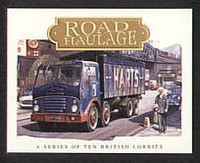 This is one of many illustrated classic British lorry guides I've created for the community. I hope you enjoy it. If you wish to find out more about the classic British lorry art featured in this guide please click here.
This guide features several classic lorries from the 1950s and 1960s.
AEC Mammoth Major Mk3
The Mk 3 Mammoth Major was a hugely popular eight-wheeler from the late 1940s through to the 1950s. It was renowned for its powerful air-assisted brakes operating on the front, third and fourth axles. The Mark 3 was normally powered by AEC's tried and tested 9.6-litre six-cylinder diesel, but after 1949 the larger 11.3-litre engine was sometimes specified, particularly for drawbar use, and at 150bhp made this one of the most powerful eight-wheelers of its day.
AEC Mammoth Major Mk5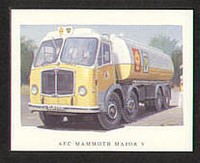 In 1958 the Mk III range was replaced by the Mk 5 (there was no Mk4 except on the bus models) which was a completely new design. The MkV had a very stylish cab built mainly by Park Royal Vehicles. AEC built only the chassis with front panels so that customers could specify their own choice of cab. In 1962 AEC was taken over by its arch-rival, Leyland Motors Ltd. Very soon a new range was launched featuring a common style of Leyland Group cab, the Ergomatic.
Atkinson L1786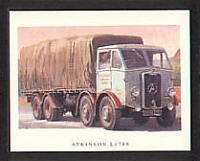 Although engaged in the motor business for many years it was not until 1933-34 that Atkinson really began to manufacture vehicles on any significant scale. At first a 6-ton four-wheeler was produced but this was quickly followed by six and eight-wheelers which appeared in 1937. Using Gardner diesel engines and the same cab for all models, they soon became a familiar sight on British roads. The 1956 L1786 17-tonner represented the archetypal British eight-wheeler of the 50s.
ERF KV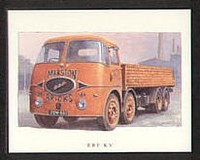 Edwin Richard Foden was the youngest son of Edwin Foden who founded the famous Foden steam wagon whose history dates back to 1856. In 1933 ER, as he was called, broke away from the family Foden concern and started building diesel-powered lorries, using proprietary units such as Jennings cabs and Gardner engines. ERFS KV models were introduced in 1954, featuring a striking new style cab with an oval grille and panoramic windscreen. It was common on all the KV models and lasted until 1961 when another new cab was introduced.
Foden FG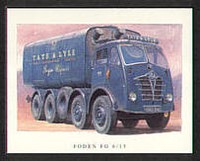 In the 1950s was at the forefront of heavy lorry manufacture. The products of the period were distinguished by the postwar redesigned cab and radiator grille. Large numbers of this type were sold for all classes of heavy work. One of the classics was the 1954 FG 6/15 8-wheel tanker, in the livery of Tate & Lye Sugar Refiners. The tank body was of double-skinned, insulated construction on a hardwood frame. To load the tank it was first tipped to 45 degrees and was then filled through the central filler.
Foden DG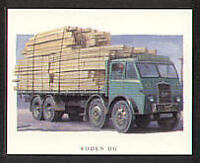 The classic early rigid eight-wheeler is epitomised by the DG6/15. The Foden DG was introduced in 1947 and quickly established Fodens as a builder of quality diesel-engined commercial vehicles. Available in four, six and eight-wheeled form, with Gardner three- four, five and six-cylinder LW engines as options, it remained in production until 1947/48, when it was replaced by the FG range. As late as the mid-sixties the Foden DG could be seen with its terrifying load of timber along Britain's roads before the compulsory vehicle plating in 1968 removed most of the older breed of lorry to the scrap heap.
Leyland Power Plus Octopus
The classic Leyland Octopus was updated in 1960 with the introduction of a Motor Panels L.A.D. steel cab which although cramped inside certainly looked impressive. New Leyland engines were available in the form of the Power Plus diesels which boosted performance. These were rated at 140bhp for 0.600 and 200bhp for the 0.680 unit.
Maudslay Maharajah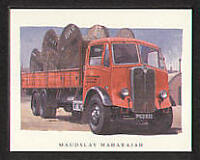 The Maudslay Motor Co was formed in 1903, originally producing cars and light vans. A range of heavy goods vehicles was produced from 1921 and in 1939 a revised range was announced, although production did not begin until after 1945. In 1948 Maudslay was taken over by AEC, who discontinued the range and used the Maudslay plant to continue to build AECs under the Maudslay badge. One interesting feature of Maudslay lorries of this period was their model names, such as Maharajah for the six-wheeler and Meritor for the eight-wheeler. The last Maudslay-badged vehicle left the factory in late 1959.
Scammell Highwayman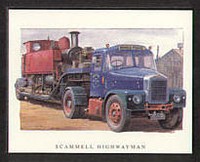 In "pre-artic" Britain of the 1950s and early 1960s the only commonly seen articulated lorries were the bonnetted Scammell "Artic Eights" and "Highwaymans". The name Highwayman was used from 1960 following Scammell's entry into the Leyland Group in 1955. Scammells had always marketed the vehicle as a complete "Artic Eight" but under Leyland's influence it was eventually redesignated a 4x2 tractor unit becoming known as the Highwayman and available with a conventional fifth wheel coupling.
Thank you for reading my guide and I hope you found it interesting!