Rover Cars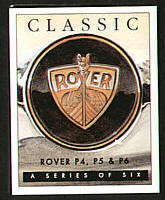 This is one of many illustrated classic car guides I've created for the community. I hope you enjoy it. If you wish to find out more about the classic Rover car art featured in this guide please click here.
This guide details the classic post-war Rover models, in the form of the P4, P5 and P6, produced between 1949 and 1977. With a rare blend of refinement, practicality and engineering quality, they represent something particularly British in a way that perhaps no other manufacturer's products do.
Rover P4 75 "Cyclops"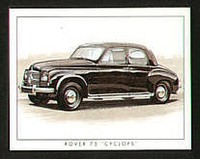 The all-new Rover 75 materialised in 1949 and caused many a broken heart among devotees of the classic Rover style of the P3s and models of the later 1930s. Bonnet, wings and body were no longer considered to be separate entities and the new 75 featured up to the minute styling with a full width body with slab sides to front and rear. It was a particularly handsome car. The central pass lamp was a distinctive feature of these early 75s and this soon earned the car the nickname Cyclops.
Rover P4 100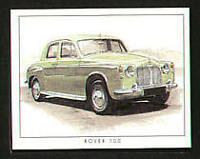 The six-cylinder Rover 100 was introduced for the 1960 season. Fitted with a 2,625cc engine and single SU carburettor, power output was now 104bhp but flexibility and torque had been improved over the superseded 105.
Rover P5 3-Litre
The P5 programme represented a move up market for Rover and in 1955 the plan was approved to make the new model. Bigger than the P4 it would be a 3-Litre luxury saloon and take Rover into a higher price bracket than they had previously catered for under the Wilks regime. Produced in three Mks between 1959 and 1967, the model featured monocoque construction with engine, transmission and front suspension carried on a detachable sub-frame.
Rover P5 3.5 Litre Coupe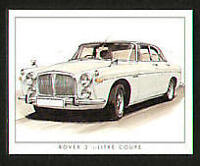 The 3.5-Litre Coupe remains the most sought after variant of the P5 Rovers. Introduced in 1967, Rover were at last able to provide the sort of performance which the luxury market was now demanding. The lightweight all-alloy 3,528cc V8 engine had been developed from a General Motors' design, and was related to the engines which Jack Brabham and his team had won world motor racing titles with, in 1966 and 1967.
Rover P6 2000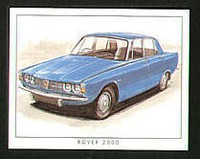 The final model of the Rover's classic years, the P6 was introduced at the Earls Court Show in 1963. A boldly executed design pointed at the 2-Litre market, it shook established Rover buyers when they first saw it, but its dynamic qualities were soon to attract a devoted following. Running for thirteen years, with engines up to the 3.5-Litre V8, the P6 was replaced in 1976 with the all-new SD1.
Rover P6 3500S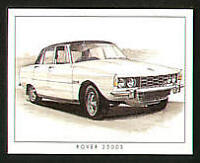 The Three Thousand Five was launched in April 1968 and ran for two years. Only available with automatic transmission it could still outrun a 2000TC, but only just, and of course fuel consumption suffered. October 1971 saw the long awaited introduction of manual transmission V8 model, the 3500S. It could cover a 0-60 dash in just over 9 seconds going on to 120mph or more. With particular appeal as a Police chase car, it undercut the price of similarly rapid Jaguars by a huge margin.
Thank you for reading my guide and I hope you found it interesting!