Shopkins Party Supplies & Shopkins Party Ideas!!
Shopkins is a popular new line of super cute, super tiny, grocery-themed characters that kids are going crazy for, making parents hunt madly in search of them. With more than six million Shopkins characters sold in less than four months, it's the hottest collectible toy this holiday season. With all this craze around these super cute miniature character toys it is no wonder girls are crying out to have a Shopkins theme birthday party!! You can pick up some of the licensed Shopkins party supplies and mix and match it with the Shopkins co ordinating solid colour party ware such as hot pink, lime green, yellow and bright blue.

Please see below for a snippet of our Shopkins party supplies available here at One Stop Kids Party and some inspirational Images of other Shopkins birthday parties!! To Purchase our Shopkins party supplies Please simply click any of the images within this guide and you will be automatically taken to our Ebay store. We also have a great website which is One Stop Kids Party Shop Australia.
Shopkins Punch Box Game
Looking for an alternative to the pinata and pass the parcel? Then why not get creative and make and Punch Box. We have a great selection of girls and boys party favours in store that you can use to fill each of the boxes with (Please click on the image to your left it will take you through to our fantastic kids party favour mixes). For instructions on how to make a punch box please have a look on you tube under how to make a punch box.
8 Shopkins Party Balloons
Set a party scene that pops with fun color with the adorable Latex Shopkins Balloons. These latex balloons come in bubblegum pink, lime green, baby blue and sunburst yellow and feature favorite Shopkins such as Kookie Cookie, Poppy Corn and D'Lish Donut. Whether they're tied to favor boxes to send guests home, attached to place settings or combined with foil balloons for a cute balloon bouquet, these helium-quality balloons are a fun and easy way to dress up your Shopkins theme party or a girl birthday party.


Shopkins 12" Latex Balloons, 8-Count:

Package of 8 Latex Shopkins Balloons
Shopkins Party Balloons measure 12" (30.4cm) and come in 4 assorted colors (balloon color may appear darker in package than when inflated)
An adorable way to add color to a Shopkins birthday party, Shopkins swap party or girls birthday party
Add balloons to party favours, use them in place settings or combine with foil balloons for a charming balloon bouquet
Coordinate with other Shopkins party decorations and party supplies
Shopkins Photo Booth Props Can Be Used In Different Ways!!
Take a few snapshots of your party guests posing with these adorable Shopkins Photo Booth Props. Featuring Kookie Cookie, Apple Blossom, Lippy Lips, and more, this pack of eight assorted photography props makes a fun addition to a Shopkins birthday party or Shopkins trading party. Kids will have a blast taking selfies with their favorite Shopkins characters. Not just for the photo booth, you can incorporate these props into table centerpieces and other decorations for an extra pop of color and charm.


Shopkins Photo Booth Props, 8-Piece:

Package of 8 Shopkins Photo Booth Props
Includes Kookie Cookie, Poppy Corn, Apple Blossom, Sneaky Wedge, D'lish Donut, Lippy Lips, Strawberry Kiss, and Cupcake Chic
Cute for a girl birthday party or Shopkins trading party
Kids will love posing for pictures with their favorite Shopkins characters
Coordinate with other Shopkins party supplies and party decorations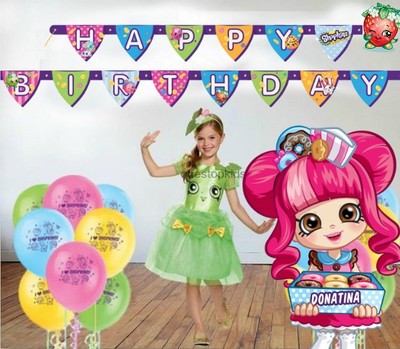 Shopkins Party Banner
Decorate your party space with a banner as special as the birthday girl herself with this Shopkins Birthday Banner. Featuring Kooky Cookie, D'Lish Donut, Poppy Corn, and more from the miniature collectibles craze, this letter banner is an adorable way to salute the guest of honor at her Shopkins birthday party. Hang it above a doorway or archway to welcome guests to the party space, drape it across the food or gift table, or string it along a wall for a fun and festive accent.


6' Shopkins Birthday Banner:

1 Shopkins Birthday Banner
Shopkins Birthday Party Banner measures 6ft
Ideal for dressing up a Shopkins themed birthday party
Hang across an archway or large window, or drape from a snack table or deck railing
Pair with other Shopkins party decorations and party supplies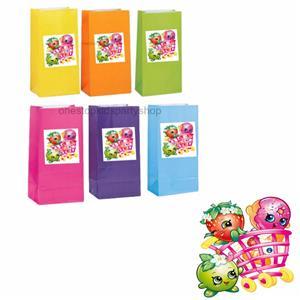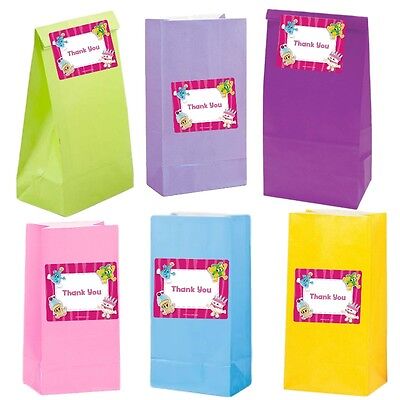 Add a caption
Shopkins Thank-You Take Home Party Bags- One Stop Kids Party Shop Australia