In my opinion and 25 years experience there are ONLY two different types of gold jewellery.
That which is SOLID GOLD and that which is NOT SOLID GOLD.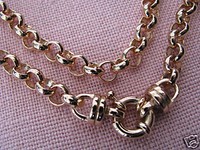 SOLID GOLD should not be confused with pure gold. PURE GOLD is 24 karat gold. The term solid gold can mislead some buyers as only 24 karat gold is SOLID .... that is 24 parts out of 24 parts being PURE gold. Pure gold means gold with no other metals added (alloyed) to the gold. Therefore, 9 karat 'solid' gold is actually only 9 parts out of 24 parts gold. The remaining 15 parts being other metals such as palladium, rhodium, copper, etc. Be particularly careful when buying bangles. These are very often described as being solid .... as in not hollow. Read the description very carefully to determine what you are really being offered.
So much for SOLID gold which many people imagine to be PURE gold whereas in fact only 24 karat gold is actually pure gold. Of course 24 karat gold jewellery is rarely produced as pure gold is so soft it is impractical to wear as it would bend out of shape very quickly.
Which brings us to NOT SOLID GOLD jewellery.
In this category is gold electroplated, gold layered, gold filled and gold bonded jewellery. Fashion (not solid gold) jewellery is a great alternative but make sure you understand what the seller is offering you. If you think it is solid gold and it's not then you may pay too much for it and be very unhappy.
This is where more confusion, misconceptions, outright lies, exaggerations, deliberate misinformation and mistruths are found. It is a minefield for the unwary, uneducated buyer. Please read more about how to educate and therefore protect yourself on my other 4 guides about buying gold jewellery.
Our gold electroplated jewellery is made by us in Australia as it has been for over 25 years. We do not import our gold electroplated jewellery and merely onsell it as some other sites do. We know EXACTLY how it is manufactured ... as we make it! ... and can determine how much gold is applied for maximum longevity.
It is guaranteed by us not to tarnish, fade or discolour provided the care and cleaning guidelines (found on our ME page) are followed. Any and all other questions are addressed in full in the other 4 guides I have written. The four guides PLUS other frequently asked questions are all to be found on our ME page.
If you found this information helpful please scroll down to vote for this guide.