For buyers and sellers of fine china, porcelain and ceramics - know your product, detect restorations before you list, understand your own limitations and learn the correct terminology - high feedback does not an expert make
All sellers have to source their items from somewhere; from estate or garage sales, flea markets or car boot sales, or from their local auction house.
Rarely will a full and accurate history of the item in question accompany this sale so it is virtually impossible for a seller to announce, in absolute honesty, that an item is in original unrestored condition.
A trophy, from the hunt for items to sell on Ebay, often ends up listed as in 'perfect' or 'mint' condition, which is as it appears to the untrained eye of the newly self-proclaimed expert in fine china and associated items. This description, when combined with the credentials of the seller in coloured-font hyperbole, adds a false authenticity to the item and the potential bidder accepts the stated description as fact. All too often an item described in this manner has imperfections a real expert might have discerned and mentioned for accuracy.

There are many restorations, and very good ones at that, being sold as 'in perfect condition', albeit unwittingly, by those who have yet to learn the subtle nuances of paint and glaze finishes. Many professional restorations are difficult to discern with the naked eye, therefore, a magnifying glass is an essential piece of equipment for the gatherer and seller of fine china, Whether large or small, it is a useful aid in identifying china marks and examining pieces for damage or change.
Remember the Ebay bidder does not have the opportunity to examine the item in person and relies on your description to be honest and accurate.
The more advanced trader might also use a black light, an ultra-violet light most commonly used to check glassware for reproductions and detect repairs in porcelain, although not all restorations can be detected in this way.
What to look for in a restoration:
any changes to texture i.e. gritty spots of uneven sections in the glaze that can be felt with the hand
age crazing that is incomplete i.e. crazing on one part of the item with an area of unbroken glaze
subtle shade difference in the colours
raised brush strokes
any inconsistency to the pattern
any hint of chemical or varnish smell
These anomalies may be barely discernable, particularly with a dusty vintage item, and a good wash in warm soapy water might not only dislodge the dust, but also any amateur restoration. It is wiser to err on the side of caution and mention, in your description, any of the above that you detect, to alert the bidder of a 'possible' restoration.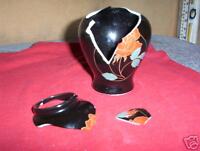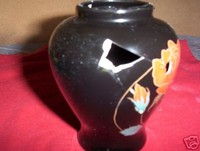 Restoration versus repair or gluing together
There have been many instances when a seller, in a bid to be honest, describes an item as having had a restoration, or a repair, when in fact it has simply had the pieces re-attached with a glue of some sort. This inaccuracy is misleading and I suggest the following definitions be used as a guide when determining a description.
This refers to an item that has been returned as closely as possible to its original form. It will not have any visible cracks or other damage nor be detectable with the naked eye,. It may not even be detectable using a magnifying glass or black light.
To repair is to return an item to sound condition after damage.
Other terminology:
Restorations, when done professionally and expertly, can form a valuable part of any collection, indeed, most museums not only employ fine arts restorers, they also have many restored pieces included in their own collections, but the choice of inclusion should always remain with the buyer.
Build your reputation as a trusted and knowledgable seller of china through consistent and well-informed description ot your items for sale.
(c) Merlene Fawdry
I hope this guide has been helpful.
Thank you for taking the time to read this guide, which has been written to assist china collectors. Because there are a minority who negatively rate other people's guides to promote their own, before you vote for its usefulness please make sure your vote is genuine and you are not voting it as Not Useful just to send it lower down the rating scale.
Thank you
braddieboy