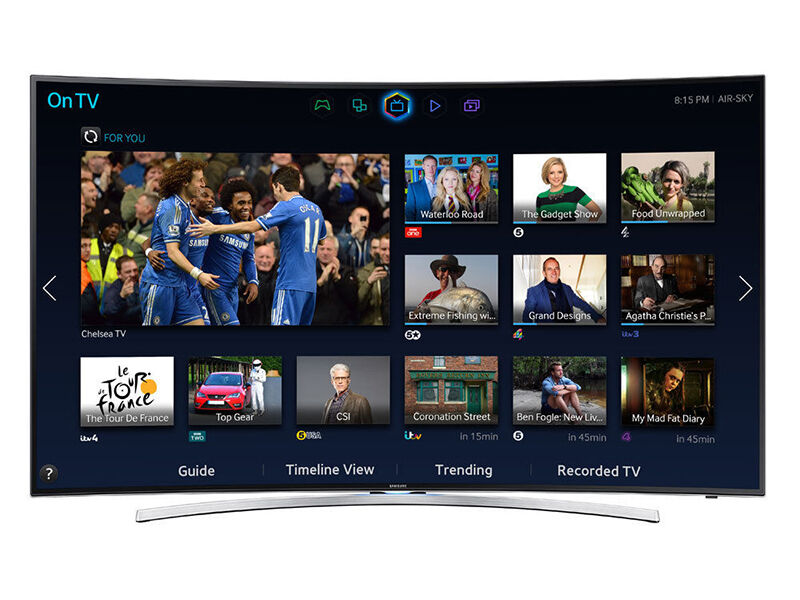 As one of the most preferred Smart TV platforms, Samsung offers a range of televisions with beautiful screens, powerful processors, and unique navigation experiences. The 2014 Smart TVs range from 48 inches up to 78 inches. They come complete with important features that offer users a personalised viewing experience, and innovative search options are another benefit. Before determining which model best suits their needs, shoppers should first study the designs and benefits.
The designs
Samsung unveiled its 2014 line-up of TVs by showing eight new televisions in curved and flat designs. The new Smart TVs offer 4k Ultra-High Definition display panels at four times the resolution of a standard HD 1080p panel, giving audiences a crisp and clear picture for all their multimedia needs.
Curved screens
The curved Smart TV models include 55-inch, 56-inch, and 78-inch screen sizes. Curved Smart TV models include the HU9000 and the H8000. Images and videos stun with Samsung's Image Depth Enhance technology, which dynamically adjusts brightness, contrast, and colour for the best viewing experience possible.
Flatscreens
Samsung also offers flat screen televisions in 48-inch, 55-inch, and 65-inch sizing options under the model number HU8500. The flat screens have support for new high-definition codecs and the potential for future Samsung software upgrades using the Samsung UHD One Connect Box.
Quad core plus processor
Select Smart TV models have a Quad Core Plus processor, which boosts their performance for an enhanced viewing experience. Additionally, the Quad Core Plus processor improves the speed of content streaming and offers faster Web browsing for easier use. With available Smart TV apps for fitness, weather, sports, news, and more, the valuable Quad Core Plus processor also assists with fluid navigation within Samsung Applications.
Key features
Along with impressive screen designs and a powerful processor, Samsung unleashed a bevy of notable features with its Smart TVs. These key features both enhance and support the browsing and viewing process, so consumers should understand each one before purchasing a Smart TV.
Smart hub
Built into each Smart TV, Smart Hub simplifies the way users access a range of multimedia content. Live television, movies, video-on-demand, streaming videos, applications, games, social media profiles, and more are available through Smart Hub. Consumers simply access their "Favourites" panel to navigate through content that they enjoy for easy and quick access.
Evolutionary TV
Evolutionary TV allows consumers to update Smart TV hardware and software to keep up with Samsung's evolving technology. Users can plug the Evolution Kit into the back of a Smart TV LED to get feature and software updates. Also available is the One Connect Box for 4K UHD television upgrades and advancements, which eliminates the need for buying a new television altogether.
S Recommendation
The S Recommendation feature helps users find what they want to see based on viewing history and voice command requests. It also taps into a user's preferences and popular trending content to offer recommendations that they might find most entertaining.
Multi-Link
Using Multi-Link, consumers can watch up to four screens at the same time. Multi-Link allows Quad Screen and Dual Screen viewing with simultaneous interaction in each screen. Browsing the Web, launching an application, or searching for more content is easy with Multi-Link, though the feature comes only on select Smart TV models.
Smart interaction
The Smart Interaction feature works seamlessly with the Smart Remote for streamlined navigation. Users can browse the Smart Hub, launch applications, play games, change the channel, browse the Web, and more — all with simple voice commands and hand gestures while holding the Smart Remote.
Smart remote
The improved Smart Remote makes it easier than ever to navigate around a Samsung Smart TV. The remote has a built-in microphone for voice commands, as well as a track pad that users can control with small movements of the thumb. Alternatively, the Smart Remote works as a point-and-click mouse and has buttons galore for controlling the Smart TV.
How to buy a Samsung 2014 smart TV on eBay
After you have decided which Samsung 2014 Smart TV model is right for you, browsing the reliable sellers on eBay can guide you to the right television. Use the search box located on any eBay page to look for items like "Samsung Curved Smart TV" or "Samsung Smart TV HU8500". You can narrow your search results by selecting a specific category, choosing item condition, or picking the item location. Once you have your new or used Smart TV, you will be ready to follow simple setup steps before enjoying the device.