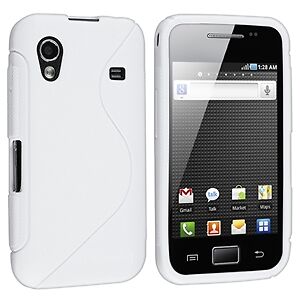 The Samsung Galaxy Ace was released back in 2011, and has gone on to become one of the most popular smartphones on the market. Featuring a 5-megapixel camera and an intuitive Android OS, it is a sleek offering from one of Japan's top mobile developers. However, those who choose to own such an advanced device will want to make sure that it remains protected at all times. This means investing in the correct case should be of vital importance.
Material
All users should be looking for a fitted case to accompany their Samsung Galaxy Ace mobile phone. However, it isn't just as simple as finding a case and buying it, as there are a wide variety of materials to choose from. Theoretically a phone case can be made out of almost anything, meaning that the possibilities are endless. When entering the market for a new case, shoppers will find the following materials to be the most common.
| | |
| --- | --- |
| Silicone | Silicone is an affordable, durable and highly flexible material that is also water resistant. However, it looks basic and can struggle and perish when put under any pressure. Perfect for those who want a case for temporary purposes. |
| Leather | A tough and natural material that is great to look at. Offers a professional appearance, but can be expensive to obtain and designs are limited. Commonly used for wallet flip-style cases. |
| Synthetic Leather | A leather substitute, which is just as tough and durable. Comes in a wide variety of colours and designs, but lacks the professional look of real leather. Highly affordable and a great budget option for those who don't wish to over invest. |
| Rubber | Water resistant and not too dissimilar to silicone in terms of flexibility. It offers a strong grip, but is far from stylish. The type of case that is usually used in situations where a phone is at risk of damage. |
| Metal | Aesthetically pleasing and highly durable.Metal cases rival leather for being the most expensive. Expect many high-end brands to produce cases out of this material. |
| Plastic | Affordable and comes in both hard and soft form. Easy to use and durable, but suffers from appearance issues as scuffs and scratches are highly visible when they occur. |
Features
The case itself is the core element, but in many instances one can have additional features that add to its use. They are usually in place to add control and comfort to the Samsung Galaxy Ace; the following are features that shoppers are likely to come across.
| | |
| --- | --- |
| Belt Clip | Developed to aid those who use their phones in active and sporting environments. The clip is connected to the waist of a pair of trousers or belt loop, which allows for easy access to the phone while ensuring that it remains tight to the body. |
| Hand Strap | It may only be a simple piece of material, but the string element can be wrapped around the hand of the user to ensure extra grip. It prevents the Samsung Galaxy Ace from slipping out of the user's hand, and is extra useful for those who use the phone to take pictures. |
| Acoustic Enhancements | Premium Samsung Galaxy Ace cases can come with active or passive acoustic sound enhancement. Working side by side with the phone's speakers, it can help amplify the sound and offer a boost in power. |
| Enhanced Grip | Those who want maximum grip from their Samsung Galaxy Ace case may want to look for one that features rubber padding. The textured surface ensures "enhanced grip", and means that the phone is unlikely to slip out of a user's hand when in use. |
Brands
The Samsung Galaxy Ace accessories market is constantly growing, in large part due to continued sales of the phone. Companies are not shy to this and consistently release new cases and create new designs. When shopping on eBay for a Samsung Galaxy Ace case, shoppers are likely to come across the following brand names.
Supergets
Gadgeo
YEAH
Techgear
XYLO
Caseilike
Jazooli
Casestyle
Snugg
Speedythings
PU
MadCase
iHomeGadget
How to Buy a Samsung Galaxy Case on eBay
To find and buy Samsung Galaxy Ace phone covers, go to the eBay Australia homepage and locate theMobile Phones and Accessories category from the options to the left. From that point, click Mobile Accessories to enter the related subsection. After locating relevant listings; select Case, Covers and Skins from the search modifiers on the left.
After finding a suitable case, choose to complete the payment process via PayPal. Not only is it the most effective way to complete an online transaction but it is also the safest. This is due to the world-renowned buyer protection program covering any payment that is put through from a PayPal account.
Conclusion
The Samsung Galaxy Ace is one of the most popular types of mobile phone, having sold millions of units worldwide. After acquiring the device it's smart to keep it protected. There is no shortage of case variations, with different designs and materials all readily available. eBay is a reputable retailer in the world of mobile phone accessories, and shoppers are sure to find the case they're after from one of the sites reputable sellers.