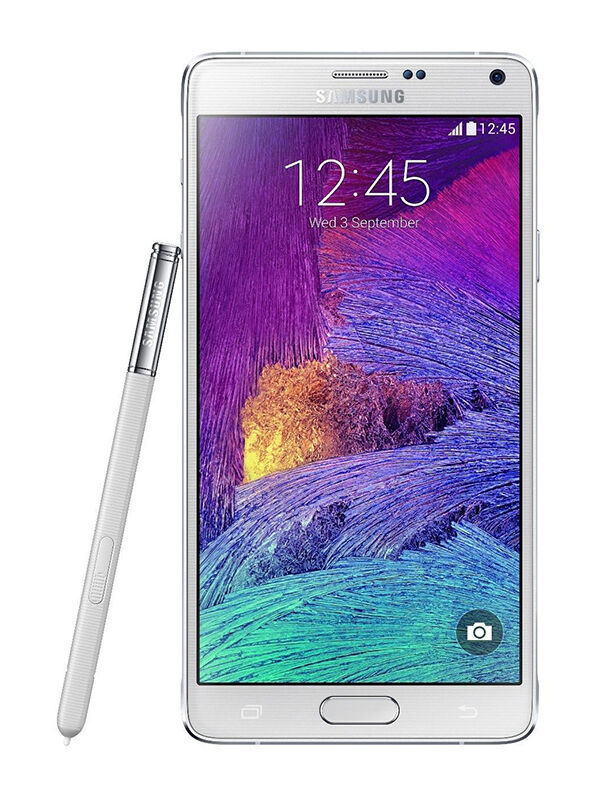 In a few short years, Samsung has quickly become the front runner in Android Galaxy Note 4. With growing demand for devices that allow the creation, editing, and sharing of a wide range of multimedia content, Samsung has produced a phone with impressive specs to meet these demands.
Features of the Samsung Galaxy Note 4
While the Note 4 shares some features and aesthetic similarities with other Samsung phones, new design improvements and technical specifications make this a striking phablet for tech-savvy consumers.
Design
Style and functionality are key factors in Samsung's approach to design, and as such, the Note 4's form takes its queues from the sleek flagship S5. While the Note 4's dimensions place it on the larger end of the spectrum for a phone, easily qualifying it as a two-handed device, the size and contours of the Note 4 allow it to remain comfortable for everyday usage. In addition to the standard Charcoal Black and Frost White, this model is also available in Bronze Gold and Blossom Pink colour options, which makes it even easier to personalise and accessorise.
Chassis Materials
With weight being an important factor for usability, most Samsung phones have employed plastics in order to maintain a light and thin form. For some, this has led to criticism that Samsung's premium phones feel somewhat cheap. However, the Note 4 addresses these concerns by incorporating the metal surround shared by the Note 3 and S5 as well as faux leather or optional premium metal backings. While the standard soft textured backing may not be popular with some, it is a notable improvement over previous iterations.
Performance
The 2.7 GHz quad-core Snapdragon 805 processor, running 3 GB of RAM, packs a powerful punch and ensures that the Note 4 is unlikely to suffer from slow processing issues. The Note 4 is therefore well equipped to handle applications and games. Furthermore, the added feature of a microSD slot that offers up to 128 GB of additional memory storage allows this phablet to function as a truly convenient multimedia device.
Battery
The Note 4 has the same battery as the Note 3 (3220 mAh), which is regarded as one of the best for a mobile device. In addition to 20 hours of 'standard use' battery life expectancy, the Note 4's battery now boasts an upgraded rapid charging time of 50% charge in just 30 minutes. The Note 4 also utilises the same power saving technology as the S5, including an Ultra Power Saving mode, which turns the phone into a basic grey-scale screened communication device without additional features in order to extract the best possible battery performance.
Screen
The Note 4 has a 5.7 inch Quad HD (QHD) Super AMOLED (2,560 x 1,440 resolution) screen, operating at 515 pixels per inch, which produces smooth images without jagged edges, even when zoomed in. Compared to previous LCD iterations, the AMOLED is simply striking with its ability to render rich hues and true black by turning off pixels; a feature that helps extend battery life. The adaptive display also detects lighting conditions in order to adjust screen brightness for optimal viewing in all environments.
Camera
Whereas the Note 3 had a 13 MP camera, the updated Note 4 offers an impressive 16 MP and features optical image stabilisation (OIS) for clearer pictures and smooth videos up to 4k, which is particularly useful in darker settings. The front-facing 3.7 MP camera also has an enhanced F-stop aperture of f1.9, allowing 60% more light in for better image quality. An addition feature is a portrait panorama mode for selfies, which provides 120 degrees of spatial awareness and a camera trigger button on the rear via the heart rate monitor function.
S Pen
By making the S Pen twice as pressure sensitive (2048 dps), the Note 4 stylus received a critical upgrade that provides better functionality and makes signatures and handwriting more authentic and easy to read. The Smart Select mode highlights text and clips those sections into an archive for later use. The Snap Note app allows photos taken of papers or whiteboards to be edited for additional notations, size, and colour manipulation of objects and text deletion. These features make the S Pen feel like a necessary tool rather than a mere accessory.
Conclusion
Despite the plastic chassis, the sophisticated features and solid specs make the Galaxy Note 4 feel like a more efficient and well-rounded phablet than the similar S5. Thus, the Note 4 surpasses the flagship model and becomes the new standard to beat.