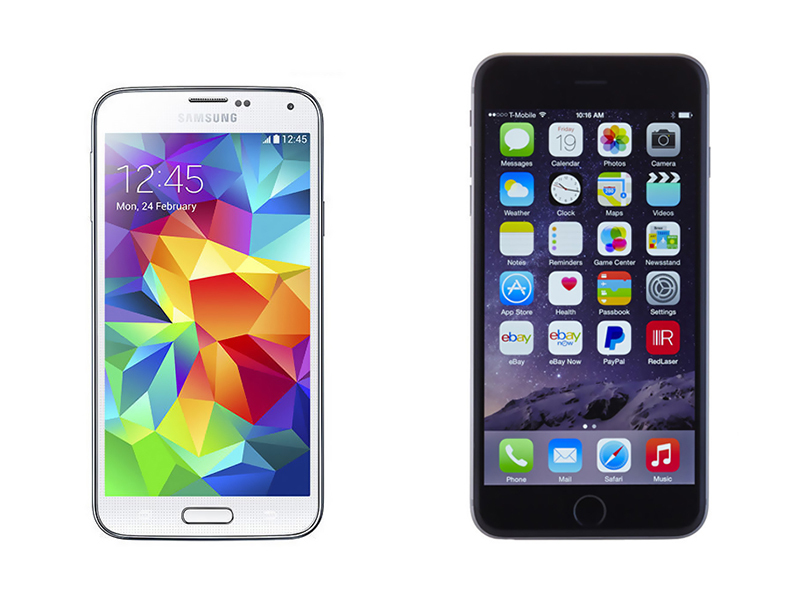 If the past few years have taught us anything about smartphones, it's that they're getting larger. Users want more out of their devices, which includes larger screen sizes and more advanced features.
Samsung was one of the first mobile designers to develop what became known as phablets – a combination phone and tablets. Apple recently joined the phablet phase when it released the iPhone 6 Plus. Now that the mobile phone market is saturated with larger screen devices, deciding which to buy has become more challenging.
Samsung Galaxy S5
A dominant player in the Android smartphone market, the Samsung Galaxy S5 features a large, light body. At just 5.11 ounces, it feels comfortable in the hand or pocket. It is cast in a thin, lightweight plastic that is also waterproof, which means it can be submerged in up to a metre of water without damage. At 5.1 inches, and with a 1080p AMOLED display, the Galaxy S5's screen is clear and vibrant.
For users looking to take photographs, the Galaxy S5's 16 megapixel camera is hard to beat. It takes sharp, detailed photographs, and the phone's real time HDR feature makes taking photographs in inadequate lighting easy.
Battery performance is also pleasing. The Galaxy S5 can hold its battery life through a full day, with up to 12 hours of online use and 1,740 minutes of talk time. Of course, a lot depends on how the phone is used (streaming movies will certainly drain the battery's power quicker), but overall the Galaxy S5's battery is impressive.
The Galaxy S5 also features a fingerprint scanner for added security, and a heart-rate monitor for those with active lifestyles.
Through both form and function, Samsung's Galaxy S5 is emblematic of why the company has been successfully leading the Android-based phone market.
Apple iPhone 6 Plus
Apple recently jumped into the phablet market by introducing the iPhone 6 Plus, which features a gorgeous 5.5-inch retina screen with a 1920 x 1080 resolution, the highest ever produced on an iPhone. At only 7.1 mm thick, it is the thinnest iPhone to date.
The iPhone 6 Plus is designed with a display that is curved around the edges, giving the device a smoother, more natural feel. Apple also made better use of the larger screen with landscape mode. By simply rotating the phone, users have access to a landscape version of iOS 8, Apple's latest mobile software. The landscape option allows for a larger viewing area, and in some cases extra columns in apps that take advantage of the large screen size.
While size may be its biggest characteristic, the iPhone 6 Plus is loaded with features including Touch ID, its fingerprint reader for secure log-ins, a high quality 8-megapixel camera, and 1080p HD video recording at 30 or 60 frames per second.
One concern with larger screen sizes is the inability to reach areas of the touch-screen while holding the device in one hand, though Apple has developed a solution for this. By double tapping on the Home button, users can access a feature called Reachability, which shifts the screen down to allow for easier one-handed access.
With the iPhone 6 Plus' large screen, exclusive features like Reachability, and high quality design, it is certain to dominate the large phone market.
Choosing a Smartphone
Both the Galaxy S5 and the iPhone 6 Plus offer beautiful displays, long battery life, and a number of rich features. What may be a determining factor for many users is the software differences between the two phones, as well as exclusive features such as the iPhone 6 Plus' Reachability mode and landscape view. No matter which device users decide to buy, both are top-of-the-line products. Both Apple and Samsung phones are available through phone carriers and various online vendors.