MY EBAY WEDDING!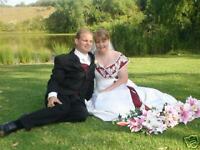 On 20 October 2007, I got married, and I will always refer to my wedding as an "eBay wedding", because that's exactly what it was. I bought nearly everything I needed for my wedding off eBay during the twelve months I was engaged, and I saved literally thousands of dollars. My wedding was just as elegant as a $40,000 wedding, and it only cost me around $1500 (
not including the meals and DJ at the reception and men's suit hire
).
Everything I bought on eBay for my wedding was either brand new or made to order. I bought the following items on eBay::
My custom made dress, $200
Set of three beautiful bridesmaid dresses with sashes, $500
Veil $20
Corset $15
Crystal headband $14
Bride teardrop bouquet, 3 bridesmaid's bouquets and throw bouquet; groom and 3 groomsmen buttonholes, as well as two corsages and buttonholes for parents of the bride $180.
Flower girl dress $20
Flower girl flowers $21
100 Cake bags $8
200 heart shape chocolates for table scattered bonbonniere $40
Wedding attendance guestbook $12
Wedding photo album $6
12 church pew decorations $30
Set of 5 custom candles in our colours, with our names, photo and favourite song lyrics printed on them $40

50 custom designed and printed place cards for our wedding guests $25
Cake knife and server set $11
Garter $5

Four night honeymoon in a fully self contained holiday apartment on the water $240
Plus lots of other bits and pieces that I have forgotten about.

HOW TO HAVE YOUR OWN EBAY WEDDING!
As soon as you get engaged, eBay should be your new best friend!
It is amazing what stuff you can get on here for a fraction of the price you would pay in shops (straight from makers, no middle man to add dollars to the final cost). You can also browse heaps of good quality second hand stuff.
If you already use eBay for a lot of buying & selling, make an account purely to buy wedding related items, that way you can keep track of your buying better.
It is legal to have two eBay accounts, just remember not to interact between your two accounts or you will get yourself banned very very quickly!
Also, when browsing wedding stuff, here's some tips to keep in mind:
1) Ask lots and lots of questions, request extra photos, ask about the history of the item, who made it & how, who cares how many times you have to email the seller! You want to make sure the item is exactly what
you
want!
2) Everything you see that you like, add to your watch list! Or sure enough when you want to find it later, you won't be able to! By adding it to your watch list eBay will send you a reminder before the item ends, so in case you forget, you won't miss out! You can also be notified if the seller relists the item for a cheaper price, as well as add your own personal notes to your watched items in 'My eBay' to keep track of everything.
3) Don't just browse the search results with gallery photos (the small picture in the search results list), as these listings sell for 11% more on average. Go into each and every listing that has a poorly written title, or no gallery picture. These items can usually be bought for a lot, lot less! (If there is no photo on the description at all, ask for one!). Sometimes people have really bad, non-descriptive titles just like '
used wedding dress
', and these are the kind of auctions you can win for about $20 even though the dress might be a one off $2000 UK import! Titles that grab your attention or have a lot of commonly searched keywords in them, like '
Stunning designer label wedding gown imported from US, size 12, free gloves & veil
', will not only grab your attention, but also everyone else's attention, so they are more likely to sell for a lot more!
4) Browse categories, not just keywords. Don't just search for '
bonbonniere
', browse the "Parties & Occasions" category. There might be some great party favours here that have been listed without '
bonbonniere
' in the titles.
5) Try and buy things that are close to where you live or work. Sort the search results by "Distance: nearest first". You can save a lot on postage if you can pick up your items. But before bidding, send the seller a quick email to make sure that they permit pick up of items.
6) Be careful of cheap items with drastically inflated postage costs. This is especially so for a lot of items coming from Asian countries. That beautiful dress might only be $19, but the postage could be $200 or more. This still works out to be a cheap dress, but make sure you are aware of how much the postage is going to be. Some Australian sellers charge a lot of postage so they can sell the item for 99c but still make money. This reduces how much fees they have to pay to eBay for selling the item, as fees are only calculated on the winning bid, not on the postage price. This practice is against eBay's terms and conditions, so any seller doing this should be reported.
7) Make sure you review the seller's feedback, and how many items the seller has sold, and how long the seller has been registered on eBay. There are unscrupulous eBay sellers who rip people off, then sign up using a new account to do the same thing all over again. For peace of mind, make sure your seller has been on eBay for a while, and has good feedback for similar items.
8) Be sure that you also click the link down the bottom of the search results that says
"See additional Buy It Now items from eBay Store sellers".
Otherwise you will overlook the great items that are coming from wedding and bridal wholesalers and shops.
Last but not least, have fun, browse lots and lots of items, but don't get too carried away and start buying things you don't really need or like just because they are cheap! If you have already bought something but you change your mind and it isn't what you were after, don't stress, just resell it!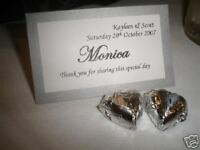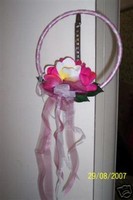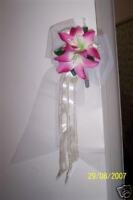 Photos: Place cards and bonbonniere chocolates; flower girl hoop; church pew decorations.
PLEASE DON'T FORGET TO RATE THIS GUIDE!