They've all been sneaking up on us over the past few weeks. The tinsel. The fairy lights. The beards and bright red costumes.
That's right. Christmas is almost here!
Time to pack the bags and fuel up the car. With holidays just around the corner, Aussies are looking to jingle all the way across the country, catching all the gorgeous sights from the ground level up.
"Road trip! Road trip!" the kids squeal, their eyes glimmering with excitement.

But wait. The drive is over half a day long. It's a challenge for most kids to sit still even for ten seconds. It won't be much of a family vacation if most of the time is spent trying to get the kids to stay quiet. What can be done to keep them occupied on the long trip there and back?
"Well," we say. "How about giving them something where they can watch their favorite movies and play free games?"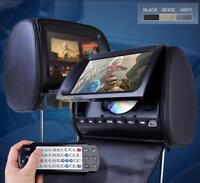 That's right! With our headrest DVD players, your kids can now keep themselves occupied while you and your partner chat and take in the sights. Each pair of headrests includes two free wireless headphones, so there isn't any worry about there being too much noise in the car. Additionally, each headrest is its own DVD player, so your lucky little kiddies can have a screen all for their very own! The headrests also come with zipper covers to hide the screens when the kids are asleep or when you've left your car in the parking lot.
"But what if our kids want a bigger screen?" you may ask. Well, maybe one of our roof-mounted DVD players are more for you.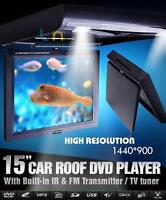 With their large swivel screens, passengers will be able to watch their favorite DVDs in high definition from any position in the car. There are just a few differences between them all:
9" 10.4" 15"
Can be connected to receive digital freeview TV channels* No No Yes
Can play free 32bit games Yes Yes No
Screen resolution (in pixels) 640x480 720x480 1440x900
*With the purchase of a digital freeview box
The real beauty of these players is that they can also be connected to any of our head units to play exactly the same thing through back and front. This means that kids have the option of watching their own shows or catching the same thing as mum and dad.
Which brings us to our last item…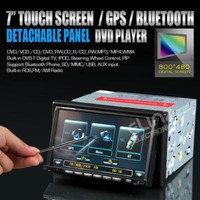 Our double DIN in-dash units are our best-selling items from our site, and for a good reason! They are all GPS enabled, with the latest February 2010 Australian maps pre-installed. They all have Bluetooth connectivity, can receive all Australian radio channels and play DVDs and CDs just as well as our other DVD players do. The best thing is, they also have a digital TV option to ensure that you will never miss your favorite show, even when away from your TV!
Talk about the lap of luxury. If you would like to know more about any of these, just contact our friendly group of staff would be happy to explain in more detail. Stay tuned for our next post about our reverse camera kits and how they can benefit drivers with caravans and floats.