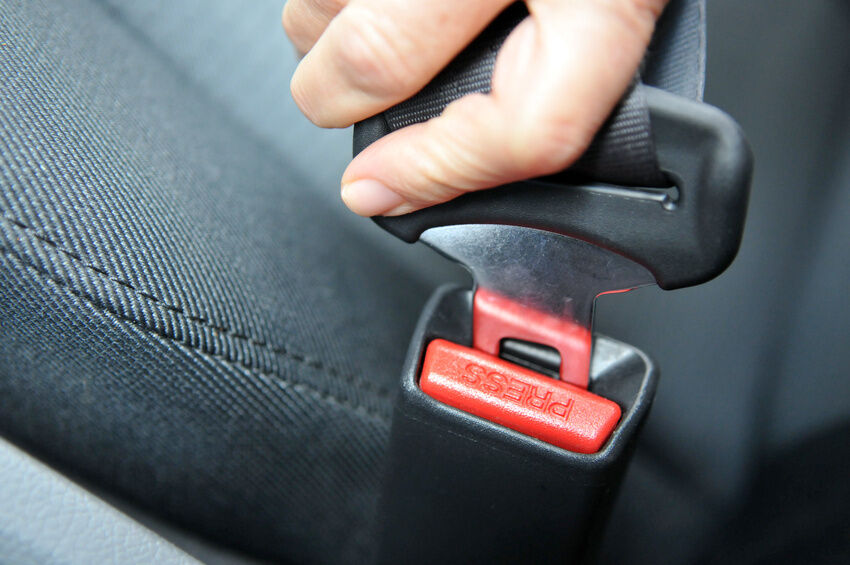 Seat belts are undoubtedly one of the most important safety features of a car, since they keep passengers secured during a ride and in the case of an accident. Thus, it's important that every person and animal in a car is buckled into the car via a seat belt, even if they do not fit into the traditional seat belt size. Luckily, companies today have created seat belt extenders for passengers and drivers who do not fit into seat belts. They allow people to buckle themselves into their seats, so they can both stay safe and avoid fines and citations. Seat belt extenders can also help parents safely buckle their childrens' car seats into a car.
Determine the Type of Buckle
Seat belt extenders can be used in a wide range of vehicles with a wide range of buckles -- from antique automobiles to aeroplanes. Thus, it's important to consider what kind vehicle the seat belt extender will be used in before purchasing one, since it needs to be able to buckle into the existing belt. Once a buyer examines the metal tongue and receptacle of a seat belt and is aware of the type of belt they need to extend, they can choose an extender that has a similar end so that everything connects seamlessly.
Choose the Right Length
The length of the seat belt extender should be able to fit completely around the person or object it is securing and buckle into the receptacle safely. Buyers will want to measure the extra length needed to cover the person and choose a belt extender that is at least that length.
Select a Matching Colour
In order to ensure that the seat belt extender fits well into the interior of a car, drivers or passengers should select a seat belt extender that matches the colour of their existing seat belts. Seat belts come in a range of colours, and are often tan, dark brown, or black. Selecting an extender that matches the car's belts ensures that the belt extenders looks as natural and fitting as possible in the car.
Pick the Material and Texture
Car seat belt extenders come in a range of materials and textures, and buyers of a seat belt extender should choose the fabric and shape that suits their needs. Some seat belt extenders are soft and limp and hang loosely from the belt they are attached to. Others are rigid, firm and unbendable, making them easy to find and buckle for passengers or drivers with a limited range of motion or wearing bulky clothing like a uniform or equipment.
Determine Its Movability
Drivers or passengers who want to use a seat belt extender in multiple vehicles should ensure they choose an extender that can be moved between cars. These are usually called "click and go" extenders, which means they can be easily inserted, removed, and reinserted into multiple seat belts. Extenders that require professional installation or those that are affixed via screws or bolts are not able to be moved between cars easily.