A huge number of very fine cameras, lenses, iPods, iPhones and valuable electronic devices are bought and sold on eBay every single day. These precious gems are precision instruments with complex electronic, optical and mechanical elements and are quite sensitive to a plethora of vulnerabilities. They can get broken or jolted out-of-calibration all too easily. Proper packing is the most cost-effective way to prevent damage during transport. This packing method is also applicable to many small electronic devices like Apple iPods, iPhones, GPS units, PDAs, Mobile Phones, Portable Game Devices, MP-3 Players, Digital Video Cameras and other similar items.

High quality cameras, lenses and small electronic devices often have a very high dollar value for their relatively small size and weight. (That's why I like to refer to lenses as "gems"). These items require some specialized packing and shipping procedures to insure safe delivery into the waiting hands of your eager buyer. Failure to pack and ship these items properly can easily result in serious damage, a lot of unnecessary grief and some very negative feedback comments on eBay.
This guide will attempt to show you how to avoid most of the preventable shipping pitfalls that confront the photographic and electronic gear seller.
"PREVENTATIVE" ITEM PACKING
Rule number one: ALWAYS SHIP IN A STURDY BOX, even if it is a new model in the original retail carton. Padded shipping envelopes are very convenient and look like a great packing option, but don't do it. These containers are not designed to offer the level of protection that photographic equipment requires! The box should allow your item it fit inside with some space to spare in every direction. This will allow the packing materials to provide maximum protection. Your item should never be permitted to come in direct contact with the "walls" of the container.

The two main vulnerabilities that must be addressed are shock and moisture.
You must assume that your package will be dropped at some point on its journey and that it will be raining "cats & dogs" on the day of delivery. If you are lucky, your package will not fall too far and the humidity will be less that 99%, but prepare for the worst, it will pay-off in the long run. You say, "No problem, I will get the package insured". I ask, "Have you ever filed a damage claim?" Trust me, a few minutes of precautionary prevention are worth a ton of insurance "cure"! It could save you a lot of "red tape" and a very nasty negative feedback.
OK, you have chosen the right box, how do you protect against shock and moisture? Always "seal" any electronic device, camera or lens in plastic.
Items that are in the original retail carton should be placed inside a plastic bag and sealed with a "twist-tie". This will keep out moisture (and those insidious little packing peanut particles that seem to get into every place that they do not belong). If you are sending a "naked" used electronic device, SLR body or lens, I strongly recommend that you securely attach the protective caps and then wrap the item in tissue "gift" paper. This prevents "scuffing" and also holds protective caps and covers firmly in place. Apple iPods and iPhoness are especially vulnerable to those tiny little "rubs" and scuffs on their gorgeous high gloss surfaces. Tissue "gift" paper does the best job of fending off those hard-to-prevent "micro" scratches that can diminish the pristine "look" of these beautiful devices. Next, you should wrap the item very securely in plastic "bubble-pack" and seal it with special 2" (48mm) wide packing tape.
If you are shipping to an area with a cold climate (below freezing) you should include a short note to the buyer, explaining that the electronic device, camera or lens should be allowed to warm to "room temperature" before being removed from the plastic bag or bubble-pack. This simple precaution will prevent condensation from forming on cold surfaces, especially the hard drive "platters", circuit boards, glass elements, aperture blades, shutters and mirrors.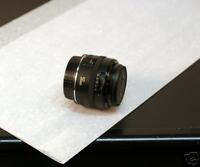 "Gift" tissue paper offers scuff protection.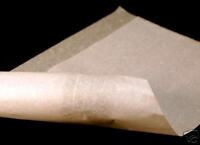 Wrap the item to hold caps or covers securely in place.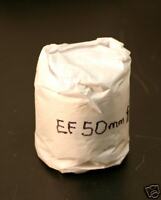 "Scotch" taped and labeled item.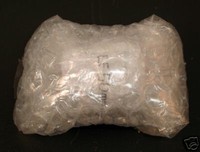 Item in "bubble-pack" sealed with 2" "packing" tape
In the next step, you want to isolate the wrapped item from shock. Place a layer of "packing peanuts" in the bottom of the box. Set the wrapped piece in the center of the box and add more "peanuts" until the item is fully covered. Try to arrange the packing material so that there is an equal space between all of the sides of the box and the merchandise.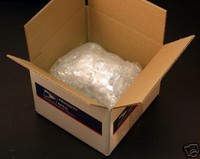 First, add a layer of packing "peanuts" and then the wrapped item.
Add a "packing slip" and completely fill box with "peanuts".
Now is the best time to enclose a receipt or "packing slip" inside the box. A packing slip can be a life-saver when your parcel is damaged in a way that makes the postal label unreadable. If the item becomes undeliverable, the box can be opened. The packing slip will provide the address of the sender and the intended recipient. Make certain that when you close the top of the box that there is enough packing material to completely stop the item from moving around in any direction. Pack it tightly, but not so full that it will make the box bulge. Seal the box neatly closed with special clear packing tape. DO NOT use masking tape, duct tape, cellophane tape or anything other than packing tape that was designed exclusively for this purpose!

Use a labeling program or web site to print a good shipping label. If you use an ink-jet printer, be sure to cover the label with clear packing tape, to prevent the ink from "running". This is just in case the package might get damp during its travels. If the ink becomes unreadable, you may have just lost an expensive piece of gear. The entire packing procedure takes less than five minutes to complete correctly.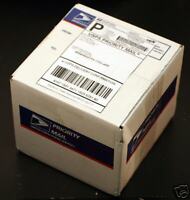 This parcel is on its way to a very happy buyer.
If you follow this advice, rest assured, you will have fewer "headaches", happier buyers and better feedback.

If you have found this Guide to be informative or interesting, please let me know by clicking the "YES" button below. Your vote is completely anonymous. However, your comments and criticisms are always welcomed. I am more than happy hear about ways to improve my reviews and guides so that more people can find useful information in them. Your "helpfulness" votes are the only compensation that eBay reviews and Guides authors receive for their efforts. Member's "votes" are used exclusively to determine writer's rankings. Encourage us with your votes and we will return the favour by supplying you with a lot more informative Buyer's Guides and honest Reviews.
© Copyright 2008 All rights reserved ProfAudio1