Introduction
The worlds first 128 bit game console, Sega's Dreamcast, was released in Japan on the 27th of November, 1998. It was the first console to come standard with a modem for use on the internet, as well as sporting a new type of disk format, the GD-ROM, which could hold up to 1.2 gigabytes of information. Another notable feature is that it has a Microsoft Windows CE operating system, which was mainly used for web access purposes.
Although this console had a very short lifespan compared to many others - being discontinued on the 31st of January 2001 - it still has many followers. This is most likely due to the large assortment of quality games released, ingenious accessories such as the Visual Memory Unit, and as well as being capable of producing graphics and sounds that are still considered impressive today.
After you finish reading this guide, please take the time to rate it. If you find this guide useful, please press the 'yes' button at the bottom of the page.
System Unit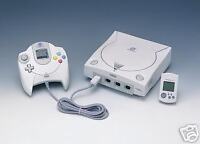 The PAL version (Europe, Australia and New Zealand) of the Dreamcast is easily identified by a blue dreamcast symbol on the lid of the console. The NTSC version (USA and Japan) of the dreamcast is distinguished by a red symbol on the lid of the console. For the NTSC consoles to work in Australia, you must first make sure that your television supports NTSC, and that you purchase an appropriate stepdown transformer to handle the differing power supply voltages.

Above Image: The red dreamcast symbol was used with NTSC models, and the blue with PAL.
.
System Specifications
128 bit Hitachi RISC Processor running at 200 mHZ
16 Megabytes Main RAM - 8 Megabytes Video RAM - 2 Megabytes Sound RAM
NEC PowerVR Series II Graphics Processor
64 Voice Yamaha Super Intelligent Sound Processor
12 Speed GD-ROM drive which can store up to 1.2 Gigabytes of information.
Resolution of 640 x 480
16.7 Million colours
Issues with these consoles include overheating, which causes the system to reset itself, and GD-ROM drive problems. Parts such as power supplies and new GD-ROM components can be purchased to rectify most issues, however, sometimes it is more economically viable to invest in a new system. One may also be able to find resources on how to repair Dreamcast consoles online. However, as you are working with high voltages, it is not generally advisable to open the case of a Dreamcast under any circumstance.
It is best to purchase a console which comes with its original box; although this is not a reliable way to judge the condition or the way the console has been treated, it indicates that the owner was careful enough to preserve the box in order to maintain the value of the system.
There are also a considerable number of special edition consoles which have become quite collectable; such as the black Sports edition or the transparent pink or blue 'Hello Kitty' editions, etc.
Accessories
The dreamcast came with a large range of accessories, some such as the VMU and the fishing rod, were quite unique for the time. The following is an introduction to a few more common accessories, however this list is not exaustive. Others controls and accessories that have been released are, for example, arcade sticks, dance mats, maracas, microphones, web cameras and broadband adaptors, even a train driving control for one Japanese train driving simulator.
Standard Control Pad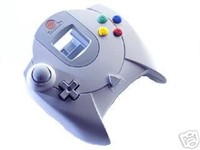 The standard control pad is very comfortable to use, and features both analogue and digital directional controls, two analogue triggers, a start button and four multipurpose buttons on the right side of the pad marked A, B, X, Y. The control pad also has two expansion ports, in which you would plug a VMU and a vibration pack.
Visual Memory Unit


The Visual Memory unit plugs into the control pad's expansion port. It features an LCD screen, 200 blocks of memory (128k), as well as four buttons and a directional pad. Whilst plugged into the control pad, the VMU can save and load game data, as well as display extra information about a game. The most interesting feature of this device is that when you remove it from your control pad, you can play minigames on it. For example, Sega GT has a minigame which you can load onto your VMU which allows you to race and win more money whilst away from your console. Sonic adventure has a minigame in which you raise a tamagotchi style creature called a Chao.
The dreamcast VMU has also attracted the attention of 'Homebrew' developers, who have created many more applications and games from the VMU. A search of the internet will find you all that you need to keep yourself amused.
Other memory units are available in larger capacities without the visual capabilities.
Vibration Pack
Unlike the Playstation and XBox, the Sega Dreamcast did not have vibration built in to their controllers. Vibration was achieved through the use of a vibration pack, which clipped into an expansion port on the control pad, or a control such as a steering wheel or light gun.
Keyboard/Mouse
The keyboard and mouse can be used mainly for internet access, although there are some games which are compatible with these peripherals.
VGA Converter
The VGA converter allows you to play your Dreamcast through a computer monitor or a high definition television.
Steering wheels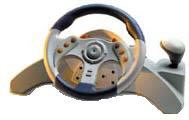 There are a variety of different steering wheels available on the market, some of which have foot pedal controls, and built in vibration packs. Most are VMU compatible.
Light Gun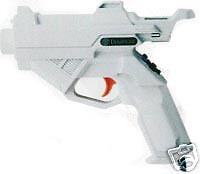 The original Sega light gun can be used with any compatible game, such as house of the dead 2, and is also compatible with the vibration pack and visual memory unit.
Fishing Rod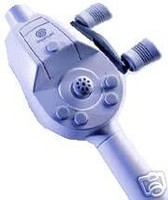 The fishing rod was created for the game Sega Bass Fishing. As you move the stick, the inbuilt motion sensor controls the movement of the virtual fishing rod. The fishing rod also vibrates when a fish has been hooked, making this experience almost like the real thing.
Games
The Dreamcast has hundreds of great games available, and games in every genre imaginable. From driving, platform, boat racing, platform, adventure, even a game where you interact with a fish with a human face.
When purchasing Dreamcast games, you must ensure that the game is the correct format for your system. An NTSC game will not work on a PAL console, although this can be worked around by using the following methods. To play NTSC games on a PAL Dreamcast, or vice versa, you will need to either purchase and install a mod chip, or simply download a boot disk program such as Utopia from the internet. When you have downloaded Utopia, simply burn it to a CD-R (not CD-RW, as the Dreamcast is not compatible with CD-RW disks), and insert it into your Dreamcast. A title screen will be displayed; then simply take the Utopia disk out and insert the game disk to play
You should also ensure that the games are not overly scratched, and especially not damaged on the top side of the disk where the data is stored.. I have found that some games are more susceptible to failure due to scratches than others, and it is preferable to purchase a disc which is in excellent condition, or has been thoroughly tested. If it is not explicitly stated, always check the condition with the seller.
The cases in which the games are packaged have a front and rear door; the front generally for the disc, and the rear door to house the instruction manual. These cases are notorious for having broken hinges and spindles. NTSC games usually come in regular slimline 1 or 2 disc CD cases, and are a lot easier to replace when damaged.
A good idea when purchasing games is to check online reviews so as you can read about the game, and view some sample graphics before you buy. Some review sites also contain in-game video footage.
The following is some sample graphics from some of the more popular Dreamcast Games.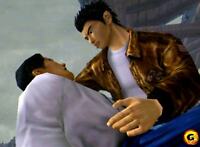 Shenmue - Extremely popular action adventure game. In this game you can talk to people, explore towns, buy products from vending machines, work driving a forklift, play arcade games, and even play a Sega Saturn in the main character's bedroom.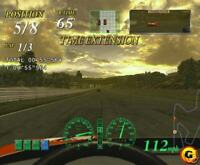 Ferrari F355 Challenge - Realistic driving game.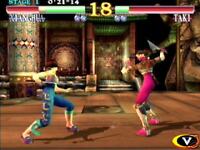 Soul Calibur - Arguably the best fighting game on Dreamcast
Emulation on Dreamcast
The Dreamcast is a very powerful unit. This is shown by the fact that it can actually play and enhance the graphics of Playstation I games via an emulator called Bleem. There are two types of Bleem discs available; the commercial product with different versions available which are enhanced to play a particular game such as Tekken or Gran Turismo, or the hacked version, which will play most Playstation I games - with varying degrees of success.
The Dreamcast has other emulators for systems such as the Sega Master System, Sega Mega Drive, Super Nintendo, Nintendo Gameboy, Neo Geo, Atari 2600, 7800 and Lynx, Apple IIE, Commodore 64 and Amiga, and a few more. I have personally used the Sega Master System emulator, which is excellent, as well as the Amiga emulator which is also quite good.
A quick search of the web for DC Emulation will reveal a new side of your dreamcast - one you may have never expected. The actual burning of emulators and roms can be quite daunting at first; however, there are many tutorials available that will guide you through the process.