Alannah Hill is famous for her flirty, feminine and fun clothes and is very popular on eBay.
Here I let you in on some secrets to increasing sales and maintaining your good reputation when selling Allanah Hill clothes and accessories.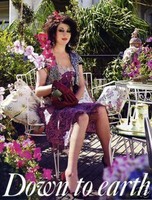 Tips To Increase Sales:
The first problem some sellers have is spelling the name correctly - remember it is ALANNAH not ALLANAH! Ensure that you place the designer name in your item title as this is what buyers will often conduct a search for rather than just browsing the Women's Clothing and Accessories category.
When selling Alannah Hill clothes on ebay make sure that you take advantage of the beautiful piece you are selling by making sure you have taken pictures not only of the garment as a whole, but also of particular details such as the lace trims, diamonte encrusted buttons, silk pockets and intricate beading that Alannah Hill clothes are so well loved for.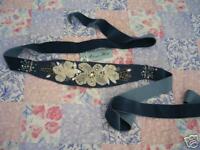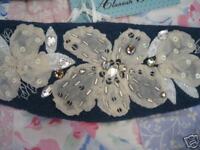 Above both the whole "Besotted By You'" belt and detail of the embroidery and beading are shown.
Also, have a search around on the internet for pictures from fashion shows (although make sure that you have permission from the copyright owner before placing them on your listing). It is often helpful for buyers to see how a particular garment has been styled by the professionals before they buy it, and it never hurts your chances of a sale to show your item up in lights and looking stunning on a runway model!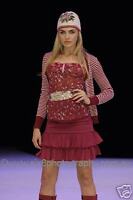 Above images taken at the L'Oreal Melbourne Fashion Festival 2006 Alannah Hill show demonstrate the belt being worn by a model with other Alannah Hill items.
Finally, buyers will be encouraged to buy your item if you provide lots of details. Each garment from recent collections will have a cute name like "Time To Fly", "Hush Little Darling" or "The Secret Garden' - this name can be found on your original receipt, on the swing tags of the garment and also on th ecare label. Other details such as the season the item is from (either Autumn/Winter or Spring/Summer and a year), the original price and of course whether it is new or used.
Tips To Maintain Your Reputation:
You may be tempted to describe an item as 'new with tags' despite the fact that you have worn it once or twice because the Alannah Hill swing tags can be reattached using the safety pin. Although your item may have only been worn once DO NOT DO THIS. Alannah Hill items are very delicate and often even the smallest amount of wear is noticeable. Be honest and say your item has only been worn a minimal amount of times, this is quite acceptable to buyers considering that Alannah Hill items are often bought for special occassions and only worn the one time. Tell the seller how th eitem has been washed (i.e. handwash or dry cleaned etc.) and if it is in 'as new' condition mention this. This wa you can assure th ebuyer of the excellent condition of your item without risking negative feedback from a disgruntled buyer and distrust within the eBay community.
When selling items from the factory outlets ensure that there are no faults. Often items will be removed from stores to the outlets before the end of season due to faults in the construction or fabric. Although you may be tempted to pass these reduced price items off to unwitting eBay buyers it is not a good idea. Many Alannanh Hill buyers are aware of these tactics and will avoid your auctions in the future. Secondly, if there are all of a sudden 10 of the same items listed in a week buyers will become suspicious that they are being bought from the outlets and sold at unreasonably marked up prices- once again you risk your reputation within the eBay community.