Got tickets to an event or concert that you can no longer make it to? Bought tickets for someone else and they can no longer go with you? Don't give them away to mates - you might be able to make back the money you've paid out by selling them to someone else who wants to go on eBay. If you don't make it all back, you might still make some of it - let's face it, it's better than none ;)
Anyone can sell anything on eBay and have 100% confidence that their transaction will go smoothly. There's just a way to go about it. It doesn't matter if you've sold 1000 things on eBay or you've sold nothing on eBay, hopefully, you'll get something out of this guide.
Follow these easy steps to do the right thing by your buyer and have a pleasant selling experience.
Looking for information on how to buy tickets? Read my other guide on buying tickets on eBay.
For Sellers
1. BEWARE! Don't sell dodgey tickets - Make sure you're permitted to sell your particular tickets to your event or concert on eBay without violating the ticketing vendors terms of service. In special circumstances, such as the recent Commonwealth Games, any Australian Rugby Union games or other special sporting events, tickets are not permitted to be resold, and if you are found to be reselling tickets for a premium, your tickets may be cancelled without notice. This can have disastrous consequences, especially if you've sold to your buyer and they rock up at the game and can't get in. This would send anyone into a rampage.
2. Outline ALL information about your tickets - In your description, be sure to outline every bit of information about your concert / event / ticket so that the buyer knows full-well what they're buying. Make sure you don't exclude valuable details like the date and time, the venue, what type of tickets you have (ie normal tickets, printed out tickets (like Ticketfast)) or where your tickets are located. You want to convince your buyer that you're trustworthy and that you're disclosing everything you can to them about the item they're purchasing.
3. Include a seating plan - ALWAYS, always, always include a seating plan showing where the tickets you're selling are located. No one wants to know that the tickets are in block 308, row R and then have to go looking elsewhere to try and find out where they are. People are more inclined to buy from your listing if they can see in it where they are going to be sitting. On the image, make sure you highlight EXACTLY where the person will be seating using an image editing program if you can. Instantly, the person viewing the listing will know where the tickets are and if they're interested in purchasing them. On the flip side, if you don't tell people where the tickets are, they might be disappointed once they arrive and they find out they're actually crap seats.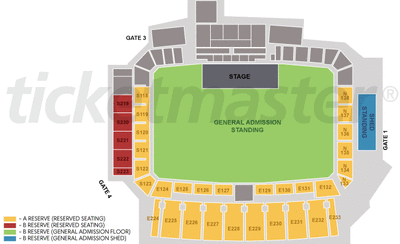 4. Pimp up your listing - Tickets usually sell for a high price, or are worth quite a bit, so it is worthwhile for you, the seller, to spend that little be extra getting your listing recognised by potential buyers. Using extra features such as Subtitle are going to have a greater effect on the exposure of your listing. Buyers will have hundreds of listings to look at when they search for the event or concert you're selling for and so making yours stand out will make it easier to spot.
Another good idea is for the first picture you add to your listing, to include a picture of either the team that's playing or the person who's concert it is. That way, you draw attention to your listing. If possible, make it the best picture you can find. You can do this by visiting Google Image Search and you'll probably find a suitable picture in seconds. Once you've done this, add the picture and ensure you add "Gallery" to your listing, which means the mini-picture will appear in search results.
5. Provide lots of postage options - Provide heaps of postage options. Standard Australia Post options are Regular, Express and Registered Post. There's benefits to each. Most importantly, don't overcharge on postage. That's one thing that will really annoy a buyer into leaving you neutral or negative feedback. Find out from your post office or online what the postage charges are.
Regular - Cheap and still quite fast within Australia, though, there's no added safety and with tickets you're usually selling a valuable item so this is important. I wouldn't recommend offering Regular, though you can if the tickets are of a low value.
Express - Express Post is reasonably cheap and offers guaranteed next day delivery to all major capitals and guarenteed second day delivery to rural areas. This option provides a tracking number, though no insurance.
Registered Post - Registered Post offers insurance of up to $100 which is included in it's $4.50 pricetag. Also, you can purchase additional insurance for $1.50 per $100 up to $5000 (ie a $700 item would cost $10.50 extra to insure). Also, it is more secure as someone has to sign for the item. This is the recommended option.
6. Provide numerous payment options - Provide as many payment options as you can. Never provide just one. Usually, the best ones are PayPal and Direct Bank Deposit. PayPal is awesome - if you don't have an account, you should get one. It's easy to use and instant and transfers from your account to Australian Bank Accounts usually take 2-3 business days. The best thing is though you receive the payment from the buyer instantly into your PayPal account. Direct Bank Deposit usually takes 24-48 hours for your money to appear in your account.
A suggestion is telling buyers what you expect of them when they make payment. Tell them to email you and let you know when they've done it and what description to leave (ie their username) when they do make payment.
7. Communicate with your buyer - Communication is the key. If you have a good urgency about communicating, you'll do great with your buyers. Make sure you respond to questions they ask quickly, effectively and HONESTLY. Once they've bought your item, communicate with them through the whole process. Email them immediately and tell them when you expect payment, how to go about it and that you're free to contact whenever they need to. Let them know when you've received payment, when you've posted their item and so on. This will help give them confidence in you and help them to use eBay more in future and have confidence in other sellers. In your listing advertise the fact that you're approachable and that prospective buyers can contact you if they have questions.
8. Post items quickly - Post items as quickly as you can so that your buyer receives them as quickly as they can. Nothing annoys buyers more than waiting for items for weeks on end. Bust yourself to get to the post office as the nearest opportunity once you receive payment - the delight from the buyer will be great enough reward.
NOTE: Make sure you leave enough time between when you're going to make your auction end and when the event or concert is. There's no point ending your auction on a Friday if the concert or event is on the Friday night. Allow plenty of time to get your item to them otherwise this will reflect badly on you.
9. Have a disclaimer - THIS IS VITALLY IMPORTANT FOR TICKET SALES. You need to have a disclaimer in your listing saying that in the event that your concert / event is cancelled or postponed, or that the buyer can no longer make it to the concert, or there's bad weather - that you're not responsible and that the buyer must return to the vendor with their tickets and get the FACE VALUE price of the tickets refunded from them. Otherwise, you could get severely burnt.
10. Buy It Now or auction? Setting the price? - Consider the best selling format for your tickets. Sometimes Buy It Now is much more effective. If you want the sale to be quick and pleasant, I'd say go with Buy It Now. That way you get a buyer instantly and can start dealing with them - plus, you've got an amount which you've decided on and set. Auctions are very unpredictable when it comes to tickets, though you may end up making a lot more money than you thought depending on the popularity of the event. If you do choose to have an auction though, set a low starting price - this is more likely to encourage people to bid.
Anyone can and will buy tickets - Don't be disheartened if buyers with a feedback score of 0 or 1 are buying your tickets. Some sellers get annoyed at this because they're less experienced eBayers. Though, lots of people will register on eBay for the sole purpose of buying tickets to the concert or event they've missed out on. Be understanding and helpful and try and guide them through the process. Don't get put off because a low feedback score buyer has bought from you.
Hopefully, if you put the things explained in this guide to the test, you'll get good results and both you and the buyer will be pleased with the transaction! ;) Always wish winning buyers all the best and that you hope they enjoy their concert or event - this will add a personal touch.
If you've got any questions about anything to do with this guide or my experiences on eBay in general, feel free to contact me ;)