Although I am relatively new to this field, in the three months that I have been sourcing out vintage clothing and reselling it in my Ebay store I have enjoyed much success and satisfaction! I now want to share my knowledge and experience with others who might be thinking of selling vintage clothes on Ebay, but would like some additional tips or information before they get started.
Firstly, as a seller, you need to source out your products. Here are some of the best ways that I have found to do this:
1. Locate all the second-hand clothing stores in your area either via the yellow pages or word of mouth (most people working in second-hand clothing stores are happy to tell you all the others they know of in the area).
2. On a Saturday morning, get up early and go and buy the Sydney Morning Herald. Look under the 'Garage Sales' section in the classifiieds and circle the ones in your area, especially if they state that they have clothing for sale. (It is best to get to garage sales early as this is when the majority of serious buyers will also be getting there. If you wait until mid-morning anything of much worth will be gone).
3. Speak to friends and family and ask if they may know anyone, perhaps of an older generation, that may be having a clean out or is keeping a lot of old, vintage clothing in their wardrobe for no particular reason. It's amazing the gems you can find just among parents and grandparents of friends and family.
Now that you have found your sources, here are the things to look out for when selecting vintage pieces:
Quality - if it was good quality then it most likely still is. Feel the fabric and look at the label (is it a brand name, etc).
Condition - this is very important. Even if it is the most beauitful vintage piece you have found yet, it is worth nothing if it has irrepairable damage. Check EVERYTHING about the garment - holes, abrasion, pilling, buttons missing, stitching coming undone, stretched out of shape, the list goes on.
Having said all that, I find that one of the most important things for success when selecting vintage clothing is that it often has to be relevant to, or reflect the modern fashion trends. For example, as wonderful as a long, flowing 70's dress with big, bell sleeves and a psychadelic pattern may have been in it's day, it's just not something that people are going to be interested in in this day and age unless it's for a fancy dress party! Keep abreast of the current fashions and try to select pieces that somewhat reflect these, or would at least combine with a pair of this seasons jeans for example, to make the buyer feel more comfortable taking a risk on a vintage piece.
Photographing your vintage pieces for sale
There are a number of ways you can do this:
1. Lie them on the ground or on a bed.
2. Put them on a real model such as yourself or a willing friend!
3. Obtain a mannequin and display the clothing on this.
Of all three I most recommend the third option. The purchase of a $20-30 hanging mannequin torso has been one of the best decisions I have made for this business. It has improved sales and makes my store look much more professional. The only drawbacks are that being a torso it is hard to display pants and also the back of garments (as it has a hollow back).
Some things to keep in mind when photographing the items:
try to have a good backdrop, such as a solid colour that contrasts the colour of the item you are photographing.
put some modern accessories with the item (such as belts and necklaces)
try to have good lighting in the room and make sure you use the flash on the camera.
display it in a way that shows it off (eg, if it is flaired, pull the fabric out and maybe blutack it to the backdrop so it stays there for the photo).
when you download the photos make sure you learn how to do things such as cropping them, brightening them up and enhancing the contrast. Here are some examples of a shot before being enhanced and after.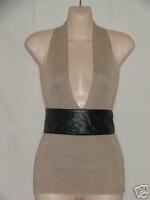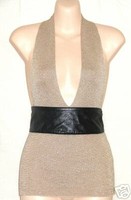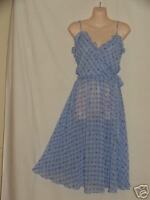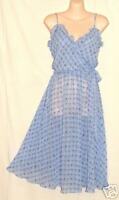 Now you are ready to start listing your items. Make sure you describe EVERYTHING about the item so the buyer has no surprises. This is especially important with vintage clothing because they buyer really doesn't know what they are getting from a picture, ie. what condition it is in or how big it really is. So make sure you include:
Condition of garment
Measurents
Description of colours and design features
Brand if it has one
Lastly, don't start your garment too high if you are listing it as an auction. My rule of thumb is to usually list it for a little higher than I paid for it, people aren't going to expect to pay a king's ransom for second-hand clothing! If it is a gorgeous piece, a piece in demand or is a well-known brand name, the bidding will take care of itself, it is not up to you to decide it should be started at a high price because you will be the one losing out through people being reluctant to bid.
Selling vintage clothing can be a really fun and rewarding venture whether it is done as a hobby or a full-blown business! If you are considering selling vintage clothing on Ebay then I hope these tips have been helpful. I wish you much luck and success!