Selling your campervan / motorhome online.
I've seen a great number of really good campervans and motorhomes being sold on eBay that either do not sell or sell for a lot less than they are worth. Mostly because the seller simply undersells them. You can't just give a basic description of your campervan, whack up a single picture and expect it to sell. I've seen motorhomes selling for $75,000 that didn't have a picture and only the barest description. That's not the way to sell your motor home.
First research what vehicles like yours is selling for. Check not just eBay but also the trading post and the CMCA web site. Keep in mind that vehicles on eBay tend to see fairly fast where as on the CMCA site they take longer to sell in my experience.
Pictures
Pictures sell. Remember that each picture is going to cost you not all that much and it could make a big difference in how much your pride and joy sells for and how fast it is sold. It really makes no sense to skimp on a few dollars for extra pictures when they could earn you hundreds of dollars. They may also make the difference between people choosing your vehicle or some one else's. I've seen great motorhomes not sell while lesser ones have, mostly because the great motorhome had one picture or no interior pictures. Trust me, people think you're hiding something if you do that.
Take at least 3 external pictures. One of the front a little off to the side so people can see down one side. Take one from the back showing the opposite side and take one side on, preferably the side with the most features such as passenger door, awning etc. The three below are good examples, although I have shrunken them to fit. Don't do that, put in large detailed pictures. 640 by 480 pictures are about as small as you want to go. eBay does not charge you extra for large pictures. (at the time of writing).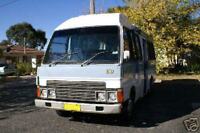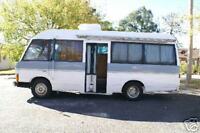 Take internal pictures. Take one from way up front looking back, and one at the back looking forward. Take one of the driver's area. The others should take in positive features like toilet, shower, stove, CB radio, TV etc. Make sure all of the pictures are well lit. Take them during the daylight and open curtains and doors if you have to.
Here are some sample interior pictures. Ideally the curtains in the middle picture of the upper row should have been open.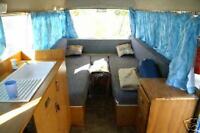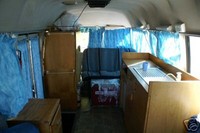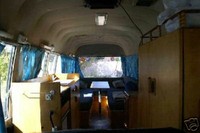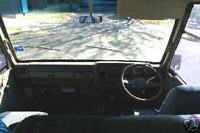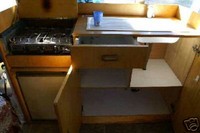 Try to avoid irrelevant pictures. What is the point of a picture of you or your dog with no campervan in the picture? I've seen pictures of people having barbecues, someone swimming in the sea and so on in campervan adds but with no campervan in sight in either picture. Why? Sure, it's okay to show lifestyle pictures, but make sure they will add to your advertisement, include the vehicle in the picture.
Also, a big no no. Try hard to avoid out of focus pictures. You need to get good quality pictures.
Mechanical condition
Now write about the vehicle's mechanical condition.
Is it in good condition? If so, say so. If you've done work recently say so. People want to know things like that. If you have receipts for work say so. Say how it drives. If it has rust, be honest about it.
Features
Next list the features of the vehicle.
Does it have power steering?
Are the tyres new? What is the tread like?
How many does it sleep?
Does it have air con? Is it 240 volt or 12/24 volt? Or both?
Does it have a radio / cassette / cd player / dvd player / TV/ other entertainment?
Does it have a toilet or shower? These are big selling points and add great value to your camper.
Does it ave a fridge? 240 volt, gas, 12 volt or 3 way?
Does it have a water pump / water tank / hot water service? (big selling point)
Is there a stove / gas bottle? How many burners on the stove? What capacity is the gas bottle? How new is it?
Do you have deep cycle batteries / solar panels / dual batteries?
Sell the features of your vehicle. Make sure you list all of its' features, including the ones you might think are standard.
Then make sure you include the vehicle's registration plate number, VIN (Vehicle Identification Number) and engine number in the add. This will allow people to do a financial background check on the vehicle if then want to. It is also worth listing how many KMs the vehicle has done.
Finally, can it be driven on a car driver's license? Normally if the vehicle is less than 4.5 tonnes and less than 6.5 metres long you can drive it on a car license, but check with your state Road Traffic Authority for more details.
Remember, eBay does not charge you per word, write in as much detail as you would reasonably expect if you were buying this yourself.
Consider delivery
Now here is another BIG selling point. Offer to deliver it within a reasonable distance. Some people might not want to come to you so offer to go to them. I charged a delivery fee of $1 per Km for a bus I sold off of Ebay and that's what made a big difference. $1 per Km will generally pay for fuel and your coach / train / air fare home. I offered to deliver my bus to any place within about 800 Km that had a bus or air service.
If you do decide to offer delivery insist on at least half payment of the bus up front (I asked for full payment) and be very honest in your description so the buyer can't say the description was dishonest and then refuse to pay.
One final thing, there have been several people scammed out of their motorhomes and campervans over the years. Always set a condition of sale that all payments for the vehicle must be cleared before pick up or delivery. If the seller is not keen on doing this suggest you meet on a week day and that they pay by bank cheque. You can then go to your bank and ensure the cheque is accepted before offering the keys and paperwork for your pride and joy.
Contact details
I've seen quite a few adds that provide a contact number and insist that is the only method of contact they will accept. Quite often this is a mobile number. Ringing a mobile is relatively expensive for some people. Yes I know they are about to fork out to buy a campervan, but if they can't make that initial step to contact you their way, then they may not contact you at all. Don't put barriers in the way of communication between you and a potential customer. Allow people to use the "Ask seler a question" option.
So, take good pictures, list all the features and offer to deliver the beastie.
Buying a motorhome or campervan on eBay.
Know what you want.
Get an idea of what sort of vehicle you want. Do your research. Figure out what sort of features you want. Also, very importantly, are you restricted to a vehicle that you can drive on a car license? It is a good idea to start your research early. Regularly search on eBay for vehicles like you want. Bookmark them. After it is sold, you can see how much it sells for. As every campervan is different, each will sell for different prices. Try get an idea of what sort of features add to the price and what don't. Also, take a note of how older vehicles sell. It has been my general experience that some well fitted out and in good condition do sell at high prices. Age is not necessarily the deciding factor in the end sale price of the vehicle. But some older campervans do need more work and parts are harder to find.
Rather importantly, what is your intended use of the campervan or motorhome? If you plan to go touring, you will need one in good mechanical condition. If you want to live in one and not drive much then you want one that is well fitted out. Don't be afraid to ask campervan owners you see about the place what they think of their van. Tell them you're thinking of buying and most will proudly tell you about their pride and joy. Or join a motorhome club and ask questions before buying.
Rust, your enemy.
Rust is bad. Very Bad. Rust is expensive to cut out and fill. It will make the campervan or motorhome unroadworthy and you will not be able to register it until you fix it. (unless you are in a state that does not do road worthies for re-registration). It may cost you thousands of dollars to cut out and replace rust.
Always, and I mean ALWAYS ask the seller how much rust the vehicle has. Especially if it comes from a costal area. Where is the rust, is it surface rust or deep rust? Ask for pictures of the rust. Insist on this before bidding if it has rust. If you turn up to buy the vehicle and there is more rust than you have been told, unless you have previously agreed that you can re-negotiate the price or come to some sort of agreement your only choice is to file a "item not as described" complaint and don't pay. I once asked a seller if their campervan had any rust. They replied that it "has none that I can see". Well he must have been blind because the thing was covered in rust. So ask them if they will offer a refund if the campervan has obvious rust when you turn up and they said it had none.
Keep in mind though that most sellers are honest, and they may not pick up everything. If their description is honest, they may still miss things. Not everyone is out there to rip you off.
Ask questions.
If you have them, ask. If you want more pictures, ask for them. You are about to enter into a legally binding contact for a lot of money. Check the seller's feedback, are they reputable?
Do a financial check. I think all states have a service to check the ownership and financial background on vehicles. DO ONE! Some states have a service that will do one over the phone for free. You will need the vehicles VIN, rego and Engine number. Some times you can do one without the rego. The report will indicate if there is any registered police interest in the vehicle (if it is stolen) or if there is any finance owing on it. If there is, get the seller to clear that up and then do another check. Don't buy one if there is a registered interest, it could be repossessed even though you have paid for it. See your local state Road Traffic Authority for more information on that. If you are serious about buying, after you have won the auction order a certificate (a REVS certificate in NSW) before you pay. It will protect you from repossession.
Don't forget to check that these numbers are correct when you pick up the beastie. If they are not, don't pay until you have done a check on the new numbers. Personally if that happened to me I'd walk away.
Some vehicles are sold "as is". You have to decide if you want to take a punt on it or not. It may be cheap to buy, but expensive (or even impossible) to legally repair. If you're mechanically minded and you can do a lot of the work yourself, well go for it if you think you have what it takes. If you're not a mechanic, ahh, go for something that comes registered or with a road worthy certificate. If in doubt, ask if they will deliver it a reasonable distance. If it is mechanically unsound they will not be keen to do that.
Finally, communicate.
Communication. If you find a campervan or motorhome that you are serious about, don't be afraid to let the buyer know. Let them know the reason why you're asking so many questions is because you are serious about buying. Most sellers will not have a problem with this. Communicate, email them with questions, thank them for the information they give. Ask about payment arrangements if unsure. This is a big deal, make sure you are comfortable with it.
If you found this guide useful, please rate it. If it has a better rating it is likely to be read by more people and provide them with this useful information too. I gain not benifit of any form from the rating so I'm not asking you to rate it so I can get money or eBay freebies or anything.
If you don't find this guide useful, please let me know why so that I can improve it.