Whether you have a vintage bathroom with an old-fashioned tub and basin or a more contemporary bathroom that's simply looking a bit outdated, a complete overhaul isn't necessary to get it into tip-top shape. Any size bathroom can look more attractive with a few decorator installations. Here are seven ways to transform a tired old bathroom into a sleek designer showpiece.
1
Modern Wash Basin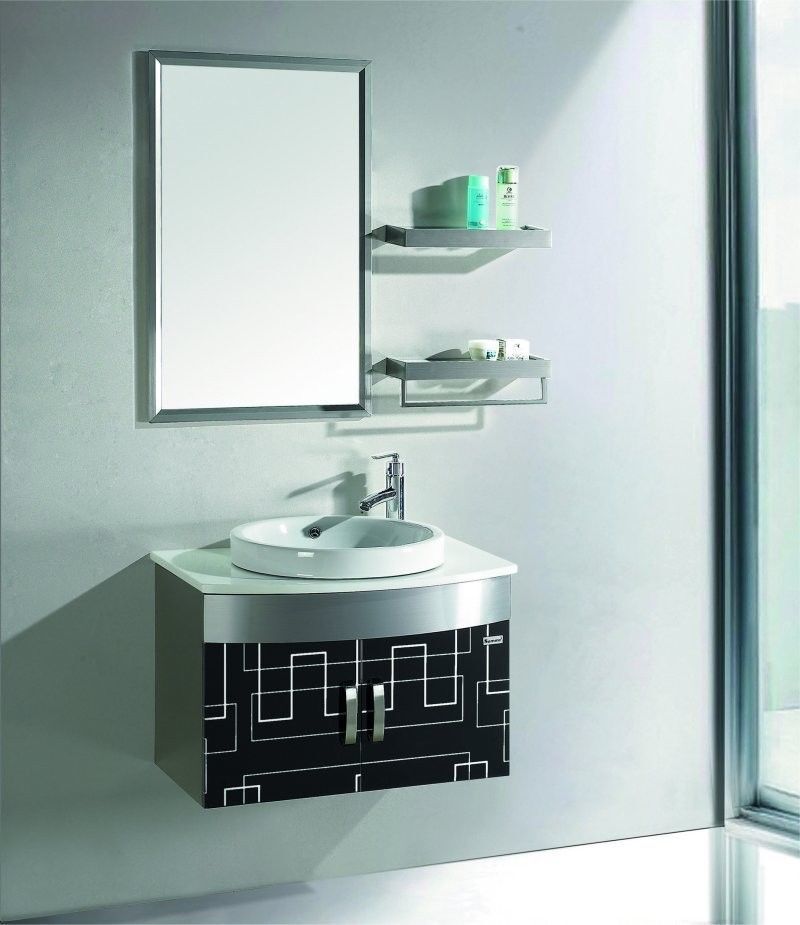 One of the best ways to improve a bathroom's looks is to replace that dingy old sink with a sleek, attractive basin. For maximum effect, choose a basin that not only fits the dimensions of the room and serves its purpose, but that also brings a certain dynamic personality into the room. For example, instead of traditional white enamel, opt for a contemporary design crafted in granite, or in stone and concrete. Likewise, a polished stainless steel design will impart a sophisticated decorator look, as will a sleek stylish basin crafted in acrylic or tempered glass. For help in choosing the right basin, there are many online guides that offer tips on selecting the right size and materials for your bathroom.
---
2
Mirrors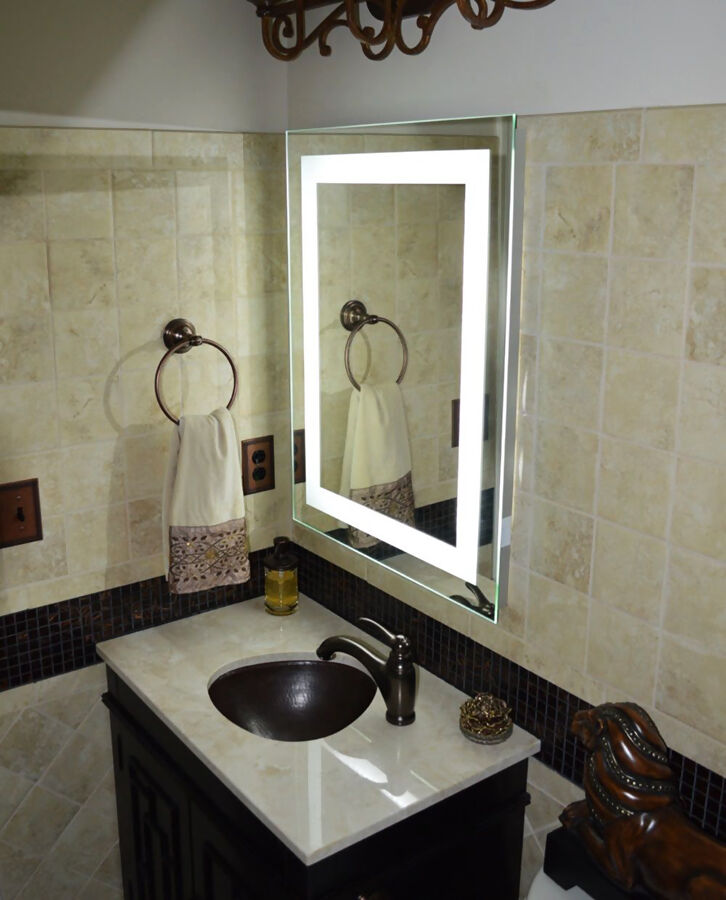 Mirrors don't have to just be utilitarian, and they don't have to be hidden behind the wash basin, either. For a stunning designer look, consider adding mirrored tiles to walls and shower areas - just make sure to choose high-grade tempered bathroom tiles that are specially designed to withstand large amounts of moisture. If mirrored tiles aren't practical, consider installing a dramatic, wall-length mirror, framed with plenty of task lighting.
For smaller bathrooms, mirrors can be used to create an impression of space. If mirrored tiles aren't practical, install a larger mirror behind the wash basin - or better yet, an attractive mirrored medicine cabinet. If there's enough room, the bathroom can be the perfect place to hang an extra full-length vertical dressing mirror.
---
3
Tiles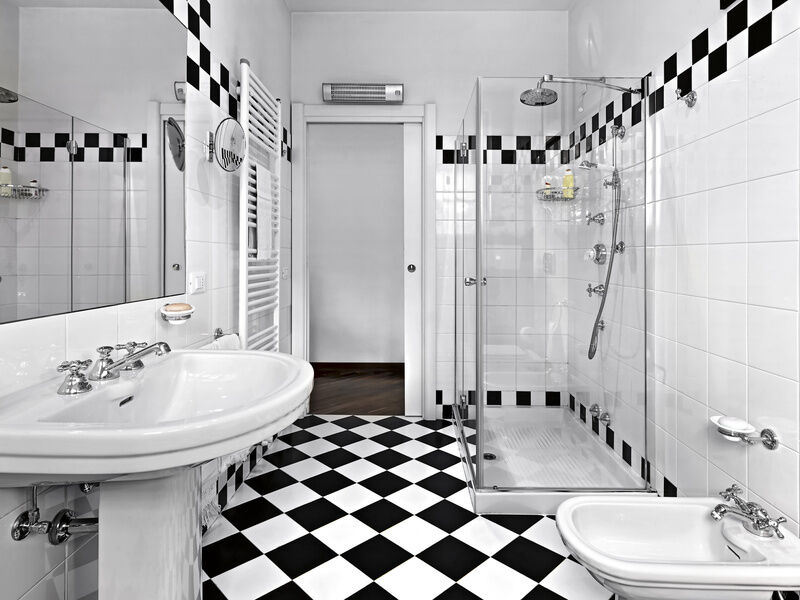 One of the best ways to completely overhaul a bathroom is to install new tiles on the floor and walls. For an updated vintage look, alternate black and white tiles to create a stunning Art Deco showplace.
Tiles don't have to be square or made of traditional materials, such as porcelain or vinyl. Today's bathroom tiles come in a huge variety of shapes, sizes, and materials, from tiny custom-made glass mosaics to eco-friendly granite wedges and sustainable wood veneers. By using a little imagination, you can create a custom-designed look that's all your own. Plus, don't forget to add tiles to the bath and shower area. For these specific locations, make sure that the tiles are made of a durable, moisture-resistant material that's designed for bathroom use.
---
4
Glass Shower Doors

Even the tiniest, shoebox-sized shower stall can be updated with new tempered glass doors, which are specially-made to withstand constant water exposure. Choose between traditional frame designs, or more contemporary frameless shower doors that give a seamless appearance. Shopping online on sites like eBay can help buyers stay within their budget.
---
5
Ambient Lighting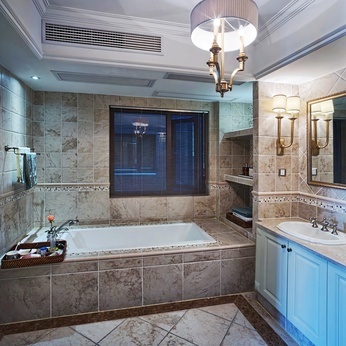 Gone are the days when bathrooms had one paltry light bulb hanging over the wash basin. Today's bathrooms are equipped with ambient lighting in the form of ceiling and wall fixtures, as well as decorative sconces. In addition, sleek vanity lights, crafted in chrome, brass, steel, nickel, or bronze, give a sophisticated elegance to any style of bathroom.
---
6
Cabinetry

If it's time to update the cabinetry, consider making a departure from old-fashioned whitewashed wood. Today's most elegant bathrooms boast wood veneer cabinetry in popular finishes, such as cherry, oak, and maple - or for fans of the vintage look, weathered pine finished in pastel shades. Even if your cabinetry is perfectly acceptable, consider updating it with new hardware in polished brass, bronze, or chrome, or in matching wood veneers.
As another alternative, consider the fact that granite-topped cabinetry isn't just for kitchens these days; it's for bathrooms too. Other popular stone options include quartz and, for the ultimate in luxury, marble.
---
7
Updated Accessories

Even if you're on a budget, you can create the impression of a complete makeover simply by adding a few inexpensive decorative touches. It's amazing how different a bathroom can look with a colourful new shower curtain and bright new floor mats in trendy patterns, as well as accessories such as toothbrushes and soap holders and bathroom tissue dispensers. For elegance, add an attractive wicker hamper or chair, a heated towel rack, and inexpensive chrome or brass shelving units, and the bathroom will be completely transformed at a fraction of the price of a complete overhaul. Just make sure to include components that match the room's overall decorating scheme.