Shopping online is fun, but are YOU doing it safely?
From one sewing-nut to another, chances are being tech-savvy isn't in our nature - and most of the online safety articles can full of jargon and scary language - so I thought I'd share a few simple tips to help you (and your personal details) stay safe - and then we can get back to the fun things (like sewing):
Be vigilant with passwords. Use a different one on each website. Don't use the same password for everything - in the same way that you wouldn't have the same key for all of your doors, would you?

Do Not hand over your credit card details over emails, chats, text messages or anything like that. Instead, use a secured platform like PayPal so you never have to tell anyone your credit card details. And that's why I never take my customer's credit card details over the phone - this way I don't have to worry about where I might have written it (and who might see it).

Use Common Sense. If something looks too cheap, and there's no information about the seller, could it be too good to be true? When in doubt, ask questions and see how quickly (or if at all) the seller gets back to you. Another way is to simply order a small / inexpensive item from them and see how the experience goes - this way you'd know for sure.

Go with YOUR gut instinct. While you may not be a tech expert, you are probably a far better judge of character / situation from life experience. If you have a funny feeling something isn't quite right, simply don't part with your hard earned cash.

To demonstrate what to look out for in eBay, here are two random examples I found: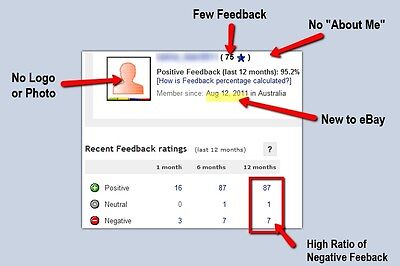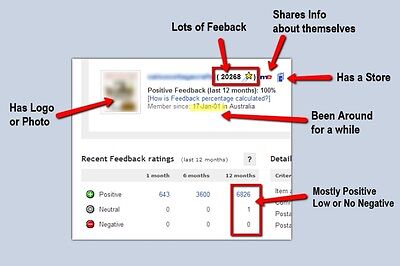 The first diagram shows an eBay seller you may think twice about buying from.

Why?

First of all, the feedback ratio: in 12 months, they have 87 positive, and 7 negative - and 3 of those were in the past three months - does that mean they are getting worse? Seems likely.

Now let's look at the second diagram (Disclaimer: this is NOT mine, nor is it from anyone I know - it was randomly selected).

The second seller clearly cares about their reputation and works hard at maintaining it - there has been ZERO negative, and over 6000 positive! Would you shop with them? I would.

There are other things to consider too: does this seller share information about WHO they are? If not, what are they hiding?

Do they have a logo / store? Committing to these shows how serious they are about eBay, and not just a fly-by-nighter.

You're already doing / considering all of the above? Great. Now feel free to continue shopping online - with those your trust. Your sewing stores need your support to continue providing an excellent service to you (and chances are, you also have a sewing habit to support). Right?

I hope you find this guide helpful. If you do, please vote YES so I know that I am on the right track :-)
Please feel free to contact me if there is anything else I can clarify for you, or burning questions you may have with sewing, patchwork and quilting..... I am always here if you need help, and happy to chat if you have stories to share!

And here's my "About Me":
http://members.ebay.com.au/ws/eBayISAPI.dll?ViewUserPage&userid=sewmucheasier


Thank you for reading, and Happy Sewing!
Cheers,
Shelley