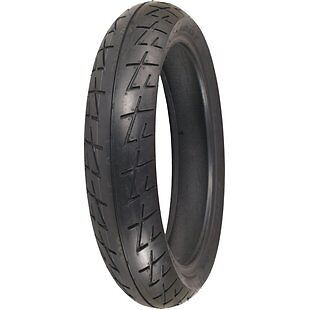 Shinko manufactures motorcycle tyres for sport biking, street cruising, and off-roading. The Shinko brand is not as widespread as some other motorcycle brand names. Tyres from Shinko use the Yokohama Rubber Company moulds and technology. Depending on the type of riding, buyers may find that they need to replace the tyres on their bike more frequently than with more expensive brands. However, Shinko has a reputation for producing good quality tyres at reasonable prices. Whether looking for one new motorcycle tyre or a set, buyers should first decide what type of riding they intend to do. This can help determine the right Shinko tyre model for their needs.
Sport Bikes
Much like sports cars, sport motorcycles emphasize speed, cornering, and high performance on pavement. Sports bikes tend to be lighter with a high-end engine on-board. As such, drivers of sport bikes who tend to drive faster and harder may be interested in longer lasting tyres while weekend warrior riders who only ride distances or curvy roads occasionally may only care about performance.
Shinko Sport Bike Tyres
The Shinko 005 Advance tyre is a heavier budget tyre for a sport motorcycle. In a similar price range, the Shinko 003 Stealth tyres are more flexible and forgiving. These tyres offer good performance on straight roads. However, riders looking for high performance on curvy roads may want to consider the Shinko Raven 009 tyres.
Cruisers
Riding a cruiser on paved roads is not all a buyer should consider when purchasing Shinko street cruiser tyres. Are the roads good? Are potholes and other hazards an issue? Motorcycle riders who predominantly ride on the streets vary in how they ride as well. Are they a more sedate commuter or do they likes a little more speed on the motorway?
Shinko Cruiser Tyres
In general, riders of motorcycle cruisers should look for all-weather tyres with good road grip for safe driving all year round. Also, since street cruisers tend to be larger, heavier machines, tyres that are for carrying heavy loads may help to prolong the interval between tyre changes. The Shinko 712 'touring' tyres have very good road handling and solid traction. At the same time, the Shinko SR741 tyres also have excellent handling for both wet and dry road traction.
Off-Road or Dirt Bikes
Off-road motorcycles, or dirt bikes, are specifically for taking off paved roads. Compared to street motorcycles, dirt bikes are lighter and have simpler bodywork so that there is less possible damage. Many riders who go off-roading have tyres especially for that purpose. In fact, some off-roading tyres may be street legal. However, such riding easily wears out the softer materials used to give off-roading tyres good traction.
Shinko Off-Road Bike Tyres
When choosing an off-roading tyre, buyers should consider the conditions they ride in. If the ground is soft, as in dirt or sand, the Shinko 520 is a good choice. On harder rocky and mixed terrain, the Shinko 505 is a solid tyre to consider. In any case, there are Shinko off-roading tyres for hard or soft terrain. One other consideration is the 'easy clean' tread some tyres have. These are tyres with wide spaced knobs that shed mud quickly.
Dual Sport Bikes or Dualies
Dual sport, or dualie, motorcycles have the best of both off-road bikes and street motorcycles. Dualies range from lightweight or closet to dirt bikes, to middleweight motorcycles that are best on smooth trails as well as pavement. Heavyweight dualie motorcycles are suitable for riders who travel predominantly on pavement with occasional off-road trips.
Shinko Dual Sport Bike Tyres
Shinko dual sport tyres tend to list the ratio of intended street to off-road riding. For example, the Shinko 705 series tyre is for 80 per cent street riding and 20 per cent off-roading. On the other hand, the Shinko Dual Sport 244 Series tyres are for a 50-50 mix of pavement and dirt riding. All Shinko tyres in this category come with speed ratings. Buyers looking for dual sport tyres should consider the speed rating of the tyre when making a buying decision. Also, they should understand that the tread of the tyres affects the adherence on the tyre both on pavement and off-road.
Scooters
Owners typically use scooters to commute to and from work or another location on paved roads. Unlike motorcycles with just a few wheel sizes to choose from, scooters come with many different tyre sizes, styles, and standards. Buyers need to know the size of the wheels on their scooter to look for the correct Shinko tyre.
Shinko Scooter Tyres
Like motorcycle tyres, scooter riders also have the choice of different types of tyres for purchase. An all-weather tyre with good grip such as the Shinko SR009 tyre is a good choice for commuters. People who occasionally drive on gravel or dirt roads, however, may be more interested in the Shinko SR 428, which is tubeless and wider for more stability.
How to Buy Shinko Motorcycle Tyres on eBay
Shinko tyres are available on eBay. You can find them by typing ' Shinko tyres ' in the search box on any page on the website. Read each item description carefully. Some sellers have listings for a set of tyres, while some listings are for single tyres only. Check eBay Deals to see if there are any special offers on Shinko tyres. When making a decision on motorcycle tyres, check to make sure whatever you choose is appropriate for the intended use. The tyre should be the right size, and suitable for the front or rear wheel.