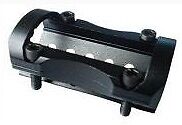 Do most of your shots go off target, or, you have a hard time aiming without a scope? In both cases, you will need an accessory to help you use your gun better. For that, you will have to attach a scope or sighter to the barrel of your rifle. Having one of these on your barrel ensures you can take aim without any hassle and get most of your shots on target. This is only possible if you attach a single rail barrel mount on your rifle first.
So, you have to order a single rail barrel mount for you gun right away. If you are heading on a hunting trip, you might need to use a scope or a torch and the only way you can attach one of these to your rifle is you have a mount on it. This is just one of the reasons why you should purchase a single rail barrel mount.
In addition, the barrel mount is extremely slim and light. It doesn't add any weight to your gun. Moreover, the small size ensures it can fit on to your gun without much hassle. There are slots on the barrel mount in which you can fit a scope, sighter or torch, depending on your needs. Even though the barrel mount is lightweight, it is extremely durable and will last you for some time to come.
Perhaps the most significant reason why you should purchase a single rail barrel mount is that you can get it on the cheap!
CLICK HERE
to see many scopes and accessories