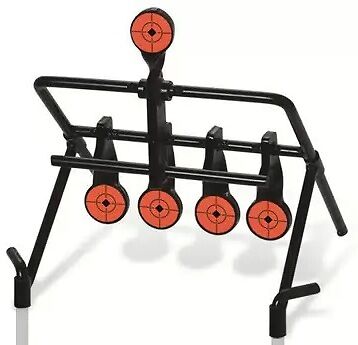 Do you own a .177 Airgun? If yes, then you would definitely want to get some practice before you go on your next hunting trip, wouldn't you? The perfect idea for you in this regard is purchasing a gallery resetting target. As the name suggests, the frame features a gallery with a number of targets on it. If you manage to hit a target, it is displaced but then resets on its own.
This way, you can keep shooting at the targets without having to worry about resetting them even if you manage to get them all in succession. By the time you are ready for your next shot, the target would be back in place. This is what makes a gallery resetting target a must-have for anyone who owns a .177 airgun.
You can practice all you want on the gallery without having to worry about costs. The targets will remain in place for some time to come. The entire frame is made of durable materials so that is another plus point. Most importantly, you can purchase the gallery resetting target at an affordable price, making it a great option for target practice with a .177 airgun.
You only need to set up the target once it has been delivered to your home. Load your airgun and start shooting at the targets. You don't have to fret over setting up the targets, or anything else for that matter, which makes the gallery resetting target an ideal choice for .177 airgun owners.
CLICK HERE
to see all the targets in our store