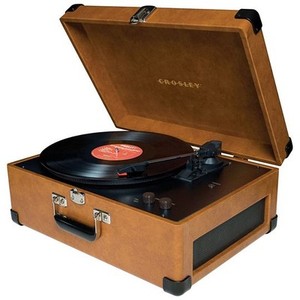 Record players have been around for decades, and are still popular today with people who wish to listen to older vinyl records or who want to listen to modern music in a different format. DJs use them to mix music, since they allow greater control than digital mixers. Whatever the reason, there are many options available for purchasing new or old record players.
When shopping for a record player, one of the questions to ask yourself is whether you want a new record player or an old one. There are many different options when it comes to the way the player functions and the features that are available. Newer turntables will often also play CDs, have USB connections, and are more portable. Older models have the classic vinyl sound, and are easier to fix if something goes wrong. For buyers who want a record player that is decorative as well as functional, an older player is often a good choice. Older models are often made of (or detailed with) wood, rather than plastic, and are simply more attractive. Since there are many different types of players available, buyers should educate themselves as to what kind of functions they want, and then decide whether a new or old record player will best meet their needs.
Types of Record Players
The following sections discuss several types of record players, as well as the functions and benefits of each.
Idler-Wheel Drive
Idler - wheel drive record players were the first type invented, and were popular in the 1970s and 1980s. These record players use a rubber wheel turned by a synchronous motor that can alternate its speed to run faster or slower as needed. It can be difficult to find one of these players, because they had their share of mechanical failures. Most often, the rubber wheel wears down and affect the playing speed. Also, vibration from the motor sometimes affects sound quality, as well.
Belt Drive
The belt drive record player was introduced as a replacement to the idler-wheel drive models. Belt drive players use an electrometric rope instead of the rubber wheel to turn the record. There is less vibration from the motor, so the player produces a cleaner and clearer sound. These players are easier to find than the older, idler-wheel models, and are usually priced affordably.
Direct Drive Record Players
Direct drive record players use a system of wheels and belts to control the turntable directly, which is a much simpler process. However, it requires a more refined motor system in order to turn the record at precise speeds.
Digital Record Players
Digital record players are the current incarnation of record players for modern vinyl lovers. These can be either portable or built into systems, and they feature digital controls for volume and speed adjustments. Digital record players should not be confused with the digital turntables used in modern dance clubs. These modern turntables often have built-in mixers, cross faders, and other methods for cleaning up the audio.
Parts of the Record Player
When purchasing a record player you are not only paying for the player itself, you are paying for the precision and craftsmanship. Since a record player is simply a machine that picks up vibrations, it is important to have a solid one that only responds to the vibrations of the needle on the record, and not vibrations caused by the motor or other things in your home. A record player is only as good as its parts, so a knowledge of what goes into constructing a record player can help during purchase. The following table contains a breakdown of the important parts of a record player:
Part

Notes

Cost

The revolving platform the record sits on. Also sometimes called a platter. A heavy platform keeps the speed from varying and is desirable.

Most older turntables do not have the ability to replace the platter; whole new player required

For newer models, replacement costs between $180 up to $500

The motor and drive parts that cause the platform to turn at the desired revolutions per minute. It needs to provide constant, vibration-less, and noise-less speed.

Fluctuates depending on the type.

A motor and pulley combo costs about $270

DJ turntables a replacement motor can be around $200.

The arm that extends across the record and moves as it plays. These can come in lightweight steel, carbon fibre, composites or wood.

Price varies widely

Modern, steel tonearm starts at $60

Handcrafted wood costs about $550.

The piece at the end of the tonearm that holds the needle. Picks up vibrations from the record's grooves. When purchasing a used record player, it is often recommended to replace the cartridge and needle to ensure it will not scratch your vinyl records.

Cartridges come in different mounts

Cost around $40 for a standard one

Up to $100 for more advanced or rare model

Needle constitutes bulk of cost
Aside from these standard parts, there are some other items needed to keep the record playerin good condition during use. These include cleaning kits, record brushes, adapters for speakers, and tuning tools. When replacing parts, you may also need items such as cartridge alignment tools, a level, lubeor belt cleaner. These are all things to take into consideration when purchasing a player that may need replacement parts or service over time.
Record Player Maintenance
Depending on the kind of record player you seek, there are things to take into consideration, such as replacement parts, care and maintenance, before purchasing. The following sections discuss each of these considerations.
Player Type
Record players can come in stackable or manual types. If this record player purchase will be to listen to music for leisure, a stackable record player will allow you to stack several records on the spindle for consecutive play. However, if you like to change out records frequently when listening to music, a manual player may be the best option.
Player Speed
Since records come in different speeds, it is important to get a player that accommodates the speed needed to play your records. The most common record speed is 33 revolutions per minute (RPM). Singles play at 45 RPM, usually, while older records are meant to spin at 78 RPM. Very old records also play at 16 RPM. Check that the player will be able to play at all the speeds required.
Player Style
Record players come in a variety of decorative styles. Some of the vintage ones come in wooden cases that can be placed on a table or shelf. Larger, stand-alone units can take up quite a bit of space. More modern players are made of plastic and metal. Whatever style you choose, it should work with the decor of your home.
Buying Record Players on eBay
Once you have determined the kind of record player you want, you can begin your search. Record players are available in antiques shops, at secondhand stores, and at flea markets or yard sales. Some newer models are also available at electronics stores or specialty audio shops. They are also sold at online marketplaces like eBay, which features a large selection of new and old record players, as well as parts.
When looking for record players on eBay, visit the Record Players/Home Turntables section under Consumer Electronics, under the TV, Video & Home Audio section, Home Audio Stereos, Components subsection. You can also find older players in the Vintage Record Players section, located under the Vintage Electronics, then in the Vintage Audio & Video subsection.
Searching for Record Players on eBay
If you already have an idea of what you are looking for, you can use the search bar at the top of the page to search for it directly. For a more refined search, use the Advanced Search tool that is located to the right of the search bar. This will allow you to find items with free shipping or from local sellers if you want to avoid shipping charges. Once you have started a search, you can narrow down the listings by selecting from the categories list.
Conclusion
Whether you are buying a new record player or an old one, there are several factors to consider, such as parts, equipment and accessories. There are pros and cons to both new and old record players, so it is important to identify your needs before deciding which kind of player to purchase. If you want the authentic, vinyl sound, or the cool of a classic record player, an older model is more suitable. However, if you want modern features, such as a CD player, digital output, or USB connections, you should look at newer models. Whichever you choose, several options are available for replacing or upgrading parts, but it can be difficult to locate original parts for older players. By learning to identify the different parts of a record player, you will be better equipped to find one that suits your needs and has all of the features you want. You will also be in a better position to service the record player, if necessary. No matter what type of record player you are looking for, a large sections of new and used ones are available on eBay from sellers all over the world.