Ford Sierra Cars
This is one of many illustrated classic car guides I've created for the community. I hope you enjoy it. If you wish to find out more about the classic Ford Sierra car art featured in this guide please click here.
This guide features several classic Sierra car models.
RS500 Cosworth 1987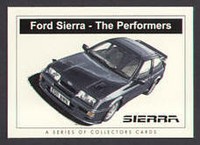 The RS 500 name originated from the batch of extra 500 evolution Sierra Cosworths built in 1987 to add to the 5000 cars that had been homologated in Group A racing. Precisely 500 of these special cars were built for Ford by Aston Martin Tickford, with 224bhp engines and various aerodynamic add-ons. This was the version that would produce more than 550bhp in Group A racing trim, and win hundreds of saloon car races.
Sierra XR4i 1983-1985
To add some much needed excitement to the Sierra range, Ford introduced the XR4i in 1983. It used a unique three-door hatch body, which featured unusual split side windows and a "Bi-plane" boot-lid spoiler. Under the bonnet was a 150bhp 2.8-litre V6, which could propel the XR4i to 128mph (205km/h).
Sierra XR4x4 1982-1992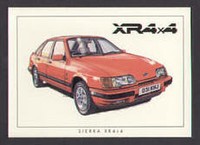 At the end of 1985 the Sierra range was voted European car of the year by a Large jury of European journalists, helped in part by the introduction of Ford of Europe's first 4wd production car - the new five-door XR4x4. This model combined the engine of the XR4i with a four-wheel-drive installation based on the FF Developments system and had two viscous-coupling limited slip differentials.
Sierra RS Cosworth 1986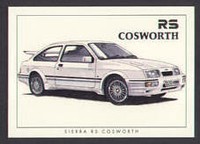 In 1985 Ford announced the first in a line of very special performance models to be built in conjunction with Cosworth Engineering. It used the three-door Sierra hatchback body and Cosworth's unique 2.0-litre overhead camshaft engine, which produced 204bhp aided by its use of turbocharging. From the outside little was left to the imagination thanks to its alloy wheels, flared bodywork and huge tailgate spoiler.
Sierra RS500 Cosworth 1987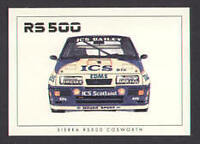 The Ford Sierra Cosworth RS 500 's true role was as a race car, and the Andy rouse ICS RS500 had reached the pinnacle of its development in Group A Touring Car form by 1990. That year it won four races as well as the British Touring Car Championship.
Sierra Sapphire RS Cosworth 1988-1989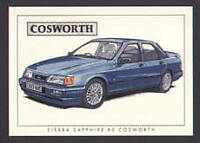 In 1988 the second-generation car, the Sierra Sapphire RS Cosworth was launched using the same running gear as the original Sierra RS Cosworth, bu this time in normal Sierra four-door saloon body. A more understated car, it was still superbly capable, offering 140mph-plus performance in a very civilised package. Approximately 14,000 were produced.
Sierra RS Cosworth 4x4 1990-1992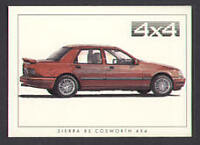 In 1990 Ford married the XR4x4s four-wheel-drive installation with a 220bhp version of the Sierra Cosworth engine, in the four-door notchback saloon style. A direct replacement for the rear-drive car, this was the most capable model of the Sierra Cosworth family, and was the model chosen by Ford Motorsport to make its serious assault on World Championship rallying in the early 1990s.
Thank you for reading my guide and I hope you found it interesting!