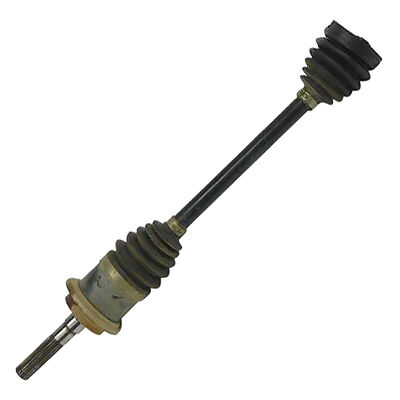 A car's drivetrain system is much more than just wheels and an engine. It is a complex system of gears, shafts, and connecting parts that transfers power from the engine into kinetic energy that can move the car. The axle shafts found in front wheel drive cars are important components in this system. A faulty axle shaft can make driving rough and can cause long-term damage if it is not fixed. Therefore, it is important to pinpoint which axle shaft is not working properly and replace or repair the part immediately.
Axle shaft overview
Axle shafts are slim rods that connect the wheels to the car's gears, causing them to spin as the gears turn. They also absorb some of the shock from uneven roads, helping the car remain stable as it drives. Rear-wheel drive cars, as well as some all-wheel and four-wheel drive models, contain drive shafts, which are longer parts. Front-wheel drive and some all-wheel drive models contain half-shafts, which are connected to a transaxle. Each of the front wheels connected to the drivetrain system has its own axle shaft.
Signs of a faulty axle shaft
A car with functioning axle shafts runs smoothly and silently. A faulty axle shaft causes instability, which can result in vibrations, noises, and leaks.
Vibrations
Vibrations while driving are among the key indicators of a faulty axle shaft. This occurs because it throws off the balance of the wheels, which can make the car feel like it is vibrating, shaking, or wobbling while it moves.
Noises
Noise is a good secondary indicator of a faulty axle shaft, because bent or damaged axle shafts often make clicking sounds while the car is driving. They can also make clunking noises due to friction with other parts in the system. Drivers who think they may have issues with an axle shaft should listen carefully for odd sounds coming from the front wheels.
Grease
If there is grease around a tyre's edges, the axle shaft of that wheel may be faulty. Cracks and fractures on damaged CV joints located around the shaft can leak, causing grease to collect around the wheel area.
Wheel misalignment
When an axle shaft is bent it can cause the wheel to become misaligned, which can make the car wobble when it moves. It may be difficult to detect wheel alignment while driving; therefore, drivers may find it helpful to have someone spot their car as they drive and look for signs of wobbling.
How to fix a faulty axle shaft
Before replacing an axle shaft, drivers should check to make sure that the shaft is broken. Sometimes CV joints can make noises and cause vibrations when they are dirty or lack grease. Cleaning and supplying sufficient lube to the joints can solve the problem and protect the axle shaft from wear and tear.
CV joint
If the CV joint is worn, it appears cracked or torn. Sometimes, separate CV joints are not available, as many manufacturers sell replacement axle shafts with integrated joints. However, if separate CV joints are available, it can be less expensive to replace the joints instead of the whole shaft.
Axle shaft
If the axle shaft itself is faulty, it may appear worn or bent. If this is the case, it is imperative for drivers to replace it. Replacing axle shafts in a front wheel drive car is not overly complicated, but it can be time consuming.
To begin, remove the axle nut on the wheel. Make sure to lift the car onto jacks, as both sides of the car must be off the ground to access the axle shaft. Remove all connecting parts and pop the axle out of the joint. This includes parts that connect to the suspension system, wheel, and brake assembly. Remove the axle shaft from the joint, which may take some hammering and prying to get out. Finally, insert the new axle into the joint and re-connect the related parts.
How to buy an axle shaft on eBay
Sellers on eBay offer a large inventory of axle shafts for various car brands and models. To find a compatible axle shaft for your car, type keywords like "axle shaft" or "half-shaft" into the search bar along with your car brand and model. Additionally, you can search for CV joints if you only want to replace this particular car part. Inspect photos and descriptions carefully to ensure that the shaft is compatible with your vehicle.