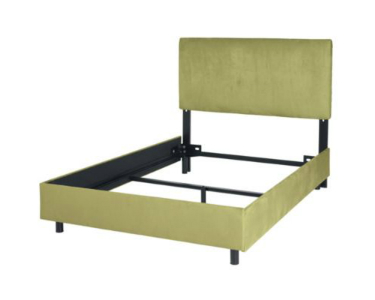 The main function of a bed frame is to provide support for a mattress or a box spring under a mattress. Bed frames are responsible for the stability of a bed and they are available in different types. They can be made from various materials and they come in different sizes. Single bed frames are designed for only one person and are some of the most popular choices for children and teenagers.
Buying a single bed frame may take some thought, as there are several things to take into account before deciding upon a particular model. The size of the room, materials, and budget are three of the essential things to think about. By learning more about different types of single bed frames, buyers can make sure they get good value for their money.
Single Bed Frame Types
Whether one is looking to buy a single bed frame for themselves or someone else, they need to take into account both the size of the frame and its function. For example, one should think about whether they are interested in buying a single bed that features storage space. This is a good option for small apartments or bedrooms, because it allows buyers to store belongings such as books, clothes, boxes, and more. Those who are looking for as much storage space as possible should look for a single bed frame with drawers, which are a great choice for keeping things nicely stashed and free of dust.
Divan Beds
Divan beds are one of the simplest types of beds available on the market. They consist of a base on which the mattress is placed. The frame is actually the base and divan beds come in all sizes, including single. They are often cheaper than other bed frames and some of them come with storage options. The downside of such a bed frame is that it is less ornate than other types of beds.
Bedsteads
A bedstead is a slatted frame and it consists of a base, a headboard, and legs. It is often made from wood or metal and can offer a stylish feeling to a bedroom. Single bedsteads can be purchased in different styles, colours, and finishes. The main advantage of buying this kind of frame is that one does not need to buy a separate headboard.
Storage Beds
Storage bed frames are a popular option for those who are looking to have a lot of space for their belongings underneath their bed. They are a good choice for small bedrooms. A variation of this frame is the ottoman-style bed, which allows users to store their belongings inside the bed.
Single Bed Frame Alternatives
When it comes to small spaces, buyers can also opt for alternatives to single bed frames in order to use the space more efficiently. For instance, bunk beds are a good option for two children living in the same room. These are actually two single beds placed on top of each other. Loft beds are another choice for a child's or teenager's room. These are similar to bunk beds as they feature a single bed on top of a workstation or storage space.
Single Bed Frame Dimensions
When shopping for a single bed frame, buyers should make sure the item they buy suits the room it is intended for. The usual dimensions for a single bed are 92 by 187 cm, but this may slightly vary from one model to another. For children's rooms, parents should opt for a less fancy frame that allows for extra space for playing. If the bed is intended for a guest room, however, a nicer design may be considered. Mapping out the space in the room is essential before making a purchase, in order to make sure the bed frame fits well in the desired location.
Bed Frame Height
The height of the bed frame should also be taken into account, as one should be comfortable when climbing in and out of bed. The frame is very important when it comes to the height of the bed, even though it may seem the box spring and the mattress play a bigger role in this. Buyers who already have a box spring and mattress should measure them carefully prior to buying a single bed frame.
Footboards and Headboards
One should remember to account for the addition of any headboard or footboard, which can add up to 25 centimetres on each end. Duvets and blankets should be considered as well, because they can add a few centimetres to both sides of the bed as well. The position of the bed in the room should be determined before shopping for a bed frame in order to make sure it fits well.
Single Bed Frame Styles for Different Bedrooms
The style of a bedroom is an essential thing to consider when buying a single bed frame. For example, a traditional bedroom would do well with a solid wood bed frame, whereas for a minimalist one buyers can opt for a simple metal frame made from steel or wrought iron. For a children's room, painted wood is a good choice, as it can create a playful mood. Buyers who are looking to add a touch of elegance to a room may opt for a canopy or a sleigh bed instead of a platform or metal frame.
A frame can often be purchased in pieces, which means that the base, footboard, and headboard are sold separately. This allows for flexibility and permits buyers to mix and match different designs. In addition to that, one can choose to buy the base alone and shop for headboards or footboards when the budget allows it. When shopping for bed frames that come in separate pieces, buyers should be careful about matching the colours and designs carefully in order to make sure the final result looks good and is coordinated with the rest of the furniture in the room. It is always a good idea to shop for pieces produced by the same manufacturer in order to make sure everything fits in perfectly.
Single Bed Frame Materials
The two main materials used for making bed frames are metal and wood. For single beds, perhaps the most common choice is wood. Some of the choices include pine, oak, and timber. These frames are built in a way that allows support for the mattress. Wooden frames may feature several kinds of headboard and footboard and in some cases they may have slats running perpendicular to each side.
Platform beds are another choice and they consist of a long box-like platform supporting the box spring or the mattress. These beds are often used with the mattress alone, but the downside is that one cannot enjoy under the bed storage with platform beds. Metal bed frames are often less expensive than wooden ones, but in the end the cost depends on quality and brand. The frame usually sits on casters or low wheels and it is possible to attach a footboard or headboard to it. Simple metal frames do not take long to assemble and they come in various colours and designs.
How to Buy a Single Bed Frame on eBay
Buying a single bed frame may look like a daunting task, but with a bit of research and enough patience, it can be done easily. A quick way to find the exact single bed frame you need for your bedroom or guest room is to shop for it on eBay. Because the website offers a large selection of single bed frames from sellers across the country, it should not take you long to find a suitable one. Simply type the words 'single bed frame' into the search bar of any page of the website and start browsing through the results immediately. Alternatively, you can browse dozens of deals on mattresses and bedding.
When shopping for single bed frames on eBay, remember to pay attention to all the details provided by the vendor in the product description, because this is where you find information about sizing, materials, and delivery options.
Conclusion
Bed frames are some of the most important bed components and they are available in a variety of styles, dimensions, and materials. Buyers can purchase single bed frames made of wood or metal, paying attention to sizing when choosing such a product. Choosing a single bed frame is not easy, but with a bit of research and imagination, one can create a nice look into a bedroom, regardless of its style.
Single bed frames can be bought in specialised furniture stores on online. One of the best places where one can find a single bed frame is eBay. The website stocks a large number of models for all tastes and budgets. It also provides buyers with a few search tools that can make the quest for finding the right bed frame quicker.