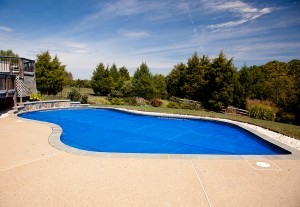 In Sydney, we enjoy beautiful weather most of the year with the feeling that summer is constantly around the corner. So, sometimes that means pool owners forget to consider
getting a blanket for their pool.
There are many reasons why a blanket may beneficial for your pool, but here are the top six.

1. A Pool Blanket Means A Longer Swimming Season
A pool blanket acts like big woolly jumper and keeps your pool from losing heat during the cooler times of day and night. This creates a warmer pool for longer for your family. Pool blankets are perfect for backyards that have a lot of shade throughout the day.

2. A Pool Blanket Means You Save Time and Money
A pool blanket, when used correctly, can work as an investment. Not only do they prevent unnecessary evaporation (up to 50%) but also result in less chlorine or salt being needed.

3. A Pool Blanket Means Less Chemicals
Who doesn't like the sound of using fewer chemicals? Save your family from the all-too-familiar 'pool eyes' by reducing the amount of chemicals in the water. A pool cover can reduce chemicals by up to 60%!

4. A Pool Blanket Means A Cleaner Pool
When it's on, a blanket will protect your pool from falling leaves and twigs, which will result in less pool vacuuming. It will also protect your pool from becoming a hangout for insects, toads, ducks and other water-loving creatures.

5. A Pool Blanket Means Less Pool Fuss
A blanket roller removes any hassle of covering or uncovering your pool. Using a roller, either one can be done in one minute or less! The roller will also tidy up your pool's appearance and reduce wear and tear of your pool blanket.

6. A Pool Blanket Means Energy Efficiency
If you heat your pool, a pool cover means great energy savings. Covering up will save your pool from needless evaporation and could save heating costs of 50% – 70%!

But remember, for your pool blanket to give you the best results and all these benefits, it needs to be fitted by a professional. Want to see more? See what kind of pool blankets and rollers we offer.