Recently eBay announced that it was acquiring Skype (see the announcement), the leading VoIP provider in the world. I initially didn't know too much about VoIP, but have now done some research - here are some basics that might help you too.
What exactly is VoIP?
VoIP stands for Voice over Internet Protocol, and is also known as Internet Telephony. Essentially, it is about using the Internet to make phone calls either to other computers or in many cases, even to landlines and mobile phones. Skype (skype.com) is one such company that offers this service and is currently the one with the largest member base by a long way - to join is free.
Skype screenshot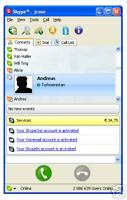 To get setup, you need:
Membership to a service provider such as Skype
Broadband connection (VoIP needs a reasonably fast connection with sizeable bandwith to work well)
Either an adapter which will plug your standard desk phone into your computer, a VoIP Headset or a VoIP Phone that can plug directly into your computer

Why would you use it?
3 simple and powerful reasons:
Calls from PC to PC are currently free on Skype, wherever your friends may be
Calls can be routed to you wherever you are, eg whether you are in London or Afghanistan, your friends ring the same number
Integrate with other online tools such as file sharing, text-based chat, conferencing, sharing contacts, and so on
Things to look out for:
You may be wondering why isn't everyone on this bandwagon if it is so compelling? Well, I think in the not too distant future the majority of us in developed countries will be. But in the meantime, here are some of the things to look out for:
Reliability. There are backup generators used on most standard phone exchanges, but VoIP is reliant on broadband connection and standard power exchanges, which may not have backups.
Emergency Calls. Standard phone calls can be tracked by their location, but not VoIP.
Compatibility. Users of various VoIP providers may not be able to connect to each other and compatibility is generally poor. This is one of the reasons why Skype has done well - it has the largest number of members and this in itself attracts even more members.
Security. Like most transmissions on the internet, they can be intercepted.

Some added extras:
Besides the basic free Skype membership for free PC to PC calls, you can upgrade your Skype account by paying for any of the following:
SkypeOut. Call out to any standard landline or mobile in the world at anytime (none of this "off-peak after 9pm" business) for extremely low rates. Charges vary depending on location, but it is currently only 2.8 cents per minute to anywhere in Australia, London, or the US.
SkypeIn. Get a fixed phone number that anyone can call you on using a standard phone. A 3 month subscription costs only approximately AUD $17, and 12 months costs even less at AUD $50. Unfortunately, your fixed phone number is essentially a "local" phone number only in certain countries such as Denmark, Estonia, Finland, France, China, Poland, Sweden, UK, and the US.
Skype Voicemail. Other people can leave you a message when you are not there. Costs about AUD $7 for 3 months or AUD $25 for 12 months.

That's about it, I hope this helped you a bit!