Did you know more Gamefish are caught from Small Boats (5 to 7 metres) than Large ones.
If you want to target Marlin, Sailfish, Tuna or Sharks from a small boat it imperative to have it set up right. You need the right gear to give yourself the best shot at landing or tagging the fish and to get yourself out on the ocean and back again safely.
Setting up your boat though does not need to be expensive. Some things you cannot cut corners on, such as safety gear, however most of the gear needed can be bought or made quite cost effectively.
Below is a basic list of essential items needed to for a small boat.
Safety Gear:
Life Jackets - One per person, not old one's that are like soggy matteress's. In a marine safety course I did I had to try and stay afloat in an old life jacket and it was like having a bucket tied round my neck.
Flares - Both Red (night) and Orange (day).
Flashlight - Waterproof, you can't go past the Dolphin's they are usually under $10 bucks and work great.
Marine Radio - 27 meg is good but the range is limited to basically Line of Sight so if you go out too far you won't get coverage. A VHF is a much better option.
EPIRB - If you go out from shore over 2 Nautical Miles you have to have one. If your chasing gamefish you can expect to go out quite a bit further than that.
these are the essentials, there are other items that may be required in your state that must be carried and others that you may wish to carry such as: V-sheet, Personal Strobes or a cheap inflatable (if you have to go into the water something to get you out of the water is a good idea).
Fishing Gear:
Here's where the Big Bucks can come in. If your on a budget here a few hints.
Reels - If you can afford them the Shimano Tiagra's or the Penn International's are the bees knees. However if your on a budget like me there are some other alternatives. Okuma Titus Gold are a great reel at about half the retail of the Shimano's or Penn's or If you want a cheap entry point for game reels the Tica Team ST668G is not a bad reel for around $160 to $170 on Ebay.

Rods - There are a heap of good quality game rods around for reasonable prices. I use Pacific Tuna Rods that I buy on Ebay that are great for the price with a 24kg rod under $100. The Shimano Elite Backbone Rods aren't bad either.

Lures - You can't beat Ebay for great lures at a great price. With so many manufacturers out there it is easy to find a good range at bargain prices. I get my lures from both here in Australia and also overseas, the shipping charge from the US isn't bad if your buying 3 or 4 lures the savings can make the shipping OK.

Other bits and pieces - Most important you need a good gimble belt, when you hooked up on a small boat your going to be standing fighting the fish to the end. Gaff's, get a small fixed gaff of about 90cms for the smaller pelagics and I recommend to get a Flying Gaff with a handle length of at least 150cms for larger pelagics (I got mine for about $90 from my local tackle store).

Terminal Tackle - This is the area not to go cheap on. Always get good quality Flouro-carbon leader material, heavy duty snaps and swivels and the best hooks you can afford.

Live Bait Well and Berley Bucket - If your chasing billfish you need an Live Bait Well (even if its an old Esky with a couple of aerators) and a Berley Pot for drifting (I made mine out of 150mm PVC tube with a piece of PVC rivetted to the bottom and attached to my Marlin Board with a SS D-shackle to the upright).

Optionals - If your going to get serious about trolling for Pelagics you might want to consider a set of Outriggers. In my last boat (a 460Df Signature) I bought 3 sets of outriggers from the US at $109US each set. The shipping was $100US for the 3 so each set cost me about $142US (approx $190AUS) which is bloody cheap. I then sold 2 on Ebay which sold for $290AUS and $300AUS. Work out the maths and my set cost me Nothing not bad! If you don't want to get a few sets and resell them go 1/3rds with some mates.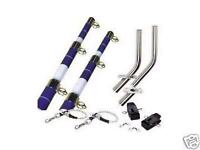 Search for Outriggers
If you set yourself up with the basics, whether you buy the best or the cheapest, you will give yourself a good chance of boating some big fish even in a small boat. As I said before I had a 460DF (16 footer) and have caught Spanish Mack, Tuna, Marlin and Sharks and I have seen a Marlin caught from a 12 foot Tinnie (not my personal prefernce for a boat 8 nautical miles from shore).
With your boat the most important thing is to keep your Motor in great shape to get you in and back again and make sure you have enough Fuel for the trip. Pick your weather (visit Beareau of Meteorology Website) and if your going out offshore a fair way let the local Coast Guard know your going, how many on board and when you expect to return. (don't forget to let them know when you get back cause you don't want them out looking for you an the water when your in the Pub. They can actually charge you for the cost of the wasted rescue efforts.)
When you've got the basics, go out enjoy the water and catch heaps. Keep only what you need for food (and World Records) and remember a Photo is a good a trophy as a dead fish, catch & release to sustain our fisheries for Rec Anglers.
Cheers Calvin