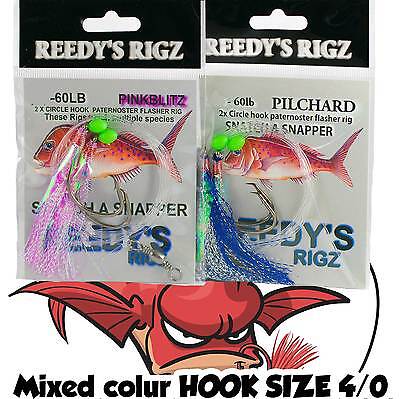 Snapper Snatcher Flasher Rig Tackle Season Paternoster Lure Fishing
Snapper flasher ,fishing rigs ,flasher lures or jigs what ever you want to call them . They come in a range of sizes and colors , and they all combine two circle- hooks , on a tough trace leader on a paternoster rig.
A flasher fly attached to the circle hooks. There is also a luminous bead above each circle hook, the glow of which can lure the fish in , like a luminous fly lure .
Even though it is recommended that you fish a snapper Snatcher with bait, but with the fly like lure of hooks will insure your fishing 100 percent of the time.
Snapper Fishing Tackle Flasher rig Buy Here
Target Species: Bream, Bass, Flathead, Whiting, Snapper, Trevally, Flounder, Jewfish, Kingfish, Hairtail, Golden Perch, Trout, Redfin, Bonito, Salmon, Tailor, Bonito,
Small Tuna, Yellowtail, Mackeral, Squid and saltwater and freshwater
circle hook lure action .
The circle hooks are designed to hook the fish in the corner of the mouth as it takes the bait and moves away. Striking at bites will only pull the hooks from the
red snapper's mouth, so it is imperative not to strike. If holding the rod while surf fishing don't start fighting the fish until you're sure the fish is well hooked. If boat fishing put the rod in a rod holder, low to the water, then sit back and wait for the fish to hook themselves. Don't even touch the rod until there is a strong,
sustained bend in the rod and/or line is pouring from the reel. It's a hard habit to break, but it's important. A great way to fish for snapper with Reedys rig's is
directly to the bottom, beneath the boat . Rocking of the boat gives the rigs some up and down action, which lures the fish. It doesn't matter whether you use your
Snapper Snatchers in conjunction with a braid or mono mainline. You will get excellent hook up rates with both .
Where to use ?
Commonly used around australia and in places such as Port Phillip Bay, Western Port, Lakes Entrance and Gippsland in Victoria. South Australia's St Vincent Gulf and
Metro Adelaide, Shark Bay in Western Australia, Sydney Coast line and Tweed Heads New South Wales and Brisbane Coast line, the list goes on .
Reedy's rigz are Austrlaian made Handcrafted ...

snaper fishing in port phillip bay
We have spent countless hours on the waterways putting our rigs through vigorous testing and tough challenges. we have all caught a variety of species on our top selling rigs.They are used for many scenarios e.g reef fishing, surf fishing etc etc .
New snapper rigs reedys rigz
Try our new and improved models of snapper fishing rigs keep your fishing tackle stocks up for this snapper season , the rig is used for offshore fishing , Melbourne snapper in port Phillip bay also used in Brisbane's morten bay the paternoster type rig is excellent and we have had many fishing reports from Sydney snapper scene. shark bay has reported some great snapper catches over in the west with big reds caught up to 10kgs in western Australia on our lure rigs .There has also been good reports from western port Victoria and Adelaide's Vincent's gulf has been catching mega reds on the live pilchard model some thumping big early morning reds were caught on sunrise and sunset .