WHAT IS "ALPACA SILVER" ???
No its not a silver coloured four legged animal from the Andes!
Alpaca silver has become very popular as a metal in handcrafted jewellery, especially in products from Central and South America. Its correct name is GERMAN SILVER ( it looks like silver... BUT.. it does not contain any silver at all!)
It is actually an alloy or blend of 3 metals Copper, Nickel and Zinc.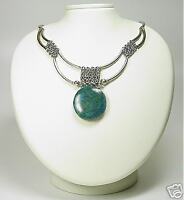 The reason it is so popular with both artists and wearers is that it has the highly sought after properties of being hypoallergenic and having a silver like lustre... in other words it polishes up to look like SILVER. It is also very durable and flexible metal that does not rust or tarnish easily ( this can vary with the quality of the alpaca).
Alpaca metal varies in quality and price but the most common two types are:
Alpaca that has been Nickel plated - which shines like silver and stays that way longer.
Or
Alpaca that is raw or unplated - Still polishes up well and looks like silver but will dull and tarnish with time.
Some frequently asked Questions:
Q. My Alpaca Jewellery has tarnished and dulled very quickly why is this so?
A. Alpaca silver varies widely in quality. The lower and cheaper grades will tarnish very quickly maybe only in a matter of weeks or sometimes ( as it has travelled from Peru) it is already tarnished when you purchase it!
Unplated Alpaca will also tarnish quicker than Nickel plated alpaca. Time and use are the two factors apart from quaility and finish that affect the rate of tarnish. It also depends on how much you wear and how you store your jewellery. I make sure all my jewellers use only the best quality alpaca. The majority of it has been Nickel plated. All my Alpaca silver ships to you as it should shining just like silver.
Q. I have lost a frilly part off my pendant do you have spare parts as its my favourite piece of Jewellery?
A. Yes I try to keep a range of spare parts for all my Jewellery products even older models. If you purchase your item from me and lose or break something let me know and I can organise to send you a replacement at only a minor cost to cover postage.
Q. Is Alpaca silver sold as real silver?
A. Yes it can be and this is a Good Question! as it is difficult to tell from a photo or even in person if it is Alpaca plated with Silver! Only a trained person can tell the difference. I do not sell this type of product. But as always a good indicator is price, if it just sounds to cheap then it probably is.