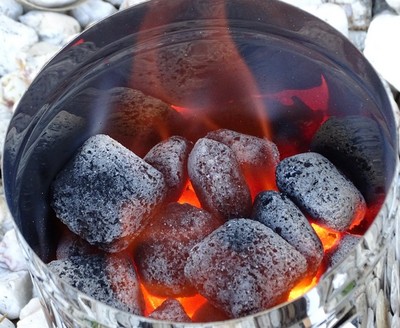 It's a debate that has been going for ages - but there IS a clear winner!

Once upon a time - Aussies used flat-plate grills to cook their steaks and sausages. It was sometimes called BBQ; but was really just frying or grilling.


Then - way back in the mid 1970's Weber transformed the way people cooked - with the Weber BBQ Kettle. The round BBQ kettle (later widely copied) used charcoal; in one of two ways:

a) Indirect cooking - for larger items like whole chicken, legs of lamb and larger cuts of pork and beef. The coals were off to each side of the meat - surrounding it with heat; introducing Aussies to the fantastic flavours of Kettle cooking.

b) Direct cooking - for smaller cuts like steaks, chops and cuts of chicken and pork. Cooked directly over the coals (hence the name); they needed less time to cook. One of the benefits , was that the fat dripped DIRECTLY onto the coals - creating fantastic aromas and taste.

However - some genuinely struggled to get their coals lit - or were annoyed that it took a little bit of extra prep time. So manufacturers created propane fired Kettles and Hooded BBQ's which were simple and fast to fire up. Now - while there can be a place for propane fired BBQ's, to a great extent you lose most of the aromas and flavours - because you cannot have the fat from the meat drip onto the gas jets (otherwise they will get dirty and block).

This leaves Charcoal fired BBQ's still at #1 for aroma and flavour - in fact, in the USA among the serious BBQ pro's - you won't find a single propane "barby" at all! The pro's don't even use the coals shown in my picture above - they use nothing but "Lump wood charcoal" - in other words; real WOOD charcoal.

This is finally available in Australia too! It is natural wood; heated in a low oxygen environment - to make lumps of real charcoal. Now I am not so much of a purist that I feel I must use this - but you can and it's the best fuel for charcoal BBQ's.

OK - so how do we overcome the two issues that saw some people turn away from Charcoal BBQ's ? It's simple - use a BBQ Charcoal Starter Chimney. They can be used with either of the real "Lump Charcoal" - or the pressed coal "Bead" type fuel.

And - they solve the two issues SIMPLY. First off - they make getting the fuel lit, totally fail-safe; and secondly they accelerate the light-up time, using the updraft principle. One (or two) of these will return you to the pleasure of Charcoal BBQ-ing.

Try one - you'll LOVE it!

Steve
Paste a YouTube Video URL

Uploading...