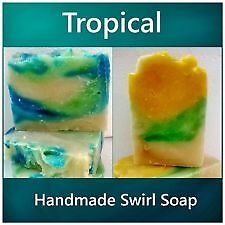 Coconut Dreams Soaps
Soap Making is fun and highly addictive!!! To say the least. We began our journey in 2010 when we could not find a suitable commercial bar to help with our children's dry skin condition.
Coconut Dreams Handmade Soaps are made with 100% vegetable oil and luxurious butters.
This method forces the saponification process to take place in a short period of time. Next, the mixture is taken off the double boiler. Special oils(moisturizing and nourishing oils), essential oils, and coloring ingredients are added and stirred into the mixture. Because the mixture is so thick and is starting to harden, there is not much time to create an artistic bar of soap. After the soap has set in the mold for 24 hours it is cut into bars; the bars can be used in a few days. The longer the bars cure the harder the soap will get and the longer it will last. Highly moisturizing for all skin types. For More detailed information please see our listings.
NOT TESTED ON ANIMALS

By using Coconut Dreams organic soaps, you can potentially avoid, or at least reduce, many common skin problems. Organic soap contains ingredients that have been produced without using herbicides, chemical fertilizers, or pesticides. We manufacture all our soaps in house here at Wellness Living Australia.
Contact Katherine for customized orders for Party Plan and Your Event. Soaps make amazing Wedding Gifts Favors.
http://www.ebay.com.au/itm/Natural-Organic-Soaps-Bulk-Buy-50-Soap-Bars-WHOLESALE-Choose-Your-Scent-NEW-/152131369280
Testimonials:
"Hi Katherine I just wanted to say thank You for the lovely soaps you made for my baby shower. The guests loved them and they were the perfect touch to the baby shower table. The smelt amazing and were nicely made" Melissa NSW