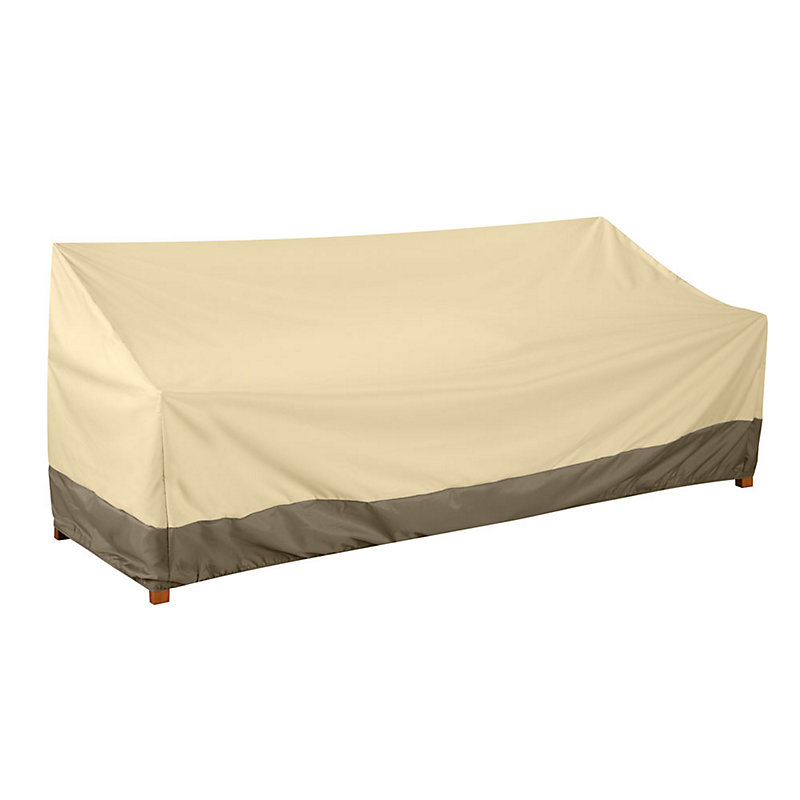 Instead of replacing an old, comfortable sofa that has worn fabric, save money and purchase a sofa cover. Breathe new life into a tired sofa using a casual cotton throw. Or, for a more formal appearance, consider a fitted sofa cover. For casual or semi-casual decor, opt for a stretch sofa cover. With a range of materials from which to choose, shoppers should first decide which type of sofa cover they need, and then consider which features are important in relation to the fabric. Cotton, for example, is durable, easy to clean, and promotes airflow, but generally provides only a casual look and wrinkles easily. In comparison, suede-style fabrics offer a more formal appearance, but stain easily.
Fabrics for Sofa Covers
The choice of fabric for sofa covers is an important consideration. The style of fabric has an impact on the overall appearance of the sofa, ranging from casual to formal. It also determines the lifespan of the sofa cover and how well the cover wears over time. Some fabrics are also easier to keep clean than others.
Cotton
Cotton makes an excellent choice as a sofa cover because it is durable and easy to maintain. Heavyweight cotton is the best suited because it offers more durability and a longer lifespan. Cotton is also machine washable, so it is easy to keep clean. Cotton is breathable and promotes airflow, meaning sofa occupants do not become too hot and sticky in warm rooms. Increased airflow also reduces bacteria and mildew buildup. Cotton wrinkles comparatively easily, so it needs regular ironing or placed in the tumble drier on an anti-wrinkle cycle.
Cotton-Polyester Blend
Cotton-polyester blend fabric is very durable. The blend of the two fabrics combines the benefits of both cotton and polyester. Machine washable, a cotton-poly blend is easy to clean and maintain. It has the breathability of cotton, but is resistant to creasing and wrinkling. More durable than cotton, the added polyester provides a harder wearing material with a longer lifespan. However, the polyester can cause pilling with extended use. When the fabric shows extensive pilling, it needs replacing.
Suede
Suede fabric is a thin leather with a napped finish. However, manufacturers label other fabrics with a soft, velvety texture as suede including faux-suede or suede-effect fabric. Most sofa covers come from faux-suede, using synthetic materials, such as polyester or a spandex-polyester blend. Faux-suede is far more durable than real leather suede and does not stain as easily. Synthetic suede sofa covers are resistant to liquid damage and are robust enough to withstand daily wear and tear. Suede sofa covers provide a more formal and luxurious appearance than cotton.
Microfibre
Microfibre is a lightweight fabric with a high thread count. It is a polyester-blended fabric that looks like suede or leather. This fabric is hypoallergenic, making it a great choice for allergy sufferers. This durable fabric maintains colour and shape well and is water- and stain-resistant. Although not stain-proof or waterproof, it repels both water and stains, making it easy to maintain.
Types of Sofa Covers
There are three main types of sofa cover options. A throw quickly and easily creates a comfortable, casual look. A fitted sofa cover creates a more formal appearance and acts as a second skin. A stretch sofa cover is reasonably easy to fit and can create a casual look or a semi-formal appearance. Regardless of the sofa cover type, it revitalises the sofa and can lift the appearance of the whole living space, without the need for purchasing a new sofa.
Throw
A throw is a large piece of fabric that drapes casually over the sofa. This casual-style sofa cover provides a quick, convenient method of breathing new life into an old, ratty sofa. Throws are comparatively inexpensive and are easy to change when the mood or occasion require it.
Fitted Sofa Covers
Fitted sofa covers have a limited stretch capability designed to fit over specific sofa dimensions. Fitted sofa covers can be challenging to put on as they offer a tight fit. However, this tight fit provides a second-skin, tightly hugging the sofa, meaning they do not look like a cover at all. Fitted sofa covers provide a more formal appearance. Traditional sofa styles, as well as contemporary formal sofas, use fitted sofa covers. When buying a fitted sofa cover, it is vital that consumers take accurate measurements. Commonly, fitted sofa covers use cotton, leather, or suede for their construction.
Stretch Sofa Covers
Stretch sofa covers use fabrics like chenille, microfibre, cotton-poly blend, woven fabrics, and other blended fabrics that contain spandex or latex for their construction. These sofa covers fit a variety of sofa sizes and styles. The elasticated fabric provides a casual or semi-casual appearance. The stretch fabric provides greater versatility than other sofa cover types. While they do cling somewhat to the sofa, they do not offer a second skin appearance. However, to achieve a tighter fit for a more formal look, use clips and ties concealed at the back of the sofa, down the sides of cushions, and underneath the arms.
How to Buy a Sofa Cover on eBay
eBay sellers offer a huge range of sofa covers at very competitive prices. From cotton throws to suede fitted sofa covers, you can choose from new or used models in a range of plain and printed fabrics. If you know exactly for what you are looking, enter this specific information into the search bar. Alternatively, enter a generic search term, such as "sofa cover", to browse through all of the available listings. Remember to accurately measure your sofa including length, height, and depth to ensure you purchase a sofa cover of the right size. Give your living space a brand new look simply and inexpensively with the use of a sofa cover from eBay.