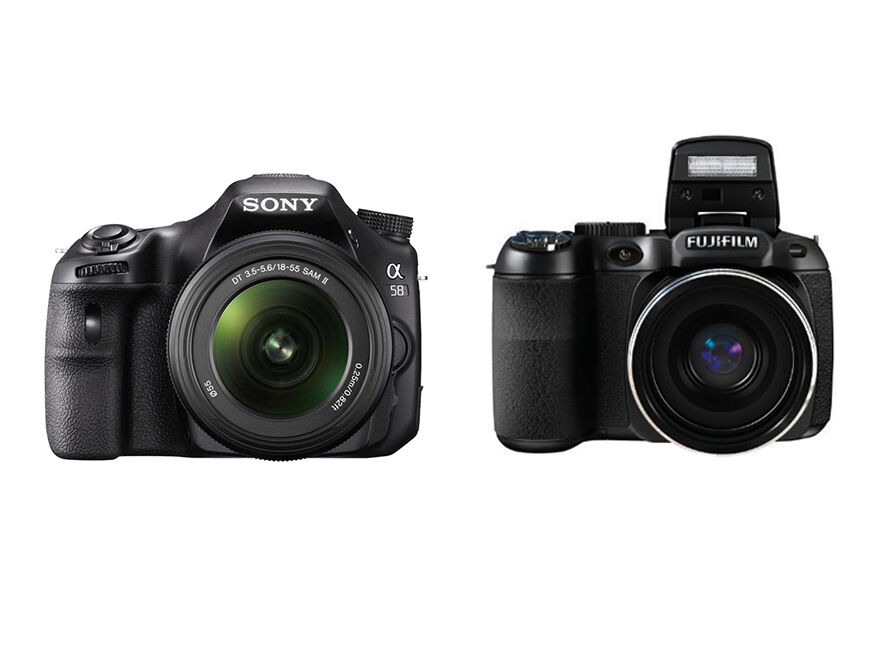 Every photographer reaches a point in which they will want to take the next step in terms of camera quality. After spending time learning the basics with an entry level DSLR, it will be time to acquire a mid-range model to improve both picture quality and shooting potential. Two of the more popular models currently available are theSony Alpha A58 and the Fujifilm FinePix S2980.
Image Quality
The Sony Alpha A58 and Fujifilm FinePix S2980 both fall into the mid-range DSLR category. Their image quality relates this, but this doesn't mean they are underwhelming in the quality of image they can deliver. Photographers can expect the Sony Alpha A58 to utilise its extensive ISO range of 100 to 1600, this means at any shutter speed the camera can deliver consistent high quality images. The camera is also more than capable of handling burst photography, while keeping noise levels to an impressive minimum.
Fujifilm's offering is the FinePix S2980, it can achieve a crisp image under normal conditions, however it can be lessened when shooting in a telephoto based environment. Colours look vibrant on finished photographs, making it a camera that adapts well to naturalistic shooting. High levels of image detail can be maintained up to an ISO1600 setting, meaning that like the Sony Alpha A58 noise is never really an issue.
Build
On the surface it doesn't look like the Sony Alpha A58 has changed much from its predecessor, the Sony A57. It is evident that Sony wanted to keep to the traditional look of their camera range, however there have been some tweaks made. It has a larger grip, which makes one handed shooting easier. This coupled well with a dial that allows for instant switching between capture modes.
The Fujifilm FinePix S2980 offers a far smaller and compact unit, and resembles a shrunken version of a full-size DSLR. Its small demeanour makes it easy to store and is perfect for those who want to take high quality photographs when on the go. Ports are also hidden away to ensure that the Fujifilm has a clean look, and the mini-HDMI port is a real added extra that rarely features on mid-range DSLR cameras.
Features
The Sony Alpha is well rounded in its features. It has an Eye-Start AF autofocus system, which means the camera will immediately focus on an object within moments of it being raised to a shooting position. Other settings such as auto object framing and clear zoom will help photographers improve their final product. Such features are accessible via the 2.7" LCD screen, which makes navigating through the cameras settings easy and simple. A dedicated digital zoom button has also been included, so photographers won't have to pull away from an image in order to alter zoom settings.
The features on the Fujifilm FinePix S2980 are far more casual, but no less effective. Blink detection mode and smile and shoot mode will be popular with those who take photographs on the move. They recognise when a subject is blinking and prevent shooting until the person has opened their eyes. Smile and shoot mode recognises when a subject is smiling and grabs an instant shot. The Fujifilm FinePix S2980 also has auto scene detection, meaning that the camera will automatically adjust to any lighting situation.
Warranty
The Sony Alpha A58 stands as one of Sony premium products, and because of this it comes with one years warranty as standard. This means that should a part of the camera become faulty during its first year of use, it will be fixed or replaced free of charge.
The Fujifilm FinePix S2980 comes with just twenty-one days warranty, however they do have their own Super Warranty service. This means that for a set charge users can protect their investment with a two, three or four year warranty. However such plans are only available to those who purchase a camera from new, as the original proof of purchase must be presented prior to the plan commencing.
Head to Head
The following is a head to head look at how the features of the Sony Alpha A58 and Fujifilm FinePix S2980 compare against one another.
| | | |
| --- | --- | --- |
| | Sony Alpha A58 | Fujifilm FinePix S2980 |
| Optical Zoom | Lens dependent | Up to 18x |
| Image Resolution | 5456 x 3064 | 4288 x 2418 |
| Face Detection | Yes | Yes |
| Image Stabilisation | SteadyShot INSIDE | CCD-Shift |
| Weight | 492g | 341g |
| Pixels | 20.1 million | 14.0 million |
| Storage Media | SD/SDHC/Memory Stick DUO | SD/SDHC |
How to Buy a Sony Alpha A58 or Fujifilm FinePix S2980 on eBay
After taking into consideration the information detailed in this guide, shoppers should have a firmer grasp on what camera suits their needs. eBay has become a leading retailer in DSLR camera sales, with their constant stock flow meaning that neither of the two cameras are any more than a few clicks away. To start the search for either model, click on the Cameras and Photography category when on eBay's homepage. Then select the Digital Cameras subcategory in order to see more detailed listings.
DSLR cameras can vary greatly in price; so shoppers will want to be assured that their money is protected should something happen to an order. Pay for all items on eBay with PayPal to ensure that the buyer protection program is in place, should such a scenario occur.
Conclusion
When looking to step-up to the realm of mid-range DSLR cameras, theSony Alpha A58 and Fujifilm FinePix S2980 stand as viable choices. Both clearly have a target market in mind and deliver high-quality yet different photography experiences. No matter which one a shopper ends up choosing, they can rest easy knowing that they're getting the best possible price, when they choose to buy from eBay.