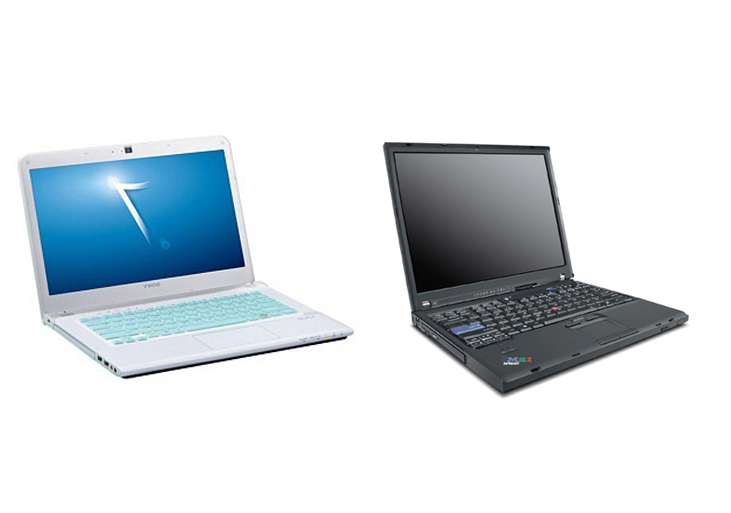 There is no shortage of netbooks currently available and shoppers have a wealth of options to choose from. This guide looks at two of the most popular models currently for sale in theSony VAIO I5 SVE14A15FGW and the Lenovo T60. It will go into detail about what they offer and how they weight up against one another. Whichever netbook a shopper opts for, there is no better place to grab a great deal than on eBay, the world's leading online marketplace.
Design
In terms of build, both netbooks are of the highest standard; where they differ is that one chooses style while the other opts for durability. The Sony VAIO i5 has a unique wrap around design that shows off its sleek edges and soft corners. It is smart looking in all aspects and is available in a variety of different colours. The Lenovo T60 has a more industrial based appearance, with a shell like structure that is clearly designed to withstand impact. The shell is coloured black with minimal branding, giving the device a very formal appearance.
Specification
The Sony VAIO i5 is a powerhouse, featuring an Intel Core i5 processor, 4GB DDR 3 RAM, 640GB HDD and HD Graphics 3000. The high spec means that it can be utilised as both a day-to-day laptop and also a gaming device. The Lenovo T60 is marketed more as a business machine, as its specifications will indicate. With 100GB inbuilt storage and an Intel Core Duo T2500 processor, the machine is purpose built for word processing and spreadsheet data management.
Audio and Video
Laptops are built to offer far more than just word processing, as media playback is now considered a mandatory requirement. Sony have been distributing and creating media devices for decades, so the Sony VAIO i5 has great features when it comes to listening to music and watching films. The netbook features xCloud and Dolby Theater technology as standard, meaning that both video and audio remains crystal clear. The Lenovo T60 isn't as feature heavy as its Sony counterpart, but for a netbook it still delivers a quality viewing and listening experience. Using FlexView on a SXGA+ screen, users will find that they can maintain viewing quality no matter the angle or screen position used.
Software
Sony has a reputation for producing software and it is something that features heavy on the Sony VAIO i5. Those who opt for such a model will find the following applications already pre-installed on the machine.
· Arcsoft Webcam Suite
· Cyberlink Power DVD
· Sony ACID
· Sound Forge Audio Studio
· Sony Vegas Movie Studio HD Platinum 11
· VAIO Gate Launch
· VAIO Messenger
· VAIO Smart Network
The Lenovo T60 is software light and can be considered more of a blank canvas. Don't expect it to come packed with software, and for more advanced computer users this could be the preferred option. The following programs come preinstalled on every Lenovo T60.
· Google Desktop Search
· Google Toolbar
Head to Head
The following table looks at how the two netbooks measure up against one another.
| | | |
| --- | --- | --- |
| | Sony VAIO i5 SVE14A15FGW | Lenovo T60 |
| HDD | 640GB | 100GB |
| Processor | Intel Core Due i5 | Intel Core Due T7200 |
| Memory | 4GB DDR3 RAM | 2GB DDR2 RAM |
| Graphics | AMD Radeon HD 6470M | Intel 945GM |
| Optical Drive | CD/DVD Player/Burner | CD/DVD Player/Burner |
| Display | 15.5" Backlight LED (1920 x 1080) | 14.1" XGA TFT (1024 x 728) |
| Battery Life | Up to 6 hours | Up to 4.5 hours |
Security
In a similar light to software, Lenovo machines, including the T60, do not come with any initial security features. Shoppers who choose to buy a model like this will need to purchase third party security software, should they feel it is needed. Sony has always made security the highest priority, and it was no different during the development of the Sony VAIO i5. The model is the first to use TPM (Trusted Platform Technology), a unique sensor based system that keeps the BIOS, HDD and other sensitive data out of the hands of those who are not authorized to access it.
How to Buy a Sony VAIO i5 SVE14A15FGW or Lenovo T60 on eBay
After looking through this guide and deciding which of the two netbooks is right for you, it will be time to buy and get one at the best price. eBay has become a popular retailer in the field of home computing, and their constant stock flow makes it a place worth visiting. Starting on eBay's homepage shoppers should select the Computers and Tablets category before heading into the Laptops and Notebooks subcategory. Once on a page of relevant listings select either Sony or Lenovo from the search modifiers to the left of the page.
Netbooks vary in price, but no matter how much a shopper is paying they need to be protecting themselves during the transaction. Take advantage of the "ask the seller "option to gain more information on the item, and never purchase a netbook that you don't feel comfortable with. After deciding on a purchase, pay for it with PayPal, as doing so will ensure that the sale is covered under the buyer protection program.
Conclusion
In the realm of netbooks, both theSony VAIO i5 SVE14A15FGW and Lenovo T60 are considered reliable models. Both offer tremendous performance and each have their own individualistic style. No matter which one someone chooses to buy, there is one retailer that has these two models in stock along with many others. eBay is one of the world's leading online laptop retailers and offer round the clock deals on all forms of home computing devices.