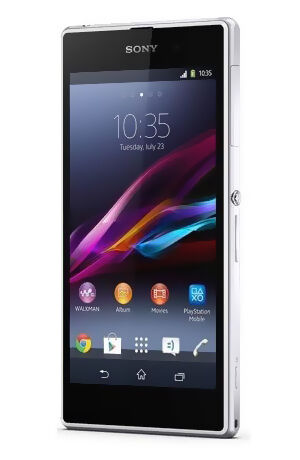 The Sony Xperia Z1 is the compact mobile version of Sony's other products. This smartphone boasts a camera that is as powerful as Sony's digital cameras, sound quality on par with Sony's music players, and image clarity comparable to the Sony BRAVIA. The Xperia Z1 is also tagged as the expanded version of the more-recent Xperia Z1 Compact, and the enhanced version of the Sony Xperia Z.
Key Specifications
The Sony Xperia Z1 runs on the Google Android 4.4 OS using a 2.2 GHz Qualcomm MSM8974 Quad Core processor. This new OS optimises the phone's memory and improves the touch screen so that it responds faster and with more precision for better multitasking.
Dimensions
The device weighs 169 grams (6.00 oz), and the dimensions are 144 x 74 x 8.5 mm.
Display
The phone uses a TFT capacitive sensing touch screen with 16M colours. The screen size is 1080 x 1920 pixels, and has full HD TRILUMINOS Display with X-Reality for mobile. It is multi-touch capable, allowing up to 10 fingers of input. The glass is shatter-proof as well as scratch-proof, and was inspired by the technology used by the Sony BRAVIA.
Memory
The Z1 has an internal storage of 16GB and 2GB RAM, and an expandable memory through a microSD slot, which can carry up to 64GB.
Camera
The device has a primary camera that is 20.7 MP, with a resolution of 5,248 х 3,936 pixels. It has autofocus with LED flash, and includes Sony Exmor RS for mobile image sensing. The camera features the following elements: 1/2.3'' sensor size, geo-tagging, touch focus, face detection, HDR, and a panorama mode. The camera is also able to record full HD videos at 1,080p@30fps, and includes a secondary front-facing camera at 2 MP.
Battery
The Sony Xperia Z1 has a non-removable Li-ion battery that translates to up to 850 hours on standby with 3G, up to 15 hours of talk time with 3G, up to 110 hours of music play, and up to 6.6 hours of video playback time.
Technology Features
This phone is top-of-the-line when it comes to performance speed. The processor of the Z1 is the Qualcomm Snapdragon 800 processor, which is an advanced Quad-core processor that is 75 percent faster than the S4 Pro. It has a built-in LTE/4G modem, which operates at up to 150 Mbit/s download and 50 MBit/s upload speeds.
Durability
One of the Z1's coolest features is its ability to be fully functional when submerged under 1.5 meters of freshwater for up to 30 minutes, as long as all ports are covered and closed. It includes dust-resistant construction that blocks even the tiniest particles.
Magnetic Charging Dock DK31
This magnetic charging dock is designed so that the magnet steers the dock's connector to the device's charging port. The presence of magnetic pins removes the hassle of having to fiddle with any ports in order to charge. The device remains fully-functional and the user can even enjoy watching a movie at an ergonomic angle while charging.
Smart Bluetooth Handset SBH52
This accessory is the world's first HD Voice and one-touch NFC-enabled Bluetooth wireless handset. It weighs 23 grams and is optimised for Android. There is a selection of app extensions available on Google Play that makes this accessory smarter than the rest. Moreover, this compact handset is splash-proof and can be used in all kinds of weather.
Other Considerations
The Sony Xperia Z1 is a bit heavy for its size, and the phone's chassis is quite bulky. Additionally, the camera is sometimes not able to take quality photos in low lighting conditions, despite the presence of the LED flash.
Conclusion
The Sony Xperia Z1 is easily one of the most powerful Android phones available on the market. For anyone who wants to own a sleek mobile device with all of the best multimedia features, the Sony Xperia Z1 is a good choice.