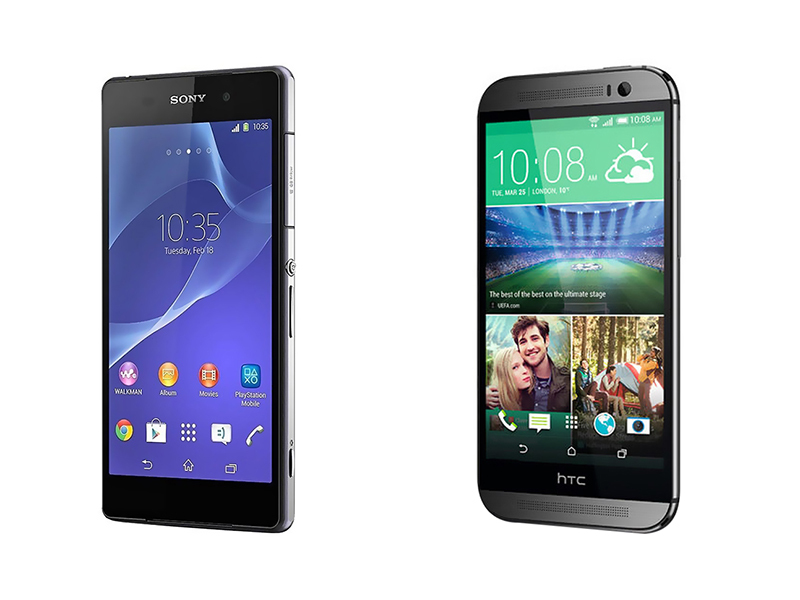 With the HTC One M8, HTC sought to create a phone that improved over previous HTC smartphones while still offering the quality HTC customers have come to expect. Sony on the other hand decided to try something different and offered up a host of innovative features with its Xperia Z2. Comparing features and prices is easy when shopping through online retailers like eBay.
Design
Both manufacturers have placed great emphasis on the design. While the HTC One has a mostly metal industrial look, the Xperia Z2 goes for a minimalist design that puts more emphasis on the screen than the casing itself.
When it comes to durability, both the Xperia Z2 and the HTC One M8 excel. The almost entirely metal chassis of the One M8 makes for a phone that is scratch resistant and performs astoundingly well in drop tests. While the Xperia Z2 isn't as drop resistant as the One M8, it does boast a completely waterproofed body and strengthened glass on the front.
In terms of storage and connectivity options, neither phone disappoints. Instead of opting for proprietary connectors, both companies decided to go for standardised connectors, allowing both phones to have storage space expanded with microSD cards and the ability to be charged with microUSB connectors.
Hardware
When it comes to the Xperia Z2 and HTC One M8's components, both manufacturers have gone for the best of the best in terms of processing capability. They both feature a top of the line Qualcomm Snapdragon 801 processor and a screen that offers up a 1080p resolution. They do differ in terms of memory, with the Z2 offering 3 GB of memory in comparison to 2 GB for the One M8.
Thanks to the powerful specs in both devices, both the Z2 and One M8 run exceptionally well. Applications load quickly, both phones boot up quickly, and with most applications, users are unlikely to notice any slowdown. Thanks to the increased amount of RAM on the Xperia Z2, browsing the Web with many concurrent tabs is better on the Xperia Z2 compared to the One M8.
Software
Both phones feature the latest version of Android, each with their own specific manufacturer modifications. While these modifications do change key parts of the operating system, Android users should still feel right at home using either of these phones.
The HTC One M8 uses a modified version of Android that utilises the HTC Sense software. This changes the design of certain areas of the operating system and brings host to a number of new features. Some of these features include a power-saving mode and the Motion Launch feature, which allows users to turn on the phone's display by tapping it twice.
The Xperia Z2 features a version of Android running Sony's own custom launcher. While much of the user interface resembles stock Android, Sony has added a number of features, including a Walkman app and an NFC feature, allowing users to mirror content on the smartphone to compatible televisions.
Camera/Video
When it comes to camera quality, the devices differ significantly and the Xperia Z2 does a better job than the HTC One M8.
Boasting a 20.7 megapixel sensor, the Z2 is certainly capable of capturing pictures that impress. Despite this, when it comes to real-world results, quality is wildly inconsistent. While some photos do come out great, others come out filled with image noise and blotches of colours on areas of the frame. Regardless, the Z2 does do a better job than most smartphones on the market today and captures photos that are still perfectly serviceable for most casual photography needs.
While the HTC One M8 does feature an UltraPixel sensor that helps with low-light photos, photos are rarely focused properly and colour depth is often disappointing. HTC does offer an impressive camera application with a wide range of features available that, while not completely making up for the camera, is a nice addition.
Battery
Battery life impresses on both the HTC One M8 and the Xperia Z2. Despite the former having a 2600 mAH battery and the latter a 3200 mAH battery, battery life between the two are largely similar.
Both phones can last an entire day without requiring an extra charge. In addition, both HTC and Sony have also included their own battery-saving modes that disable certain phone functions such as mobile data and Wi-Fi to help save battery life.
Conclusion
While the Z2 is a good choice for the budding photographer, the HTC One M8 may appeal to those who prefer HTC's Sense software. It's important for prospective customers to decide what they value more in a phone and pick a device accordingly. With both phones offering quality design and powerful hardware, you can't go wrong either way.