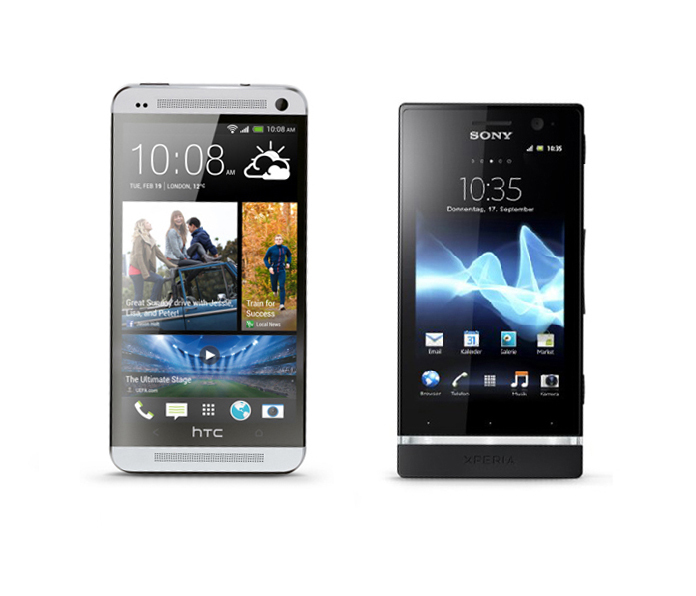 Both Sony and HTC design and manufacture smartphones at the higher end of the technological advancements that are available. Whilst they are both simple in design, internally and externally, their capabilities mean that they are two of the most popular smartphones that can be found on eBay.
The following guide aims to take potential buyers through the specifications of both phones in order to help with the buying decision.
Sony Xperia vs. HTC One Specifications
By looking at the two phones specifications, one can gain an insight as to how well the phones perform, what they look like, and also what special features have been integrated into their design to make them stand out from each other.
With around 30 different models of Sony Xperia released since 2008, the table below will use the specifications of some of the higher end models (namely the Sony Xperia Z, released in 2013) in order to make a fair comparison to the HTC One, which was released in 2013, also:
Specifications

Sony Xperia

HTC One

Operating System

The Sony Xperia Z, Sony's January 2013 release, uses Android OS v4.1.2, otherwise known as Jelly Bean. This is upgradeable upon purchase to v4.2.2, which is the latest instalment of the Jelly Bean series.

The HTC One also uses Android and uses the same operating system as the Xperia Z.

The phone uses Android OS v4.1.2 Jelly Bean and can also be updated to v4.2.2.

Dimensions

The device weighs 146 grams.

139mm x 71mm x 7.9mm (HxWxD).

The HTC One weighs 143 grams.

137.4mm x 68.2mm x 9.3mm.

Display

5 inch wide screen, with a resolution of 1080 x 1920 pixels.

It uses shatter proof and scratch-resistant glass, taken from the Sony Mobile BRAVIA technology.

The screen is 4.7 inches diagonally, the HTC One also has a screen resolution of 1080 x 1920 pixels.

The screen is made from Corning Gorilla Glass 2.

Connectivity

The Xperia Z is fully Wi-Fi capable and can be used as a Wi-Fi Hotspot for other devices.

It is also 4G enabled and has Bluetooth v4.0, microUSB and NFC (Near Field Communication) technology.

The HTC One is Wi-Fi and DLNA enabled and can also be used as a Wi-Fi Hotspot.

Much like the Xperia Z the device is 4G LTE enabled, and has a Bluetooth v4.0 drive.

Memory

The devices internal memory stands at 16GB, with 2GB RAM.

Using a microSD card in the slot provided can expand the removable memory up to 64GB.

Whilst there is no card slot for removable memory storage, the internal memory of the phone can be found at32GB or 64GB, depending on budget. Both these phones run off 2GB RAM.

Camera

The Sony Xperia Z has a 13.1 Megapixels camera, taking still images with a resolution of 4128 x 3096 pixels.

It is capable of recording 1080p video.

There is also a front facing 2.2 Megapixel camera that records 1080p video.

The rear facing camera is 4 Megapixel, taking images at 2688 x 1520 pixels. Video can be record in 1080p HDR.

The secondary camera is 2.1 Megapixel and records video in 1080p.

Battery

The battery in the Sony Xperia Z is a Li-Ion 2330 mAh battery, but is non-removable.

This means 40 hours of music play, 14 hours of talk time on 3G, and 530 hours of stand-by time with 3G.

The One uses a Li-Po 2300 mAh battery that is non-removable.

Stand-by time is up to 480 hours and talk time is up to 18 hours (3G).

Features

There are a number of special features that the Sony Xperia Z, as well as other models released around a similar time:

- Durability: The phone is water-resistant and uses materials used in to auto-industry in its design.

- One Touch: Sony allows for file sharing, wireless audio play, memory back up, and screen projection with the touch of a button.

- HD Voice: The Xperia Z has an external noise eliminator during phone calls.

The special features on the HTC One include:

- Beats Audio: A high-powered set of speaker integrated into the design of the phone.

- BlinkFeed: A live home screen that updates itself in real time. One can choose their own apps and features for the home screen, too.

- Sense Voice: This is HTC's version of HD Voice, and allows for a high level of phone call clarity.
Sony Xperia vs. HTC One Advantages
Here is a table denoting the advantages each phone has over the other:
| | |
| --- | --- |
| Sony Xperia | HTC One |
| Thinner in size. | Sharper Super LCD3 display. |
| Dust and water-resistant. | Stereo quality, Beats Audio speakers. |
| Higher camera resolution (13.1MP). | Live home screen (BlinkFeed). |
How to Buy a Sony Xperia or HTC One on eBay
These two phones are extremely popular on eBay and can be found both as new and as used. After visiting theeBay Deals site to view the best smartphone offers, head to theElectronics menu and select the Mobile Phone link. There will be refinement tabs at the side of the page to help decipher between the two brands. One can also use the keyword search bar to enhance the specificity of the search.
Once the phone of choice has been found, one should make sure the images of the device and the product description match up, as well as being aware of how the Buy It Now and Bidding processes work on the site.
Conclusion
There is a case for both brands in question. Whilst the Sony Xperia has a higher camera resolution and is more durable, the HTC One has better audio playback capabilities and the advantages of the real time home screen cannot be ignored.
Ultimately the choice is a subjective choice, where the phone's capabilities should be placed in a priority order before settling for a purchase.
Finally, read the eBay and PayPal terms and conditions before finalising a transaction.