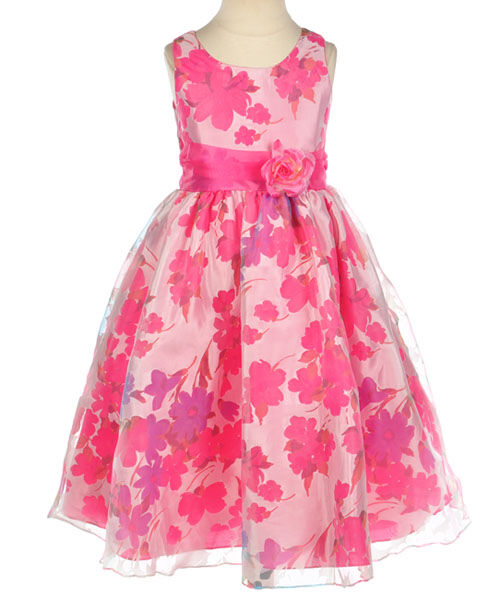 Girl's dresses for special occasions can be simply stunning, whether the occasion in question is a wedding, birthday or anniversary celebration, special holiday or something more formal. Finding the perfect dress for a special occasion such as Prom is an event in itself, and special occasion dresses can often be very expensive.
By shopping online on websites such as eBay, it is easy to find special occasion dresses for girls at very affordable prices and there are some great deals on girl's dresses to be had for all ages. There is a wide range to choose from for all occasions, whether purchasing a new or used dress.
What Styles of Girl's Dresses are Best for Special Occasions?
Whether the buyer is looking for a party dress, wedding dress or formal dress, eBay has a wide selection to choose from. The style and colour of dress selected will depend on the occasion in question. Pretty chiffon strapless dresses are perfect for a school prom or birthday party for older girls, whereas little girls look pretty in a dress with mesh or tutu style skirt to celebrate a special occasion in style.
When shopping for a girl's dress for a more formal occasion such as a wedding, it is important to remember that the dress should be fairly conservative. Dresses that show off the shoulders and décolletage should come with a shrug or top to cover exposed areas, particularly for teenagers.
Factors to Consider when Buying Special Occasion Dresses
When searching for a special occasion dress, the following factors need to be considered:
| | |
| --- | --- |
| Factor | Why to Consider |
| What is the occasion? | This will determine the style and colour of the dress. |
| How old is the girl in question? | The style of dress chosen will depend on the girl's age and body type. |
| Will the dress be worn outdoors or indoors? | Longer dresses are not ideal for wearing outdoors as they may become muddy and dirty. |
| What is the available budget? | How much can be spent on the dress – should a used or new dress be bought? |
| What colour of dress is required? | For a wedding, a white or pastel coloured dress is suitable, whereas for a funeral a darker dress may be better. Party dresses can be any colour unless there is a specific theme. |
Of course, the individual girl's taste also needs to be taken into consideration – there is little point buying a floaty chiffon dress for a girl who would feel more comfortable in a simple jersey number.
Choosing the Right Fabric for a Special Occasion Dress
When it comes to choosing the right fabric for a special occasion dress, it is all about movement and how the fabric flows. Whether choosing a long or short dress, chiffon, silk and other floaty fabrics look best as they catch the breeze and create a pretty look.
Girl's party dresses often have mesh tutus or skirts, or come with full skirts with netting underneath to create a pretty, feminine shape. When selecting fabric for a special occasion dress, try to stay away from bulky, warm fabrics such as wool and denim and choose lightweight, floaty materials that are flattering and fun.
Which Colours are Best for Special Occasions?
The best colours for special occasions are bright or light colours, unless the occasion is a sad one such as a funeral, when dark colours should always be worn as a mark of respect. The following colours are great options for special occasion dresses – a wide range of colorful dresses can be found on eBay to suit all occasions:
Purple
Lime green
White
Cream
Baby blue
Lilac
Baby pink
Orange
Yellow
Colorful dresses for special occasions look best in the summer months, while as a rule in the winter jewel shades are more flattering, such as deep emerald green, navy blue, and burgundy.
Purchasing Accessories for Special Occasion Outfits
Shopping online on websites such as eBay allows the purchaser to buy accessories for their outfit at the same time as their special occasion dress. Here are some of the accessories that girls may need for a special occasion:
It is easy to find all of these accessories on eBay, whether buying them used or new. Most girls will wear tights with their dress for a special occasion, particularly if it is the wintertime, and a wide range can be found online, from woolen tights to party tights with pretty patterns. Pumps and other girl's shoes can also be found online for very reasonable prices, and it is possible to find a style and colour that perfectly match the dress chosen.
Should you Buy Used or New Girl's Dresses for Special Occasions?
When buying a dress for a special occasion, it can seem like a good idea to spend more money on a new dress. Depending on the individual's budget, this may not be wise – if the dress is only to be worn once, for example, for a wedding, then purchasing a used dress may be more economical.
Many people sell used dresses on eBay after special occasions such as weddings or parties, so it is possible to pick up a beautiful dress for a very affordable price – sometimes these dresses will only have been worn once. If looking for a branded dress, such as a Bonnie Jean party dress or an Ooh La La party dress for girls, buying these dresses in used condition can often save the purchaser a lot of money. It is important that buyers always check the detailed eBay listing when bidding on a special occasion dress online – if the item has any flaws this will normally be outlined in the listing.
How Buy Special Occasion Dresses for Girls on eBay
eBay is the best place to head if looking for special occasion dresses for girls, as there is a wide range available to choose from. Visit eBay and head for the drop-down menu marked 'Shop by Category' which is located on the left-hand side of the page next to the main logo. Click to open up a list of categories and scroll down to Clothing, Shoes & Accessories. Click on 'more' and then select Girl's Clothing. In the categories listed on the left-hand side of the page, it is possible to choose the type of clothing, in this case, Dresses.
Because there are so many different types of special occasion dresses to choose from, it can be helpful to narrow a search using a certain term if looking for something specific. By typing the words related to the search, such as 'Mesh Party Dress' into the main search box, a list of all the available items will be shown.
Conclusion
Girls will always love the feel of wearing a pretty new dress for a special occasion. When shopping for children's dresses, parents can often be reluctant to spend too much money, as the chances are the dress may only be worn once. By shopping online on websites such as eBay, it is easy to find a wide range of beautiful girl's dresses for special occasions such as Proms, weddings, funerals and birthday parties at greatly reduced prices. So the Oscar de la Renta dress that she has had her eye on could be well within budget.
eBay has a wide range of girl's dresses ideal for special occasions to suit all tastes, and whether buying a new or used dress, it is easy to find the perfect item by shopping on eBay.