Sporting Ford Cars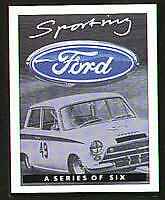 This is one of many illustrated classic car guides I've created for the community. I hope you enjoy it. If you wish to find out more about the classic Sporting Ford Car art featured in this guide please click here.
This guide celebrates the performance Ford models of the 1960s and 1970s.
Ford Lotus-Cortina MkI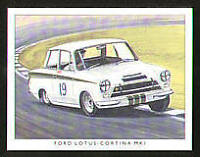 Increasingly aware of the importance of the performance image, Ford revealed the Lotus-Cortina in 1963. Powerful and fast by the standards of the day, the car was highly effective in the hands of the right driver. When the legendary Jim Clark spent time in one during the 1964 British Saloon Car Championship it came as no surprise to see the pari become the overall champions.
Ford Lotus-Cortina Mk II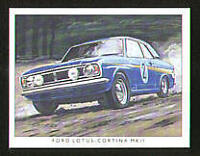 The MkII Lotus-Cortina was assembled sharing production lines with other quantity produced Cortinas. Consequently less specialized than the original (built at Lotus mainly from Ford parts), it was still a fine competition car and a valuable image-builder for Ford. Rally wins included the Canadian-Shell 4000 and in 1967, the Scottish Rally (Roger Clark) and the Gulf London Rally (Ove Andersson).
Ford Escort Twin-Cam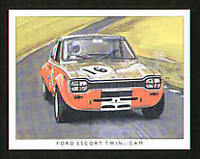 The Escort (Mk1) Twin-cam was one of the gutsiest 1600s ever to be marketed by Ford. It was devised in January 1967 by Henry Taylor and Bill Meade of Ford's Competitions Department, believing that the magic already generated by the highly successful Cortina-Lotus pairing could also be applied to this all-new Ford compact saloon. The result was the fastest Lotus-powered Ford saloon yet.
Ford Escort RS2000
The Escort (Mk 1) RS2000's debut was in early July 1973 and it became the most popular of the RS Escort models. The car was an ideal package, a powerful saloon, offering a comfortable interior and excellent fuel economy. Easily definable by the 8" high decals and four-spoke RS alloy wheels, it was the third "performance special" version of the Escort theme following the Mexico and RS1600.
Ford Capri RS3100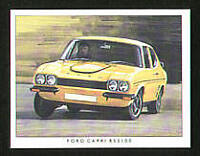 A competitive Capri was needed after Ford received a thrashing from BMW in the 1972 European Touring Car Championship. The Capri RS 3100 was born, with the 2,944cc Essex V6 engine bored out by the .060ins, adding 99cc, increasing power by 138 to 148bhp. It was Ford's intention to produce 1000 RS3100s to homologate the model, but only 250 were built, all at Halewood in 1973.
Ford GT40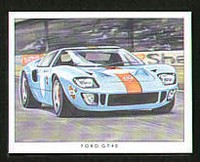 A motoring legend, the Anglo-American Ford GT 40 achieved the pinnacle of success on the track and in many respects was the ultimate sports racing car, capturing the imagination of a generation. Designed with a specific purpose in mind, to win the prestigious Le Mans 24-hour Race, the Ford GT40 realised this goal winning it for years in succession, during 1966, 1967, 1968 and 1969.
Thank you for reading my guide and I hope you found it interesting!