So you like Chloe. Or you like a Chloe piece. Congratulations and welcome to the club. I've been in love with Chloe since the first time I saw a piece in a Nordstroms rack in San Francisco 8 years ago. Since then, I've become something on an expert on finding authentic Chloe pieces at prices within my budget. Because, seriously, who has $2K to drop on a dress?! Not me.
I'll spare you the rest of my story, but I hope you'll read m few guides on Chloe and educate yourself on responsible shopping. Some people think it really doesn't hurt anything to buy a fake-- if you like a piece then you like it and who cares where it was made? If that's how you feel, and you're shopping at H&M, Target, or another distributor of designer's lower-end labels, then more power to you, girl. It is the democratization of style and I support it.
However, partaking in the counterfeit business is an entirely different story. For a moment, I'll put aside the fact that counterfeits are illegal in just about every civilized country ever. I'll also put aside the fact that counterfeits are indisputably produced in factories with no labor restrictions whatsoever. Seriously, I'll pretend those aren't good reasons and get to the meat of the issue from a fashion perspective.
Fashion is art, but better, frankly, because it's wearable, and because it allows you to express your artistic self in your daily life. For me, anyway, seeing a fashion show is better than going to the Chicago Museam of Art. Think about that before you buy a shady piece, support a known counterfeit seller, and sport your duds like the real thing-- because it's not the real thing. That's the whole point of art and of fashion-- that it's distinctive, unique, and genuine artistic expression. Wearing a fake is like rocking out to Milli Vanilli. It's just wrong, dude.
The bottom line is that buying fakes degrades the integrity of your style, your favorite designer, and the fashion community as whole.
Now, on to the meat of my guide. After reading, please rate this guide with 5 stars so that it gets more face time on ebay searches, and more people are educated on authentic Chloe apparel.
Here are your general Chloe rules:
Rule 1. Chloe is *NOT* sold in US sizes, Italian sizes, German, Australian or Mexican sizes.

While *some* retailers will do a size conversion for you when you are ordering a piece, when you actually get the Chloe garment and read the tag, it will have a French size listed (not an Italian size, but a French size, and there is a difference). I own 7 authentic Chloe garments, and every single one has ONLY the French size listed on the tag. Usually, and for reasons I do not understand, the capital letter 'T' precedes the French size.
If a US size (2, 4, 6) is attached to the Chloe tag, the garment is fake. If a size conversion tag listing Italian, German, UK and US size conversions is attached to the Chloe tag, the garment is fake. This is important because fake Chloe manufacturers have recently begun attaching long rectangular size conversion tags to their Chloe tags-- and they look sort of authoritative. They're not. They're fake. Here are some fake Chloe tags: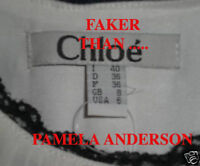 Rule 2. Availability and Pricing
Ok ladies, let's use our brains. A Spring 2008 Chloe Collection dress retails for $1895.00. Yes, for two thousand dollars. Now would it make sense that a 2006 or 2007 collection dress would be available to you, brand new, for less than $200?! Um, not so much. C'mon. I know it's a hard conclusion. But the bottom line is that while there are some great deals to be had on ebay, a $200 Chloe 2006 collection dress is too good to be true. No, really.
FAKE Chloe listing typically have a runway photograph which is *not* a photograph from an actual Chloe runway show. Go to style.com. Do a power search (left hand corner). Check out the photos. Do your homework.
The traj* thing about fake Chloe garments is that the people selling them are always using the same freaking pictures. Typically, these photos show a pristine image of a Chloe garment laying on a white floor. Usually, there are very few other photos. If the garment you consider buying has neither a mannequin, nor a model picture, and only a photo of the dress laying on a floor which seems familiar to you, honey it's prolly fake. Here are some common pictures of FAKE chloe garments which you will STILL find floating around ebay: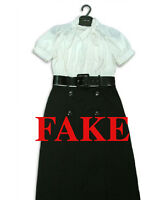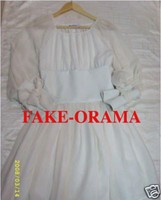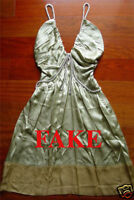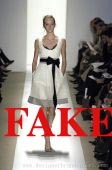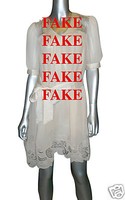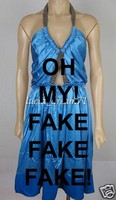 Rule No. 3 Location
Part of the reason I'm writing this guide is because it's not so easy to pinpoint fake sellers any more. Many of them disguise their locations and claim to be in Canada or the UK. Obviously, if the item is in Singapore or Hong Kong, it's unlikely to be real. However, just because it's not in one of these places doesn't mean it's real. In fact, one of the things that really bothers me about fakes is that sometimes a US buyer will purchase a fake and instead of filing a dispute, she'll just try to resell it on ebay. There are tons of these garments floating around. So if a garment is in the US, but you see other red flags, don't assume it's real.
Rule No. 4 Shop Smart
Wanna find REAL ready-to-wear on ebay? Check out my FABULOUS items for sale by clicking
clicking here
. However, since I'm soon closing my store so I can study for the bar exam and get a grownup job, I'll also point you in the direction of my favorite ebay sellers, from whom I have purchased personally, and whom I trust. Here you go:
Linda's Stuff
The Pink Leopard Boutique
Pinchrosemary
Kathy's Couture
The Designer Exchange
World Class Fashions
Rule No. 5 Do your part: Report!!!
Do your duty to the fashion goddesses of ebay. Here are the instructions for reporting fake items. It's anonymous, free, and it takes 30 seconds.
Now, c'mon girls, do your part. When you spot a fake Chloe item, scroll down to the very bottom of the page, UNDER where it reads TAKE ACTION ON THIS ITEM (PLACE BID) to the 'OTHER ACTIONS' section. In blue writing there is a link which reads: 'report this item.' Click it, then on the next page choose :
Step 1: Select a subtopic
Counterfeits and Copyright Violations
Step 2: Select a subtopic
Potential Trademark Infringement
Step 3:
Counterfeit clothing, shoes, sunglasses and accessories
Click on the grey 'Continue' button.
Then under Contact Us> Contact Customer Support
Click on the blue 'email us'
Next Screen
Click the blue SEND button.