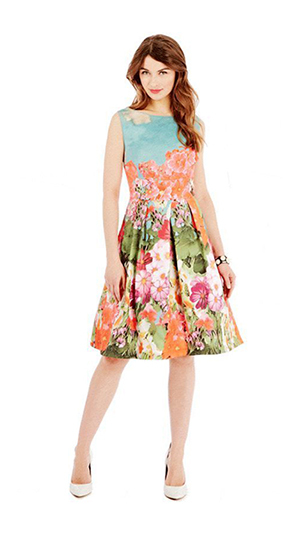 As September brings warmer weather and fresh fashions, there is no better place to enjoy both than at the race track. The Spring Racing Carnival season offers several prime opportunities to showcase spring fashion, while incorporating a bit of tradition and classic elegance into the look. When searching the shops and online retailers for Spring Racing Carnival dresses, one must remember that there is a slightly different dress code for each of the races.
Main Dress Code Rules
There are a few constants when it comes to the ladies' dress code. Dresses or a smart skirt suit are a must, and do make sure that hemlines go no higher than just above the knee. This is a daytime event, so skip the sequins and evening wear. Lastly, shoulders need some coverage, so avoid the strapless dresses and anything with less coverage than a sleeveless dress. Further dress decisions vary due to the race. Use the race day dress codes to help find an appropriate look that fits in with the high fashion of the track and continues the tradition of smart dressing, while always choosing a flattering dress for your shape.
Derby Day
Black and white is the colour scheme for Derby Day, and there is very little room to experiment beyond those shades. A little pop of color in a thin belt or tiny clutch is okay, but otherwise observe the classic palette. A way to add interest and mix in modern fashion features is by opting for a black and white print, texture, and selecting smart dress styles. The peplum style continues to be a staple for stylish smart dressing, while sheath and pencil styles also work well with the event and colours. Although the colours are strictly set, there is room for ladies to feature themselves in a dress most flattering to their skin tone by highlighting either black or white as the primary colour, and using the other as contrast. Also, exploring the many shades of white and cream allows for a bit more variation in terms of colour while still following the dress code.
Melbourne Cup
With a tagline that proudly proclaims this as the race that stops the nation, ladies can feel confident knowing that this is also the race day to turn heads with fashion-forward frocks. In terms of fashion, this event gets international attention and fashionable ladies can compete in the Fashion on the Fields events. Choosing a dress for this event allows colour and cutting edge styles to take the spotlight. Pick bright spring colours, printed dresses, or interesting details such as structured skirt tiers or over-sized ruffle adornments. Designers such as Dolce and Gabbana will be worn alongside Australian favourites such as Yeojin Bae and Jo Moo (Raw Cloth). Do keep in mind that your millinery piece needs to work with your dress, not fight for attention. So if choosing a very bold dress design, select a hat or fascinator that is bit more traditional.
Crown Oaks Day
Femininity is the focus of dresses on the race day dubbed as Ladies' Day. While black and white prints fit Derby Day and innovative prints work at the Melbourne Cup, this is the race to focus on floral prints. Lace is another great dress choice, either having a dress done fully in lace or featuring lace accents, as it exudes race day elegance while also capturing the feminine side of Crown Oaks Day. Those looking to stand out on Crown Oaks can opt for florals or lace in fresh spring colours, but nothing as bright as what would be worn for the Melbourne Cup. Feminine style can also be expressed in the cut of the dress or skirt suit. Tailored styles and flowing skirts all capture the romance of this day. Those looking to fully embrace the traditions of Crown Oaks Day can also work to incorporate the official flower of the race, the pink rose, in their dress or millinery piece.
Stakes Day
Picnicking families flood the race track on this day, resulting in a slightly more relaxed dress code. All the main dress code rules continue to be in effect, but ladies tend to focus more on understated elegance with clean lines. Printed or solid coloured fit and flare dresses or sundresses are popular choices. Lots of monochromatic looks are also found on this day, so a simple sheath with shoes, clutch, and hat in coordinating hues is also a fashionable choice. In keeping with the picnic theme, more ladies go with wide-brimmed hats or hatinators on this day, another easy way to add glamour to an outfit.