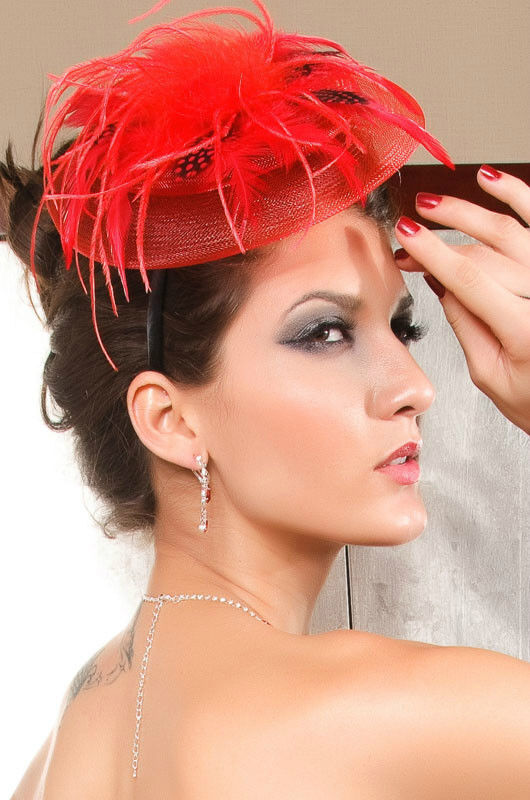 From September to November, the Spring Racing Carnival beckons just as strongly to fashionistas as it does to horse lovers. Ladies know the importance of choosing their Spring Racing Carnival hats, flawlessly incorporating them into well-designed outfits worthy of the race track's fashion scene. Choosing an appropriate race day hat requires choosing one (or several) based on style, material, colour, and the overall look.
Style
With fashion columnists, socialites, and celebrities all flocking to Melbourne during the Spring Racing Carnival season, this is a prime time to highlight one's flair for fashion with a statement piece. Even those who may be timid can be comforted in knowing that some of the boldest and most cutting edge hat designs will be featured here. Many have found that the key to successfully wearing more avant-garde designs is to build upon a classic component of race track style, and then update it with a fresh look. Below is a list of some well-known hat styles fit for Melbourne's biggest racing event.
Fascinator
A small headpiece that does not cover the entire head (and is often attached to a hair comb or headband) is known as a fascinator. The fascinator is one of the leading hat styles for women today, as it is lightweight and can be dressed up in a variety of ways. These works of art perch delicately towards the front of the head, often worn at a leaning angle.
Hatinator
One adaptation of the fascinator is the hatinator. It more closely resembles a hat from the front, as it tends to cover the entire front of the head, but is still carefully secured only by a comb or headband. These range from wide saucer styles to clever scaled down hats.
Wide Brim Hats
Wide brimmed hats recall more traditional styles, and spring styles are often made of sinamay in a variety of colours. Re-imagined wide brim hats have featured brims fashioned only of feathers. Another new style is more oval in shape so that the brim extends far past the shoulders but is relatively short in the front and back.
Pillbox
A small oval-shaped, brimless hat that often serves as a base for fascinators, the pillbox is another classic hat style. The flat top and structured sides provide support for more fanciful creations that have feathers, flowers, and other adornments spilling forward.
Material
Whether purchasing a pre-made hat or working with a designer on a one-off piece, one needs to understand the materials best suited for spring hats. Obviously cold weather materials, such as felt or furs, should be avoided. The focus should be on lightweight materials that can comfortably be worn at the track all day. Sinamay, straw, lace, silk, and netting are all preferable for spring hats. Since the Spring Racing Carnival is a place to soak up the fashion, non-traditional materials have been featured by daring designers looking to showcase their millinery skills. Consider the laser-cut plywood fascinator that won milliner Aniseh Fakhri an award in 2013. Deciding between traditional materials or pushing the boundaries with more industrial materials depends primarily on personal style.
Colour
Bright hues or muted pastels have all been highlighted in Spring Racing Carnival fashions. To find the colour trends for the upcoming season, consult the Pantone fashion colour report. Although the fashion writers tend to highlight the most fantastic fashions, both black and white hats are commonly sported by the well-dressed ladies in Melbourne. Choosing a colour once again comes back to personal style preference. Those dealing directly with the milliner, in their shop or on eBay, often can often add small colour details to customise a piece. Vivid oranges, pinks, and yellows are characteristic of contemporary milliners who create towering displays of over-sized flowers and expertly designed sculpted styles. Although a more subdued hue can make a statement when part of a striking design or paired with the right outfit.
Creating a Look
Hats are undoubtedly the focus of the Spring Racing Carnival scene as carefully curated pieces that work to create an overall look. Dresses, chicly matched with a hat, clutch, and shoes are the primary choice for ladies. The general rule of thumb when coordinating a hat with the rest of the outfit is to choose either the hat or the dress to make the statement. Thus, an eclectic hat done in a surprising color should be paired with a monochromatic dress, and a timeless black pillbox with a birdcage can work with a bold, patterned dress.