So you're aspiring to an upgrade of your BBQ, cook top, or outdoor kitchen, but want to arm yourself with some last minute facts. Well, stainless steel cooking surfaces look great in the showroom, but how do they perform? Let's look at the following factors:
Heat Transfer
Cooking Times
Gas Consumption
Cleaning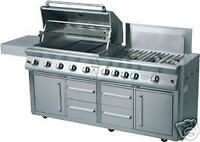 Stainless steel, by its very nature, is an INSULATOR and not a very good heat conductor. Even the best of the best stainless steel cooking surfaces, which use special heat transferring stainless steel, won't conduct heat as well as cast iron or copper. The implications for cooking are that you will need to cook with your burners set to the highest setting, the hotplates will take a lot longer to warm up, and cooking times will be longer. We used to get 24 meals from a 9kg gas bottle on our cast iron plates, and now we get 17, so our meals have become more expensive. I used to be able to cook thin sausages on our cast iron hotplates to a nice brown colour within 13 minutes; they now take 20 minutes to cook and 5 minutes for the hot plates to reach temperature (a total of 25 minutes). Sausages on rolls is no longer a quick Sunday lunch.
A lot of manufacturers today are using stainless steel for the grills and coated cast iron for the hot plates to speed up cooking times. Two of Australia's most expensive BBQs, namely Rinnai and Weber, are 2 such companies. Since grills have gaps between all the rods, 100% of the heat contacts the food at these points and cooking times are faster.
Cleaning is no easier than cast iron - the only difference between cast iron and stainless steel is that when they are both clean, stainless steel LOOKS clean. The hot plates I purchased are from the major supplier to nearly every large BBQ retailer in Australia, and they are also the most expensive. To get one of my hotplates clean, the manufacturer recommended a series of fairly serious chemicals one after the other to try to get it clean. Very serious chemicals on a food preparation surface; now there's a thought. If you want stainless steel hot plates that are really easy to clean, consider buying non-stick breakfast plates for an additional $40 at $199 per plate.
Having said all that, one thing I do really like about cooking on stainless steel is being able to do beautiful scrambled eggs, bacon, fried eggs, french toast, pancakes, garlic bread, mushrooms, stir frys, and asian BBQs.
Before you rush out and buy, keep in mind that each cooking surface has its advantages and think about keeping your cast iron plates as swap-overs while the others are being cleaned.
If you appreciated the time and effort I took in writing this guide, please take the time and effort to vote.